Visiting this state park is like a journey to another planet! Goblin Valley State Park in remote south-central Utah is full of rocks that resemble otherworldly creatures. In fact, parts of the space movie Galaxy Quest were filmed among the park's Martian-like scenery.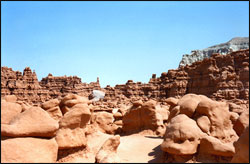 The unusual sandstone formations were carved by flowing water and smoothed by blowing dust over the millennia. Geologists will delight in examining the exposed bedrock and various sedimentary layers throughout the park, which also serve as examples for teaching children about some of the earth's natural processes.
General Info: Goblin Valley State Park is located in Emery County between the towns of Green River and Hanksville. The park includes more than 3,000 acres of unusual rock formations in a dusty desert valley about 24 miles south of I-70 on Highway 24. At an elevation of 5,100 ft., remember to schedule water breaks and rest time into your day's plans to prevent altitude sickness or heat stroke. Find out more about the park in the September issue of Utah Travel Tips.
Hours and Fees: The park is open daily year-round. Day use entry costs $7, while camping costs $16 per night (see camping details below). For more details call the park office at (435) 564-3633. View a map of the park for a general lay of the land.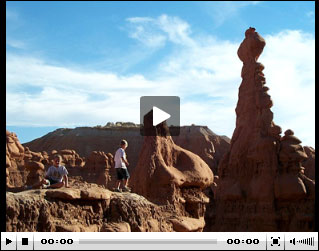 Activities: Hiking and rock climbing are the obvious activities in this park and there are several great trails to explore. Narrow slot canyon trails are best suited for more experienced hikers, and should be avoided altogether if there is a chance of rain. Flash floods can roar through these narrows if there is rain anywhere in the general drainage system.
The unique setting also provides terrific subject matter for photography or painting. Some visitors even perch upon the rocks for meditation, yoga and the like. Children will no doubt love to crawl all over the odd-looking rocks, so perhaps you can turn it into a game by asking each child what they think a particular rock looks like. It will stimulate their creativity and imaginations while leaving memories of a fun visit they can share with their friends back home. The Junior Ranger program is another fun way for kids to experience the park. It's tailored to kids ages 6-12, but everyone is welcome. Ask a park ranger for details upon your arrival.
ATVs and off-road vehicles are not permitted in the park itself, but there are several miles of dirt roads near the park entrance where you can kick up some dust. Find out more at the Visitor Center upon your arrival, or call ahead (435) 564-3633. Bicycles are allowed only on paved park roads and in parking areas. Read the park rules before your visit.
Pets: Dogs are welcome provided they are kept on a leash and all waste is properly discarded. Keep your pets under control at all times for their own safety and that of area wildlife.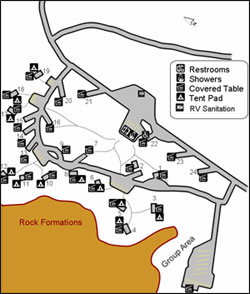 Camping Info: The campground has 25 paved RV sites spacious enough for big rigs. Each site features a picnic table and barbecue grill. The campground also has modern restrooms with hot water showers and culinary water system. A sanitary dump station is available for your convenience. Call the park office at (435) 564-3633 for more information. The park also offers a group pavilion and an observation outlook for your enjoyment.
Weather: Thunderstorms are likely during the monsoon season from July to September, and can cause flash flooding. Summer is typically hot and dry, with average July temperatures starting from 85°F and on into the 100s. However, the high altitude can bring sudden temperature changes, such as cooler nights even in summer.
If you're from the Beehive State or have visited Goblin Valley State Park in the past, please chime in with your stories and tips! Your insights can help others have a fantastic trip. Since I struggled to find detailed information about this park, I could really use some help this week. Please post a comment below to share what you know about this area! Thanks!