Blue Mound State Park, about 25 miles west of Madison in Dane County, includes the tallest hill in southern Wisconsin and is a popular place for outdoor recreation year-round. There are two mounds, the East Mound and the West Mound. The West Mound sits 1,716 feet above sea level and about 450 above the surrounding landscape of rolling forests and glacial plains.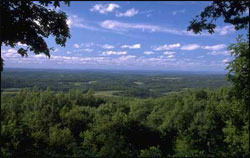 Take in the view from the two observation towers, rising 40 feet above the ground on the east and west ends of the picnic area. For those unable to climb the towers, vistas have been cut through the trees on the north side of the picnic area; they also provide panoramic views of the surrounding countryside.
Winter Activities: The park features many great trails of varying terrain for cross-country skiing, snowmobiling and snow-shoeing. For less strenuous fun, grab a sled and head for the hill in the pool parking lot.
Summer Activities:
During the rest of the year, you can explore the park's trails on foot or by bicycle. Three trails are designated for hiking only, although you can hike on the other trails as well. There are six miles of trails for off-road cycling enthusiasts, or you can cruise along the 40- mile Military Ridge State Trail. All cyclists 16 and older must have a state trail pass in addition to the vehicle admission sticker. See a list of all the park's trails to find the perfect route for your experience level.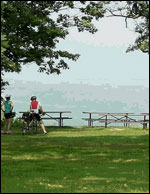 For a more relaxed pace, enjoy an outdoor meal at the park's generous picnic area. Grab your binoculars for some bird watching (the park is home to more than 75 nesting species), or stroll around the trails and enjoy the wildflowers and blooming shrubs. The park experiences colorful flora from spring into fall as various plants blossom and the leaves change color. Since the park includes a large hill, you can examine some interesting geological formations left untouched by ancient glaciers that circled the park thousands of years ago.
Splash around in the fully-accessible public swimming pool. The L-shaped pool varies in depth from 3 feet to 11 feet, while the wading area for small children is only 16 inches deep. There is an attached bathhouse with showers, lockers, changing rooms and toilets. Lounge around in the sun on the large deck area to keep an eye on the kids or take a break between swims.
The park welcomes leashed pets but asks that you control your pet and properly dispose of its waste. Pets are not allowed in picnic areas, playgrounds or marked nature trails. For full details view the park pet policies.
Camping Info: The park campground is open year-round and hosts 77 wooded, gravel sites. Sites are 20'x 30' mostly shaded back-ins. Some sites have 20 amp electrical hookups, but none of them have water or sewer. Toilets and water facilities are located throughout the campground while a modern flush toilet and shower building is across from site 30. A dump station is located at the campground entrance behind the recycling and garbage bins. Laundry facilities are a short distance away in the village of Blue Mounds. Supplies are available from local merchants in Blue Mounds, Barneveld and Mount Horeb. Last year's rates are $12 to $22 per night. For more information call (608) 437-5711.
Longer rigs may want to camp in Brigham Park, operated by Dane County in the nearby village of Blue Mounds. This rustic park has grass back-ins of 20'x 50'. Last year's rates were $16 per night. There are toilets, a playground and a public phone. No hookups or showers, but firewood is available. For more information call (608) 246-3896.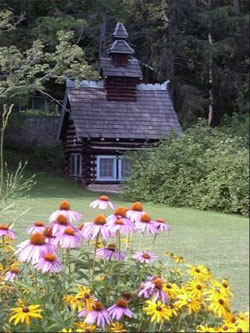 Area Attractions:
Little Norway is a folk museum established on an old pioneer farm and provides a glimpse of authentic Scandinavian culture and craftsmanship brought over by immigrants in the late 1800s. It has been family owned and operated since Isak Dahle bought the farm stead in 1927 from a Norwegian immigrant family. It is included on the National Register of Historic Places. Entrance fee for adults is $12. For more information call (608) 437-8211.
Cave of the Mounds: This limestone cave was carved by an underground stream many thousands of years ago on the southern slope of the East Mound. There are several rooms and galleries between 40 and 48 feet under ground containing a variety of mineral formations. Guided tours of the caves are available year round, but with limited hours in winter. The caves maintain a constant temperature of 50°F, which is a welcome change from above-ground weather in any season. Have the kids mine for gemstones or dig for fossils to learn about natural history. There is ample parking, restrooms and food. Entrance fee for adults is $14. For more information call (608) 437-3038.