By Bob Difley
Many RVers hold off heading to the desert for the winter until afterJanuary 1, especially those that spend the holidays with family and friends. If you are among those setting off soon, you may be too late in securing a campsite in the more popular RV resorts since many have already  been booked for the season.
However, this might be an opportunity for you to practice your boondocking skills, seeing parts of the desert you may not have seen when ensconced in a resort near the large urban areas of Phoenix, Tucson, and Palm Springs. Though you may be able to pick up short term space in one of these resorts, you might have to fill in with boondocking or no-hook-up campgrounds in between.
fIf you had planned on a single roost for the rest of the winter, you can still try to make reservations. But for boondocking, there is always room for another rig–even at Quartzsite where more than a half million RVers pass through in the three months of winter. Most boondockers buy a $180 season pass from the BLM for unlimited camping in any of their Long Term Visitor Areas (LTVA) from September through April 15. You can also buy a two week pass for $40. LTVA are located both north and south of Quartzsite, around Yuma, and in the Southern California desert.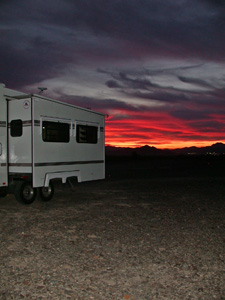 As you roam around and talk to other boondockers you will find more desert boondocking locations than you ever imagined. Many are just places where an RVer has pulled off onto an unnamed, unpaved desert track and found a nice spot behind a hill, overlooking a wash, or hidden in a grove of desert willow or mesquite trees.
Others become popular simply because one boondocker spots another and decides to join and soon there are half a dozen RVers. Though they space themselves apart from each other, they still enjoy the proximity of other boondockers. If you would like to try this open desert camping, here are some of the basic rules and tips you need to know.
The BLM allows free camping for up to 14 consecutive days out of every 28 days on open land.
After 14 days, you must move at least 25 miles away from your current location and cannot return for another 14 days.
Camping is legal except where specifically prohibited by signs or fences. This may change as the BLM is working on a Travel Management Plan in which they will identify those roads that are legal to drive on. When initiated this may eliminate some boondocking locations.
No camping within 300 feet of a man-made watering hole or tank to allow wildlife unhindered access.
Use existing routes and trails. Do not blaze new roads.
Camp at previously used sites, being careful not to damage vegetation.
Pack It In, Pack It Out: Pack out your trash and any that was left by others.
Leave What You Find: Protect cultural resources by leaving all artifacts, arrowheads, potsheards, and bones as you find them.
Don't despair if you can't find space at resorts for all your days in the desert. Think of the advantages of boondocking: You will save a lot of money on campground fees, you can camp as close to or as far away from other RVers as you want, you can pick the type of terrain you want to camp in such as under a mesquite tree or on a knoll with a long view to distant mountains, it will be a lot quieter than camping in a campground, and if you pick the right spot you will see magnificent sunsets and a sky full of stars that you might not see from more populated–and well lit–campgrounds. And when Spring makes it appearance, you will likely see a wildflower display that will knock your socks off.
For more articles and tips on boondocking and desert camping take a look at my ebooks: BOONDOCKING: Finding the Perfect Campsite on America's Public Lands (PDF or Kindle), 111 Ways to Get the Biggest Bang for your RV Lifestyle Buck (PDF or Kindle), and Snowbird Guide to Boondocking in the Southwestern Deserts (PDF or Kindle), and my newest, The RV Lifestyle: Reflections of Life on the Road (PDF orKindle reader version). NOTE: Use the Kindle version to read on iPad and iPhone or any device that has the free Kindle reader app.