Don't miss the Verde Valley Birding & Nature Festival happening April 23-26, 2009 at Dead Horse Ranch State Park! That's just a week after The Rally, and only about 5 hours west of Albuquerque on I-40. A $10 registration fee for the duration of the Nature Festival also grants you entrance to the state park (including parking), exhibits and booths.

General Info: Dead Horse Ranch State Park is a developed park covering 423 acres of wilderness. The Ranch got its colorful name from the Ireys family, who bought the land in the 1940s after two days of visiting potential parcels for sale. When asked which ranch they liked best, the Ireys children chose "the one with the dead horse," on which the family had seen a large dead horse lying near the road. When the family sold the land to Arizona State Parks in 1973, they made retaining the name of Dead Horse Ranch a condition of sale.
The Verde River is one of the last free-flowing rivers in the Southwestern desert. The riparian area of dense cottonwood and willow trees along the river is one of only 20 such places in the world. Therefore, park officials urge you to practice "leave no trace" etiquette when visiting the Verde River Greenway State Nature Area to minimize your impact on this fragile and rare environment.
Dead Horse Ranch is an ideal home-base to see Flagstaff-area attractions such as the many historic and national parks, in addition to the nearby communities of Sedona and Jerome. The town of Cottonwood is also along the Woodall's One-Tank Trip Route through Arizona, a scenic loop from Phoenix to Flagstaff via Prescott.
Hours and Fees: The park ranger station/visitor center is open daily from 8 a.m. to 5 p.m. except for Christmas Day. Pick up a park map at the ranger station upon your arrival. The station also features a gift shop that offers water, fishing bait, books, t-shirts and various souvenirs. The park entrance fee per vehicle with up to four people is $6, and $2 per individual/bicycle.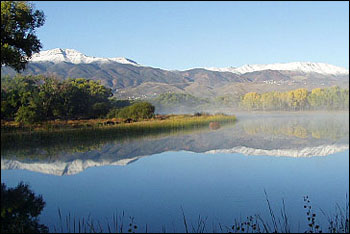 Activities: Hiking, cycling, canoeing, picnicking, fishing in the three lagoons or wading in the cool river waters are prime activities at the park. As you might expect, horse riding is also allowed on the park's several shared-use trails of varying difficulty. Horse corrals are available for overnight use with advance arrangements. If you didn't bring your mount but would still enjoy a ride, try the park's equestrian concessionaire, Trail Horse Adventures.
If you're not familiar with protocol for shared-use trails, read the park's trail guidelines to ensure that your party and other park visitors can all have an enjoyable visit.
Canoeing and kayaking are popular in the lower lagoons, which prohibit swimming and the use of motorized watercraft. Various fish are stocked during winter and the warmer months, including Channel Catfish, Rainbow Trout and Largemouth Bass, among others. A valid Arizona fishing license is required for anglers age 14 and over. The Los Alamos Day Use Area has a dock, boat launch, fish cleaning station and modern restrooms.
The park also offers plenty of chances for wildlife viewing. The Canopy Trail is ADA accessible and has great birding and wildlife watching opportunities. Commonly-sighted critters include Cottontail Rabbit, Jackrabbit, White-Tailed Deer, Coyote and a wide variety of reptiles, amphibians and birds.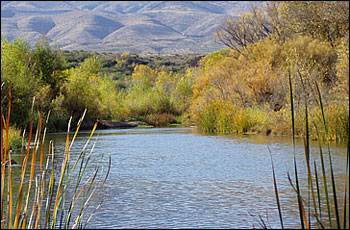 Local Attractions: From historic sites to golf courses, there's plenty to see and do in and around Cottonwood. See the park's list of area attractions for ideas and more information. Fellow blogger Bernice Beard's recent column about things to see in Sedona is another great resource for planning your trip.
Pets: You're welcome to bring your pet provided it is kept on leash and out of park buildings. Don't leave your pet unattended and always dispose of your pet's waste properly. See the Dead Horse Ranch Park rules and regulations page for complete guidelines and a list of frequently asked questions.
Camping Info: The park has 100 large RV campsites, including pull-thrus that can accommodate most 40-foot RVs or truck & trailer rigs up to 65 feet. Each site has drinking water and 30/50 amp electrical. If you want a non-electric campsite simply don't use the hookups, but be advised that generators are prohibited. A dump station is available at no extra charge (or for a $12 fee if you're not camping at the park).
Nightly rates are per vehicle (tow vehicle included at no extra charge) and are $19 for electrical or $12 without electric. All three loops have modern, fully-accessible restrooms with hot water and showers at no extra charge to registered campers. Each loop has at least one ADA-accessible campsite as well. The campground can be full in spring and each campsite is first-come first-served, so call (928) 634-5283 for availability before your arrival. The campground has a 14-day limit per 30-day period, and a limit of two vehicles per site.
Weather: Cottonwood has moderate weather due to its middling elevation of 3,300 feet. Summers are cooler than Phoenix and winters are warmer than Flagstaff. Expect average highs of 77°F and lows of 44°F in April.
If you're from the general Flagstaff/Sedona area or have visited Dead Horse Ranch State Park in the past, please chime in with your stories and tips! Your insights can help others have a fantastic trip.