General Info: Wind Creek State Park is located about 40 miles northeast of Montgomery, Alabama, just south of Alexander City. The park covers 1,445 acres of wooded shoreline on the banks of Lake Martin, a 39,000-acre clear water reservoir.
Watch a brief tour video of all that Wind Creek State Park has to offer!
Hours and Fees: The park is open for day use from 7 a.m. to sundown daily. The weekday entrance fee for adults is $2, and $1 for children ages 6-11 or Seniors age 62+. For weekends and holidays the adult entrance fee goes up to $3. The boat launch fee is $4 per boat.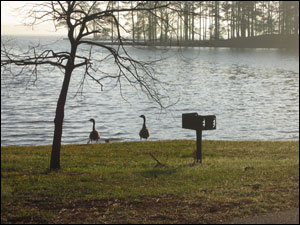 Activities: Fishing and boating draw many visitors to the clear water. The 210-ft. long fishing pier is a great spot to cast a line any time of day or night. The park hosts fishing tournaments periodically. The marina store sells live bait and tackle in addition to game and fishing licenses. The store is open from 8 a.m. to 4 p.m. A gas dock is also available. You can launch your own boat at the ramp or rent flat-bottom jon boats or pontoon boats from the marina store (call 256-329-0845 for seasonal availability).
Swimming at the beach area opens daily at 7 a.m. Volleyball, a bathhouse and picnic tables are available for a day of family summer fun. For details about current swimming conditions, call the park office at 256-329-0845.
Three moderately strenuous nature trails allow visitors to explore the beautiful wooded landscape of rolling hills on foot or on horseback.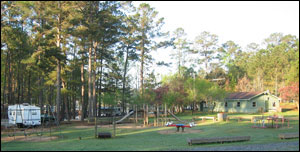 Local Attractions: The Lakewinds Golf Course in Jackson Gap (about 5 miles away) offers 18- or 9-hole rounds and golf cart rentals daily. Dress code is casual but no tank tops allowed.
The Lake Martin Amphitheater hosts open-air cultural and musical entertainment on a hill overlooking Lake Martin. The audience sits on the grass in the wooded setting, and security is provided to maintain a family atmosphere. Check the Summer 2009 Events Calendar to see what's playing during your visit.
Horseshoe Bend National Military Park is a 2,040-acre historic site preserving the area where Andrew Jackson and his army attacked a group of Creek Indians in 1814. More Native Americans lost their lives in this battle than in any other single battle before or since. Just 23 miles northeast from Wind Creek State Park.
Camping Info: There's plenty of space at the largest state-run campground in the USA! There are 626 paved back-in campsites on over 320 acres, each with picnic table, grill, water and electricity (30 amp). Some sites also have sewer hookups, and a centralized dump station is also provided. Each site measures 25'x 50', and handicap accessible sites are available.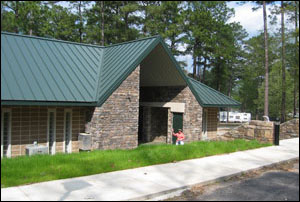 The campground features several modern bathhouses with showers and toilets. A kids' playground is located in the center next to a picnic pavilion. A campground store (groceries, firewood and RV supplies) and laundry facilities are located near the campground office. See the PDF map of the campground to get a lay of the land.
Nightly rates (for 1-4 people) are $18 for E/W hookups and $21 for full hookups. Waterfront sites are an extra $3 per night. Each additional person will cost another $2 per night, with a maximum of 8 people per site. A 9 percent lodging tax applies. Only 2 vehicles allowed per site. Additional vehicles have to be kept outside the campground (this includes visitor vehicles).
If you're from central Alabama or have visited the area in the past, please chime in with your stories and travel tips! Your insights could be the key to someone's great trip to Wind Creek State Park.