Because February is Top 10 Month at RV.net, here is a helpful list of do's and don'ts to remember when visiting state parks (actually, they're relevant for national parks too).
10. Do wear appropriate clothing for the day's activities. Sensible, comfortable shoes are a must for any outdoor activity (no high-heels on a dirt trail, ladies). Proper attire can prevent hypothermia, frostbite, and sunburn, as well as minimize the risk of illness from ticks and poisonous plants. Always bring an extra pair of socks!
9. Do drink plenty of water. Even if it's not that warm outside, the wind and sun can dry out your body and leave you weak or disoriented. Extreme dehydration can be deadly when not corrected promptly. Just make sure your water is from a clean source: always sanitize fresh water from streams or rivers, no matter how clear they look. You don't want a painful case of giardia!
8. Do stay on marked trails. Park officials and volunteers work hard to maintain trails for your safety and convenience. If you get lost or injured off the trail, it will take much longer for search parties to find you. Trails also protect the park environment by limiting human disturbances to specific areas and away from fragile ecosystems and animal habitats.
7. Don't pick the wildflowers. Many species of native plants are rare and undergoing conservation efforts. Although the flowers are lovely, picking them weakens the plant and may eliminate a source of food or shelter for nearby animals.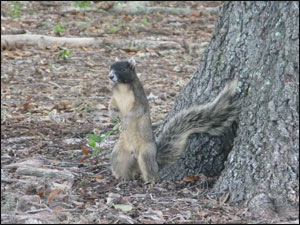 6. Don't feed the animals. Wild animals need to fear humans to survive on their own. We've all seen and heard accounts of wildlife getting too close to people in search of food, injuring a person(s) and then getting exterminated by animal control officials. This rule exists both for your own good and for the welfare of the local wildlife.
5. Do what you can to prevent fires. Be mindful of campfires and cigarette butts—especially in dry brush/forest areas. All it takes is one rogue spark or ember to burn thousands of acres. Completely extinguish all sources of fire before leaving the area or turning in for the night. Read campfire tips.
4. Do get a map from the ranger/park office. That way you'll be able to find your way to the points of interest and you'll be less likely to get lost on your way back. Oftentimes maps are free with park admission and they make great mementos of your fun trip.
3. Don't litter. Trash cans exist for a reason. If you can't find one nearby, hold on to your trash until you do. Littering makes the park ugly and can make wild animals sick.
2. Do inquire about park pet regulations before bringing your pet with you to the park. Most parks limit pets to the front areas, if they allow them into the park at all. Some parks may have kennels to house your pet during your visit, but you will probably be charged for their use. Remember, parks limit pet access to protect the pet and to protect park wildlife by keeping them separated.
1. Do have fun and take lots of photos! Remember you are there to enjoy your surroundings and bond with your companions. Take a photo of that scenic vista to show the folks back home. Better yet, have another park visitor take a group photo of your posse in front of a park landmark/attraction so you'll have another way to remember your trip.