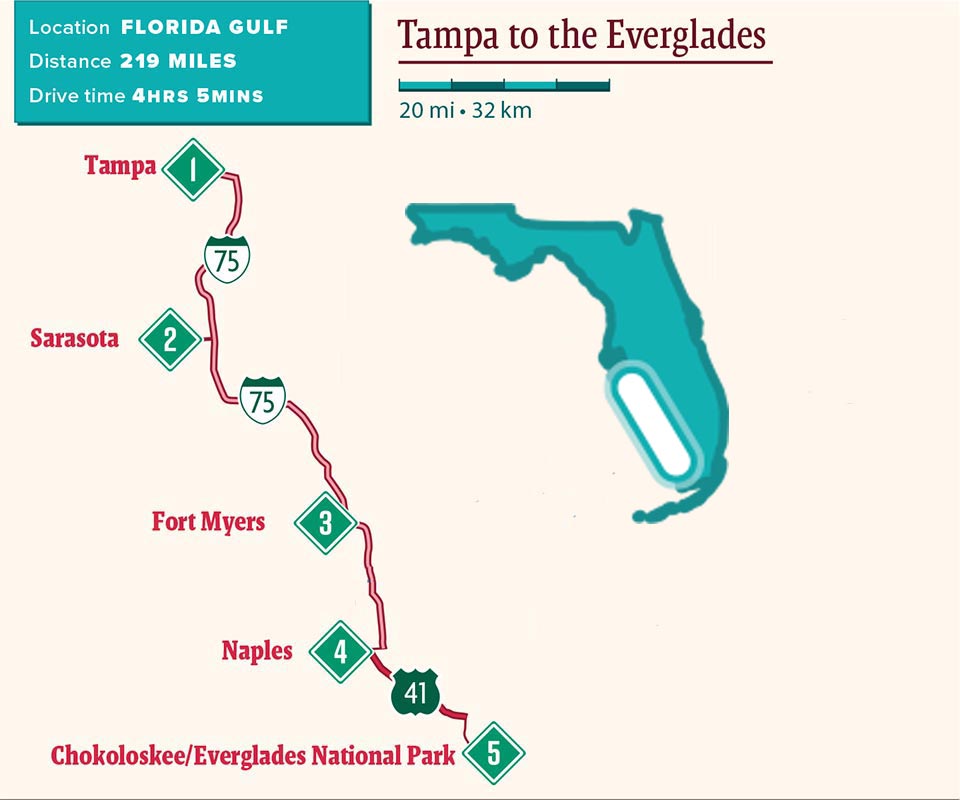 Stay Here During Your Visit:
Florida's Gulf Coast is synonymous with relaxation and adventure. Visitors can shop at quaint beach towns one day, and then tour national parks that preserve pristine coastlines and lush landscapes the next. This coastal route will take you through some of the most scenic and fun spots in the Sunshine State.
1. Tampa
Starting Point • Entertainment, History, Nature
Start your Gulf Coast trip in the vibrant city of Tampa. Top attractions include Busch Gardens Tampa, a theme park and zoo with animals from around the world and exhilarating roller coasters. While in town, don't miss a stroll in the lovely Riverwalk area, home to the Tampa Museum of Art and not far from the Victorian-focused Henry B. Plant Museum.
2. Sarasota
Drive 60 miles, 1 Hour • Entertainment, Food, Nature
A popular beach getaway, Sarasota's white-sand shores provide ample opportunities for fishing, while the town keeps the party going with trendy restaurants in delightful neighborhoods. Explore Jungle Garden, a 10-acre expanse of tropical plants and a flock of resident flamingos, as well as the Marie Selby Botanical Gardens, a research garden with thousands of orchids.
3. Fort Myers
Drive 75.7 miles, 1 hour 20 minutes • History, Nature
One of the state's more popular beach towns, Fort Myers is the gateway to Sanibel Island, a family-friendly destination that's connected to town by a long causeway. Other local attractions include the Manatee Springs State Park and the beautiful Six Mile Cypress Slough Preserve. History and architecture buffs will likely appreciate the Edison and Ford Winter Estates, which were homes of two of America's most iconic titans of industry.
4. Naples
Drive 42.7 miles, 49 minutes • Entertainment, Food, History, Nature, Shopping
Visitors flock to the chic city of Naples for its imposing mansions, fine-dining restaurants, boutiques along Third Avenue South and gorgeous white-sand beaches. Don't miss the Naples Museum of Art, featuring vividly hued chandeliers by famous American glassblower Dale Chihuly, or wile away your day fishing at the 19th-century Naples Pier. Nature lovers should head out to the Corkscrew Swamp Sanctuary, home to the largest stand of old-growth bald cypress trees in the nation. Take a walk on the wild side at the Naples Zoo and Caribbean Gardens, home to 70 species of endangered animals surrounded by exotic plants from their native habitats. Board a catamaran and visit the primates of Monkey Island, located in the middle of an artificial lake.
5. Chokoloskee/Everglades National Park
Drive 40.2 miles, 56 minutes • Nature, Outdoor Recreation
End your trip in Chokoloskee, the gateway community to Everglades National Park. Encompassing 1.5 million acres, the park is home to the biggest subtropical wilderness in the country and is the nation's second-largest national park. Drop a line for saltwater fishing or take a variety of guided ranger tours, especially during the dry December-through-March season. If you're fond of wildlife, sign up for one of the many airboat tours that pass through the park's wetlands — keep an eye out for alligators, bobcats and the endangered Florida panther.
Discover more Florida RV adventures.