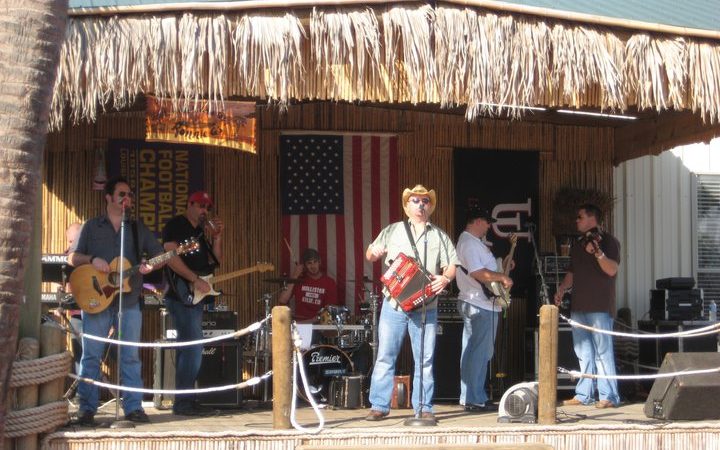 If you want to pass a good time, be sure to plan a visit to Cajun Palms RV Resort.  We are a full service resort rated   10/10*/10 by Good Sam, and located in Henderson, Louisiana (St. Martin Parish), just 1/4 mile north of I-10 exit. Our beautiful park features a large selection of traditional as well as high tech amenities to make your stay more enjoyable.  We know how to show you a good time!
Choose from over 300 Deluxe RV Spots and 25 Cabins. Cabins have waterfront view, stocked ponds and include a concrete patio with charcoal grill, private tub/shower, full kitchen, sink, stove, microwave, and refrigerator. Our spacious RV spots have full hookups, and are Big Rig ready, with 70+ channels of digital cable, and excellent High Speed WIFI is available throughout the park.  Pull Thru and Back In spots have 20 feet of landscaped space between each concrete pad.
Check in at our Welcome Centers , and shop in our convenience store and gift shop for all your camping needs.  We have so many first class amenities, so you can enjoy all kinds of fun or just relax beside one of our pools with your favorite beverage.
Cajun Palms RV Park Entertainment
Our clubhouse contains an assembly/reception hall with a beverage service counter, band/DJ Stage, private bathrooms, and has an occupancy rating of 750 persons. Our clubhouse also features two concession stands serving prepared food, a poolside patio, a second floor deck overlooking our resort style pool with swim up bar, and a second floor bar with video poker. The clubhouse also has a pool view work out facility, video arcade, state of the art theatre, business meeting room, and coin operated laundry facilities.  Fish in one of our ponds or enjoy beach volleyball, or mini golf.
Golf carts are available for rent at so that you can easily navigate all of the amenities or just enjoy a drive through the park.  In addition to our snack bars and weekend entertainment, we have eating establishments close by for your convenience.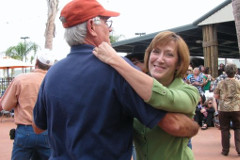 Our 50's retro diner is located in our fantastic Cajun Fast Track facility, which is loaded with fun things to do. You can also enjoy excellent Cajun fare from the restaurant next door, or have it delivered to your RV.  Visit our Prehistoric Park, or have a cold drink at Roy's Tiki Bar.
There are so many things to see and do in the area, so stay awhile with us and we will show you a good time!  Make your reservation now at CajunPalms.com or call us:  1-337-667-7772