Every year, thousands of RVers make their way northbound on I-75 from Gainesville, Florida to Atlanta, Georgia, whether as a single trip, along the snowbirds' trek back north, or as a leg along any given road trip.
If done right, this five-hour drive is one you can look forward to, including stops at state parks, museums, natural landscapes, and a Love's Travel Stop that's perfect for RVers everywhere. Don't miss these great roadside destinations next time you travel from Gainesville to Atlanta. 
Stephen Foster Folk Culture Center State Park
Less than an hour into your trip, enjoy hiking, bicycling, canoeing, and wildlife at the Stephen Foster Folk Culture Center State Park. Or stop in the museum there and learn about the folk music icon who wrote "Old Folks at Home" about the scenic Suwannee River that runs through the park. 
While it may be a little soon for a rest stop, this park is a great, lesser-known attraction worth a visit. Check the schedule to see if your trip aligns with any music events hosted at this location. And, if not, just head up the interstate and visit the Spirit of Suwannee Music Park and Campground.  
Not far from the culture center are two other incredibly beautiful designated areas: Big Shoals Wildlife Management Area and Suwannee Valley Conservation Area. And if you happen to miss these spots altogether, the drive continues along the Suwannee River, adjacent to the Woods Ferry Conservation Area. So you're sure to see some beautiful spots still along the way. 
Suwannee River State Park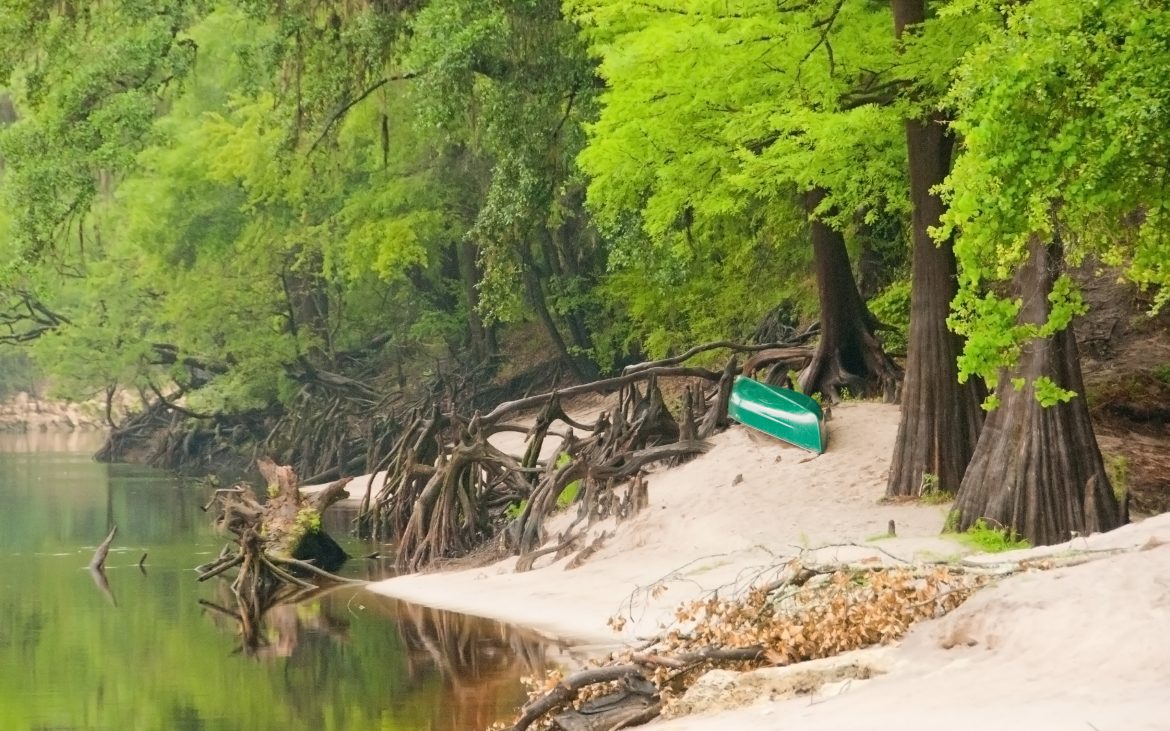 Traveling with a history buff, or consider yourself one? The Suwannee River State Park might be the perfect outdoor adventure stopover on your way north from Gainesville. See Civil War-era fortifications still evident in the park where Confederate soldiers built embankments to defend against Union Navy gunboats. 
While trails in the area provide ample opportunity for hiking, birding, bicycling, and picnicking, spots like the old Stagecoach Road and the railroad bridge that marks the site of the Battle of Olustee are historic sites you won't want to miss. 
Lake Blackshear
There's nothing better than breaking up a longer drive — like from Gainesville to Atlanta — with a quick stop off the highway to sightsee natural landmarks. While Lake Blackshear is an artificial lake, there are some key details about this in-between outdoor excursion that make it a unique and worthy stopping point. 
Covering approximately 8500 acres, Lake Blackshear was formed by creating the Crisp County Power Dam, which flooded the area and submerged countless trees, among them many Cypress trees that remain alive and rise from the waterline in several places across the lake. A favorite of boaters and fishermen, Lake Blackshear is approximately a fifteen-minute drive of I-75 when you exit for Cordele. 
Love's RV Stop
You might just make Cordele a destination of its own, given the nearby lake and the conveniently located Love's RV Stop – 801, a perfect spot to refuel, hook up to power and electricity, and stay the night. After all, with this many destinations along one stretch of highway, it might make sense to stop and rest here for the night and use your added free time to explore nearby destinations. If you are a Good Sam Member, you can make use of your 10% discount at any Love's RV stop. Prices generally range between $37-$48 a night. To reserve your spot, use the Love's app or reserve at their website. 
Love's now offers over 30 locations nationwide that provide RV hookups and various RV amenities. Amenities vary by location, but here you can enjoy Wi-Fi, paved spots, full hookups, laundry, restrooms and showers, a dog park, and more. 
Learn more about Love's locations that offer RV services, including hookups, amenities, and affordable nightly rates. Love's continues to add RV locations across the country, so be sure to check to see if there's a Love's at your next stopover. 
Museum of Aviation 
Situated on 51 acres adjacent to the Robins Air Force Base, the Museum of Aviation is an educational, entertaining pitstop to help break up your drive. 
It is the second-largest museum in the United States Air Force and features indoor and outdoor exhibits showcasing aircraft throughout its history, including favorites such as the SR-71 Blackbird, the AC-130A Spectre, and the famous B-29 Superfortress. 
Ocmulgee Mounds National Historic Park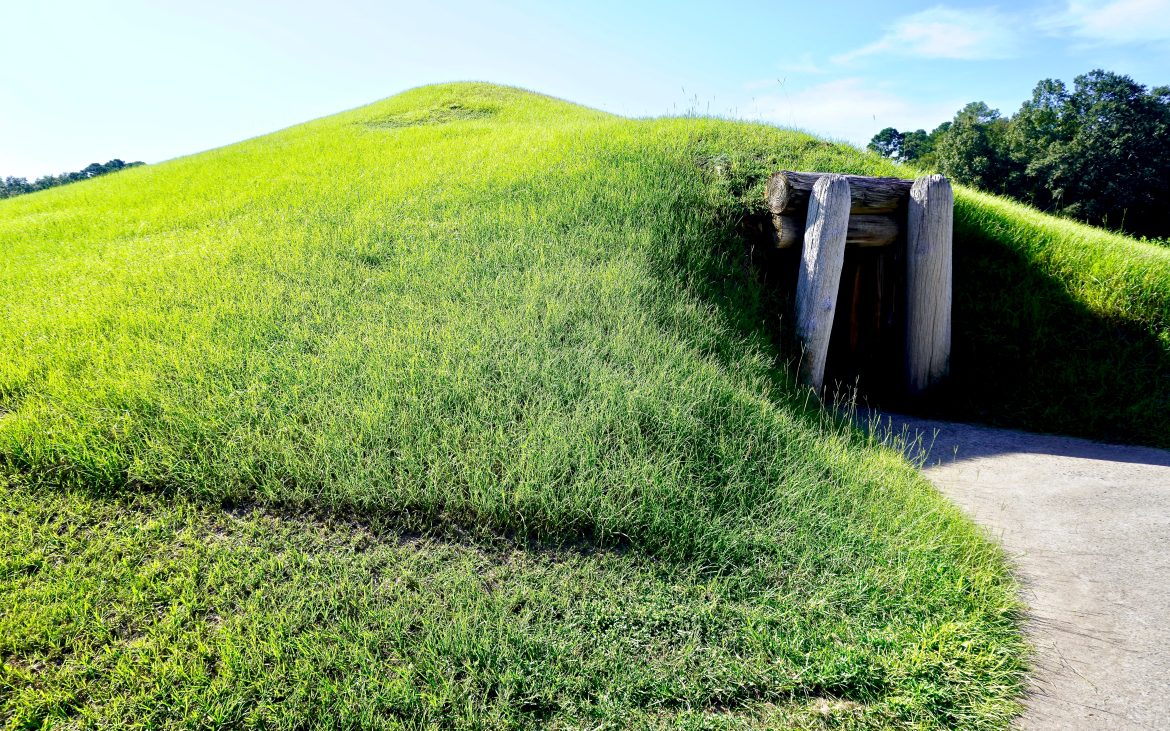 The park is a prehistoric American Indian site that features mounds that were built over 12,000 years ago for those civilization's elite. Now, it's a popular destination for those with an interest in archeology, Native Indiana history, and prehistoric sites. 
The park features a museum that has on display over 2,000 artifacts found within the area. In fact, this location was the site of the largest dig ever conducted in the United States where over 800 men discovered over 2.5 million artifacts between the years of 1933 and 1936. With found artifacts such as pottery, arrowheads, tools, instruments, metals, and more, they were able to better piece together a timeline of who lived on the Macon Plateau. 
For those with a knack for history, you'll find both this park interesting from both a prehistoric perspective as well as a US history perspective, as it was also the site of two major battles in the Civil War. 
Additional Stops Along the Way? 
These are just a few of the many stopover options along your way from Gainesville to Atlanta. But along this five-hour stretch of highway, there's even more to do, including the following options you might want to include in your itinerary: