As the snowbird season approaches, legions of travelers set their sites on spending winter in the sunny Southwest. For Good Sam members, the road to iconic attractions like the Grand Canyon or Palm Springs just got smoother with the addition of 12 new Good Sam Campgrounds in the Southwest.
Good Sam members save big with the 10 percent discount at Good Sam Campgrounds. While exploring, discover all of the campgrounds in the Good Sam Network. If you're not a member, joining is simple: Purchase a membership at any Good Sam Campground or sign up online. Before making reservations, check each campground's seasonal information to determine availability.
Arizona
Ajo Heights RV Park, Ajo
With breathtaking sunrises and sunsets, Ajo Heights RV Park spoils guests with views of the surrounding Little Ajo Mountains and sweeping desert vistas. The resort is near Arizona State Route 85, just north of the Organ Pipe Cactus National Monument and the Mexican Border.
Rock Shadows, Apache Junction
This 55+ community comes alive with youthful energy in a modern setting and friendly atmosphere. Outstanding weather and stunning mountain views complete the picture.
Timberline Mobile Home & RV Park, Show Low
Travelers can experience all four seasons in the White Mountains of eastern Arizona. During the warm weather, visitors can marvel at crystal clear streams and lakes, along with incredible vistas. Winter brings ample skiing possibilities.
Canyon Motel & RV Park, Williams
MFound along the iconic Route 66, this park offers historic motel, caboose, and railcar suites, in addition to RV and tent camping. It's a great spot to camp when visiting the nearby Grand Canyon.
Las Quintas RV Resort, Yuma
MNestled in the foothills of Yuma, this resort has excellent views of the surrounding mountains and desert landscape. Nearby, shopping, entertainment, and golf courses offer more fun.
California
Outdoorsy Yosemite, Bass Lake
MGuests can choose from RV camping, luxury glamping tents, and rustic cabins on the shores of Bass Lake. The thrills of lake life and the world of mountain adventures are just steps away.
Cloverdale Citrus Fair, Cloverdale
This RV park sits close to Sonoma wineries, culture, dining, shopping, and more. The adjacent Cloverdale Citrus Fair hosts several fun-filled events year-round, with entertainment, exhibits, and food.
Stagecoach Trails RV Park, Julian
Just 60 miles northeast of San Diego, Julian offers a slew of outdoor adventures, including hiking, horseback riding, offroad vehicle adventures, and beautiful nature. It's also one of California's only Dark Sky Communities.
Golden Bear RV Park, Klamath
This quiet getaway on the Klamath River gives guests opportunities to fish, float, and relax. Nearby, lush redwood forests entice hikers and wildlife lovers w to er to see local flora and fauna.
Nevada
Mesquite Trails RV Resort, Mesquite
This RV destination sits close to southern Utah, the Arizona Strip, and the west Grand Canyon area. But you may be tempted to stay in this brand-new resort and enjoy golfing, fine restaurants, and more in this Silver State gem.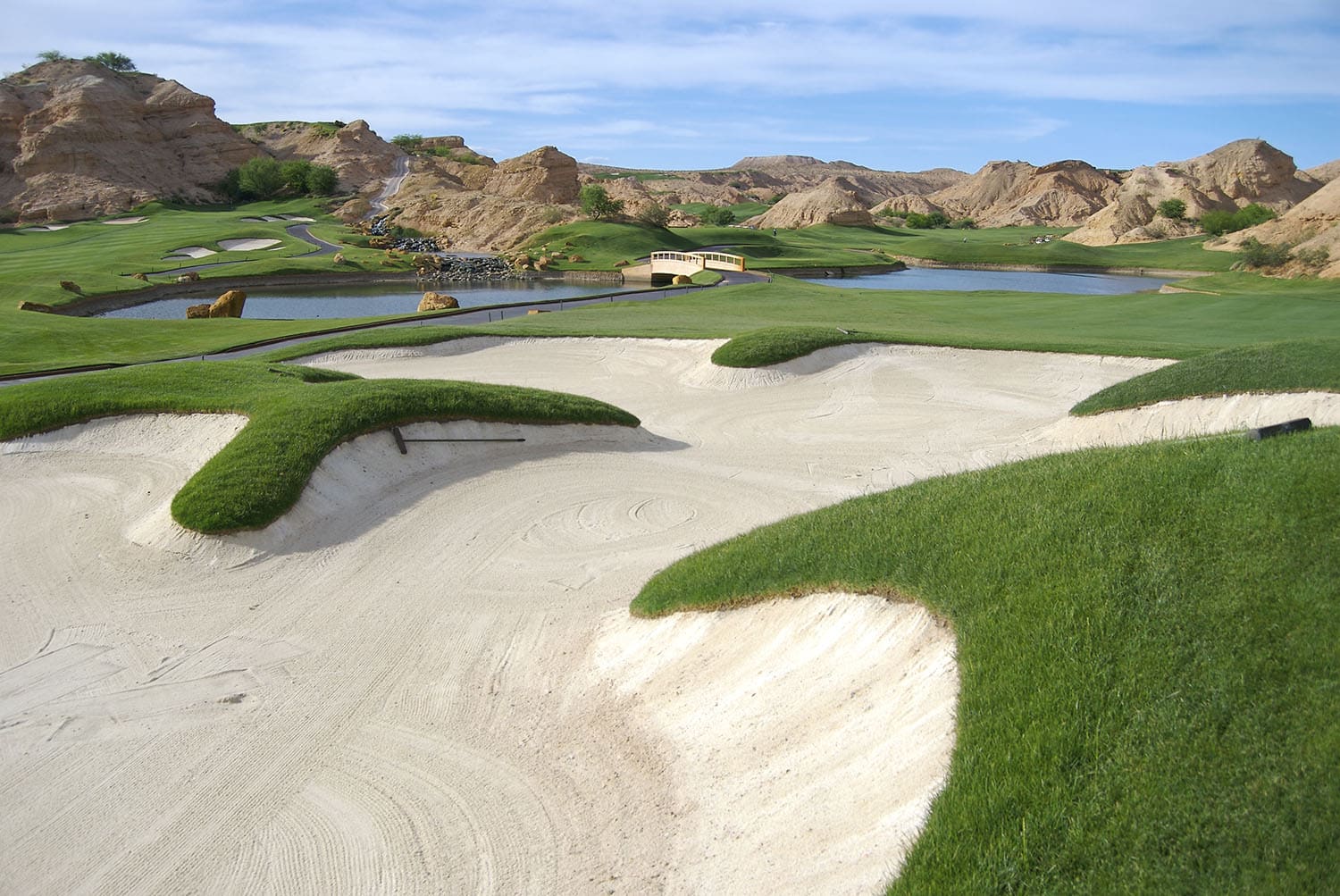 Wolf Creek Golf Course in Mesquite, Nevada.Whispering River Ranch RV Park, Yerington
This brand-new RV park boasts ample amenities in a great Silver State location east of Lake Tahoe. Guests can ride in and out on their UTVs, kayak the Walker River, or refuel at the coffee bar. Camp in large sites and grass.
New Mexico
Trailer Village RV Park, Roswell
This park invites travelers to "crash" in a family-owned and operated park close to top Roswell attractions. Guests will enjoy a safe, clean place to stay as well as the park's own gift shop, Alien Depot. Buy some souvenirs or explore the surrounding area.