Florida winter escapes don't get any better than Naples Motorcoach Resort. 
"I don't know the question, but the answer is travel." That famous saying could be the mantra of those who dream of climbing into their motorcoach and seeing the country unencumbered. It is equally alluring to those who already have, and now concentrate their travel on one special place. For many, that celebrated address is Naples Motorcoach Resort.
Ownership at Naples Motorcoach Resort represents the ultimate in motorcoach luxury, with lush and tropical landscaping, abundant resort-style amenities, numerous on-site activities and events, and a gorgeous area to explore if you choose to leave the resort — albeit temporarily. This upscale Class A motorcoach resort epitomizes the dream for so many who yearn to capture a piece of paradise to call their own.

The great winter escape
Naples Motorcoach Resort owners and guests can be found at the resort year-round, enjoying the sunny Florida weather and an adventurous agenda. Visiting in the fall and winter seasons, when there's a never-ending calendar of events and activities both on-site and in the bustling Naples area, is especially satisfying. What could be better than stepping out onto the resort's private beach instead of a snow-packed front stoop, and doing so with fellow owners and guests who have become great friends?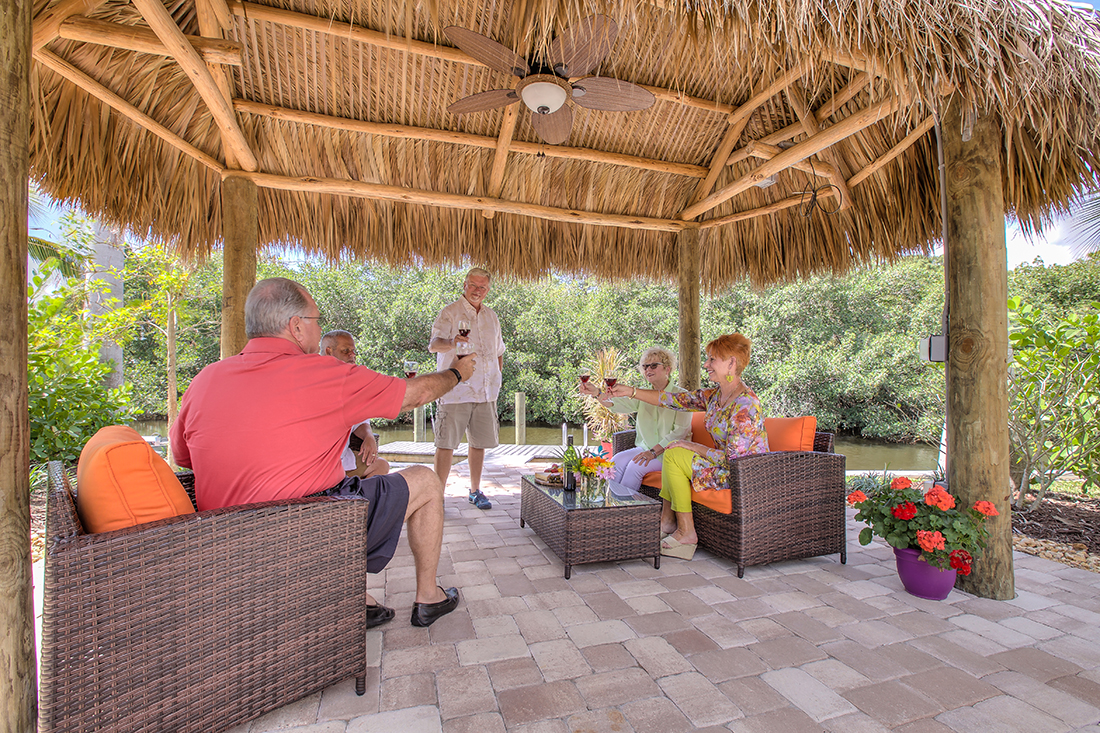 The friendships that grow out of shared interests, experiences and lifestyles are one of the hallmarks of Naples. The camaraderie that is built among these owners only makes the experience of returning to the resort, year after year, that much more rewarding. Don't be surprised to find yourself in the middle of a competitive pickleball game, discovering a trivia soulmate or planning regular dinner parties from motorcoach to motorcoach.
The Naples lifestyle
Yes, sunny Florida winter comes alive in the winter with snowbirds traveling south to enjoy the beautiful weather, and Naples further accommodates with sugar sand beaches, direct access to the gulf and the Ten Thousand Islands, daily boat tours, stunning scenery, and the great shopping, dining, art galleries and events on the famous 5th Avenue South.
You may find it challenging to leave the resort, however, with its multiple pools, state-of-the-art fitness center, theater, dog park, and 12,000-square-foot grand clubhouse with ballroom, bar, commercial kitchen, card rooms and billiards.
Ownership Advantages
Should you find yourself considering ownership opportunities at Naples, you'll be in great company; it tends to happen a lot. This Class A resort offers a variety of lots with options to own on the canal front or lakefront, an interior premier lot, or an exterior lot. An array of customizable options include outdoor kitchens, covered patios, casitas and tiki huts. It tops the list of Florida winter escapes.
Florida winter destination
For more information about reserving a preview stay or to ask about ownership, call 888-474-8856.