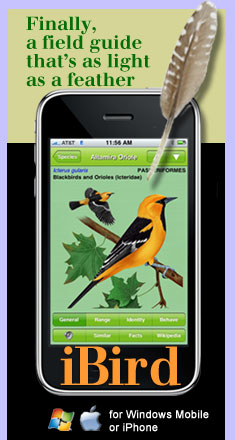 Well, this week I'm straying a bit from photography, but only a bit.  When I am planning to photograph birds, I usually take one of my bird identification books with me.  The problem arises when I'm just out wandering around taking pictures but don't have my book and need to identify a bird.  Luckily, I have found a bird identification application that can be used with iPhones, & iPods.  The company also produces a version that runs on Windows Mobile for phones & PDAs that use that operating system. There are versions that just cover a limited part of the country as well as a comprehensive version that covers the entire US.
The software is available from the iPhone Applications Store as well as the WhatBird website. Even if you don't have a iPhone, iPod or PDA, it is worth visiting the What Bird website.  It was developed by Mitchell Waite; here is his description of how the site can be used to identify birds:  "My name is Mitchell Waite and I would like to tell you about the Whatbird.com search engine used to identify birds of North America. What makes this engine so special is that it uses a parametric step-by-step approach as contrasted with all the other bird sites which which use the "all at once" approach. In order to find a bird these search sites require you to enter all the ID information and field marks upfront at the same time. This means you are either going to get "zero matches" or a huge number of matches.
The Whatbird engine gets around this issue by presenting a visual interface made up of icons for the field marks. There are icons for colors, shape, family and much more. Each visual selection step narrows the search results to help locate the bird you saw. Try the bird search engine–it currently has over 800 birds in the database."
The website can be used for free, and the search engine works well for identifying birds, but is a bit difficult to access in the field.  The iPhone/iPod version is a complete self contained database – it does not need a phone connection to work.  You can search by name or many many identification points. Once you find your bird the page looks much like a good bird identification book, starting with a drawing of the bird; it also includes photographs, a drawing of the bird's range, identifying characteristics, facts about the bird, and, unlike a book, recordings of the bird's call, and, if you have a data connection available, a link to the on-line wiki encyclopedia of birds. Although I haven't tried it, others have suggested using the speaker function of your phone to play the calls to attract birds.  Since many birders use calls to count birds in the woods, I'm not sure that is a good idea, but it does offer an additional method of identifying a bird.
Depending on the version, the price ranges from $4.99 for the "Backyard Birds of North America to $19.99 for iBirds Plus, a version that includes 891 birds covering  all of North America.  The Windows Mobile version (Winged Explorer) is $29.99.  I have to admit this is more than I have spent for any iPhone App, but I feel having a complete US bird guide with me at all times is well worth it. One additional note – these are large applications (the Windows Mobile version is 250MB, iPhone 339MB) so it would be best to download to your computer or using a fast WiFi connection.