Soon RVing snowbirds across the colder northern United States will begin their migration South, ready to soak up all the fun in the sun that Florida has to offer from late Fall to early Spring.
For those RVing snowbirds "in the know," the annual destination of choice is Naples Motorcoach Resort & Boat Club, located along Southwest Florida's nature coast in one of the state's most prestigious cities. In fact, not only does Naples boast a red-hot real estate market, but it was also recently named as the happiest and healthiest city in the U.S. by USA Today.

Couple that with the fact that no other RV resorts will be built in Collier County, according to recent regulations, and it's easy to see why owning a piece of this five-star escape from the cold is so popular. Once there, future owners can select from a variety of site options, including lake front, canal front, and interior and exterior selections. Sites can then be customized according to their specifications, including privacy landscaping, alternative pavers, built-in barbecues, coach cottages and more.
RVing Snowbirds in Florida Enjoy Amenities
But the perks don't end with the sites, as the 23-acre resort offers unparalleled amenities including three pools; spas; sun decks; a theater; a state-of-the-art fitness center; a dog park; and a spectacular 12,000 square foot old-Florida style clubhouse. Not only does the clubhouse feature a ballroom, bar, commercial kitchen, card rooms and billiards, but is also the site of a variety of ongoing social activities and special events.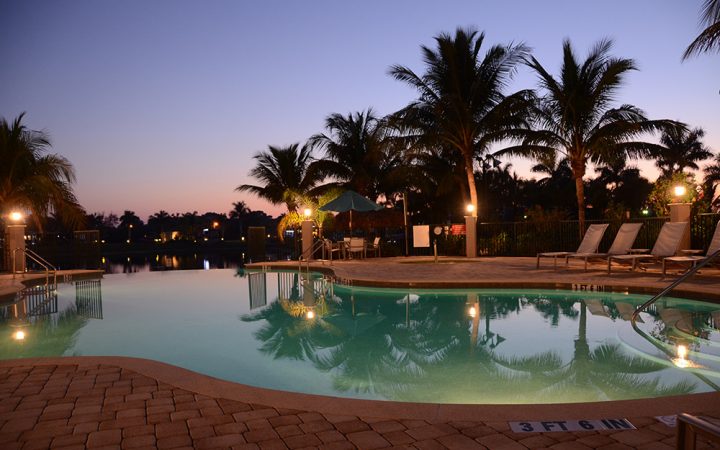 Community is also a huge draw, as newfound friends can be found in heated, yet friendly, competition on the resort's four brand-new professional pickleball courts or partaking in various planned activities and such events like live music, dances, and more. For those looking for adventure on the open waters, Naples Motorcoach Resort & Boat Club has dry boat storage as well as direct canal access to the Ten Thousand Islands and the Gulf of Mexico.
RVing Snowbirds in Naples
Travel outside of the resort and you'll find yourself in the vibrant town of Naples. There you will discover a diverse array of dining, cultural and entertainment options — whether that includes perusing the countless shops along Fifth Avenue, fishing in its natural waterways, dining in a variety of highly rated restaurants, catching a gallery opening or comedy show and so much more. Naples is also a great escape from the daily grind as one embraces its natural beauty via fishing excursions, trips to the beach, hiking and biking outings and so much more.
So if you're seeking paradise in the sun this Fall and Winter, Naples Motorcoach Resort is for you. For additional information about booking a preview stay or to inquire about sites available for purchase, simply give us a call us at 888-474-8934.