Add an Idaho pow wow to your RV itinerary.
Ah, His´Laqht! (Hello my friends!). This greeting comes with an invitation to the 2017 Coeur d´Alene Tribal Encampment and Julyamsh Pow Wow at Kootenai County Fairgrounds in Coeur d'Alene, Idaho, July 21–22. It's an event that shouldn't be missed.
What is a Pow wow?
If you've never attended a pow wow you are missing a feast for the eyes and ears, a Native American celebration, social gathering and dance competition. The Julyamsh Pow wow is where Native Americans from across the country gather to dance, drum and display their "regalia," the colorful dress that can specify special events or honor a person's life, with specific traditions or symbols rooted in legend. Each dancer has a different style of decorative symbols, including birds, flowers and geometrical designs. Most of the symbols are handed down from generation to generation as family heirlooms.
Following the Grand Entry the Competition Begins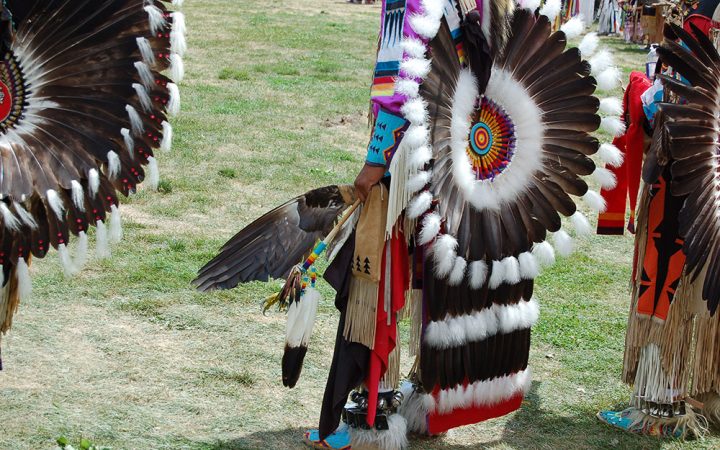 The sights and sounds of this Idaho pow wow are unforgettable. Here are a few examples:
The hunter, wearing the traditional headdress of eagle feathers, thrusts his spear, rattles his buffalo horns, then crouches, hugging the ground to follow the tracks of his prey. With precise steps he dances from side to side, then leaps high into the air to begin the chase.
The intense ring of young men beats out a relentless rhythm on the massive drums, their high-pitched, spine-tingling wailing reverberating across the dance ground. Festooned with elegant regalia of dizzying colors and intricate designs, the dancers respond to the beat, jumping, whirling, stomping and spinning.
Young women, in the age ten-to-twenty-traditional category, draped with ornate shawls and wearing vivid purple, red, pink and green dresses, covered with intricate beadwork and fringe, sway to the music. The women's bell skirts are sewn with dozens of conical silver bells that ring out.
The tiny tots, a crowd favorite, some with traditional full regalia, emulate the dancers. Some already have accomplished the heel-toe foot pattern as they dance with serious expressions.
Idaho Pow Wow Celebrating Native American Heritage
The dances were organized in the 1960's with a resurgence of Indian pride among the young people. Everyone is welcome at this Idaho pow wow; regardless of the tribe they are from, including the general public (but don't worry, you aren't required to dance). You can learn more and see a schedule on the Julyamsh website.
Find a Good Sam Park in and around Coeur d'Alene.
You can find Bob Difley's RVing ebooks on Amazon Kindle.