LOCATED WITHIN EASY DRIVING DISTANCE TO MANY OF THE SOUTHWEST'S MOST POPULAR DESTINATIONS, ZION RIVER RESORT IS THE PERFECT BASE CAMP FOR YOUR VACATION ADVENTURES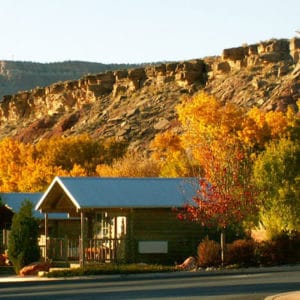 Our guests agree that Zion National Park is the place where you will want to spend most of your time whether you are driving through the beautiful scenery, hiking the trails, biking up the canyon, or riding horseback.  Regardless of your fitness level, there is something for everyone.  Between April and October, the free Zion Park shuttle makes seeing the park convenient and accessible.  Pets are not allowed on the shuttle bus.  The drivers provide a narrative and share fun facts while you ride through the scenic canyon.  The complete round trip takes about 90 minutes.  You can get on and off the bus as often as you like to take pictures and walk the trails.
Kolob Reservoir is the little know jewel of Zion.  Located along the western edge of the park it offers spectacular views of red rock mountains, Eagle or Condor sightings, hiking trails, photographs in Cave Valley and fishing in the reservoir.
And don't forget the beautiful Zion River Resort you will be spending your down time at.  Our high rated park offers beautifully level sites, a heated pool and spa, game room, playground and occasional planned activities offers you fun and relaxation.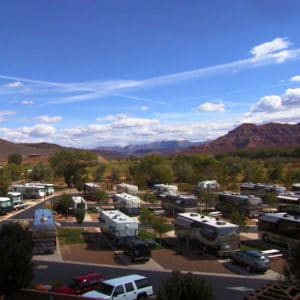 Photos by: Zion River Resort RV Park & Campground