Do you have a favorite brand and flavor of yogurt? A certain kind of wine you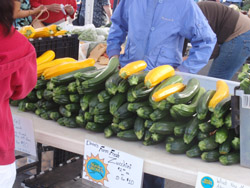 prefer? Do you prefer fresh and/or organic produce? Perhaps you have some ethnic foods you enjoy. If you do and are like me, sometimes you worry whether you'll be able to find those items as you travel. If you have food allergies/sensitivities, eat only gluten-free foods or have other dietary restrictions, finding them can be a necessity.
George and I found that eating gluten-free is much better for us. We have both lost a lot of weight and want to keep it off. Plus, like many people, we are sensitive to gluten and find it affects our digestive systems. George now bakes gluten-free English muffins for us once a week and other interesting extra-protein, gluten-free bread. He found recipes in Gluten-Free 101: Easy, Basic Dishes Without Wheat by Carol Fenster. She uses a flour mixture that includes sorghum flour, tapioca flour and potato starch that is the basis of most recipes. To that you add other ingredients. Sorghum four and the others are not found in Wal-Mart!
We spend most of the time in the West and I can usually find a Whole Foods or other good health food store to keep certain favorites in stock. When we traveled east of Colorado, I worried that I would be out of luck for many of my favorites. While I may not find the exact brand, it has turned out I don't need to worry.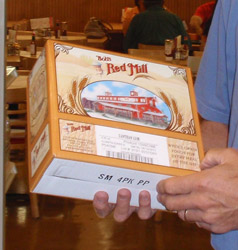 Before leaving for Alaska, we stocked up a bit in our RV, but flour is bulky and we had to go through Canadian customs so kept quantities down. Luckily, we found a store that carried Bob's Red Mill products in Whitehorse. Fred Meyers, in Alaska, has a natural food section and some of those products too as did other natural foods stores.
As we headed back into the lower 48, George discovered that we would be very close to Bob's Red Mill retail outlet in Milwaukie, OR so a visit was one of our goals while near Portland. We were not disappointed. Most stores only carry a small selection but the retail outlet has flours made from nearly every grain and bean. What fun to see quinoa flour, fava bean and green pea flours, plus all the ingredients called for in our English muffins. We bought 25 pound bags of sorghum, tapioca and potato starch. We are set for a while! (Click here to read more about our visit to Bob's Red Mill.]
Eating out
While eating lunch at the Bob's Red Mill café —sandwiches on gluten-free bread—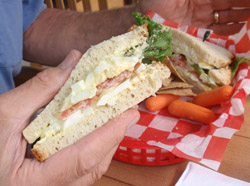 we got to talking to a couple of fellows from Tampa, FL who love to travel. They use frequent flyer miles to get to destinations, then eat at restaurants that add more points to their frequent flyer accounts. One of them has celiac disease and must eat gluten free. That's how they had come to Bob's.
He had a list of restaurants in the Portland area that are members of the iDine Club, giving frequent flyer miles. He then used Gluten-free Portland to find ones on that list that offered a gluten-free menu. Portland even has two pizza places that offer gluten-free crusts! Another site, Gluten-freeCeliacWeb lists restaurant chains that offer gluten-free items. Another place to check is with the state or regional Celiac association for local suggestions. Googling the area or city you are in combined with gluten-free should bring back some results too.
Any more suggestions for finding gluten-free products or restaurants? What about other dietary restrictions? How do you handle them while you travel? Can you usually find something to eat on a regular menu when eating out? Have you run into any problems? Let us hear from you.
By the way, here are the results of the poll on what you use your oven for. It will be up for another few days if you want to add your vote.
Jaimie Hall Bruzenak