Welcome to the Lug_Nut RV Trivia Challenge No. 10. Unlike the Love Potion by the same name, (I guess that was No. 9) this will challenge you mentally, not emotionally.  Remember, this is a trivia, not an IQ test.  Therefore you may need to guess at many.  So get a pencil to record your answers.  Then check them with the answers found near the bottom and post your score and comments in the comments section at the very bottom.
So, let's see who will get this month's bragging rights.  Give it a try.
1)     Trailer hitches are available in various capacities from a Class 1 to V.  What is the maximum rating of a Class II hitch?
A)   2,000 lbs.
B)    3,500 lbs.
C)    5,000 lbs.
D)   10,000 lbs.
E)    15,000 lbs.
2)     Camping by, or near a lake has always been a great attraction.  Which of the lower 48 states has the most lakes?
A)   Minnesota
B)    Michigan
C)    Arizona
D)   Washington
E)    Tennessee
3)     If you are into lighthouses, you might head your RV to this place.  It is the tallest brick lighthouse in the world and there are campgrounds nearby.  Surrounded by water, this attracts over 175,000 people each year.  Where will you be headed for to visit this?
A)   Halifax, Nova Scotia
B)    Bar Harbor, Maine
C)    Charleston, S.C.
D)   Cape Hatteras, N.C.
E)    Key West, Florida
4)     The ill-fated Titanic Ocean Liner is the subject of two museums devoted fully to its history.  This is a interesting part replica of the original ship that has attracted RV'ers from all over the country.  To take this in your travels you will need to head to one of the following locations.
A)   Orlando or Anaheim
B)    Los Angeles or San Diego
C)    Branson 0r Pigeon Forge
D)   Halifax or Montreal
E)    Houston or Miami
5)     The Airstream Trailer is an icon in the RV industry.  When did Airstream officially start production of their famous trailers?
A)   1932
B)    1951
C)    1928
D)   1956
E)    1958
6)     All full AC generators, gas, propane or diesel powered are required to operate at a set RPM. (The variable speed gensets are inverter equipped)  What precise RPM is required?
A)   1000 or 2000 RPM
B)    1200 or 2400 RPM
C)    1500 or 3000 RPM
D)   1800 or 3600 RPM
E)    2000 or 4000 RPM
7)     The Photo to the left is a National Monument and a great destination.  Where is it?
A)   San Francisco
B)    San Diego
C)    Catalina Isl.
D)   Houston
E)    South Padre Isl.
8)     With a mobile home costing up to $1.4 million, where is the most expensive trailer park in the U.S.?
A)   Malibu, California
B)    Key West, Florida
C)    Miami, Florida
D)   Naples, Florida
E)    San Diego, California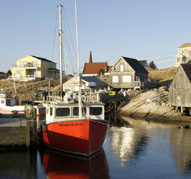 9)     With a population of only 49, the town shown in the photo to the left, is one of the most photographed places North America.  It draws tourists from all over and is in a great RV destination area.  Once called "Eastern Point Harbour", what is this town called today?
A)   Bar Harbor
B)    New Bern
C)    Peggy's Cove
D)   St. John's Harbour
E)    Charleston Harbor
10) Land Yacht was a great name to describe an RV.  What RV manufacturer has claim to this icon?
A)   Airstream
B)    Winnebago
C)    Fleetwood
D)   Monaco
E)    Newmar
So, how did you do?  Check your answers with those found below, and don't forget to share your score with us.
Testing Your Skills   –    Lug_Nut    –    Peter Mercer
1)     – (B) A Class II hitch is rated up to 3,500 lbs.
2)     – (A) Minnesota ( Land of 10,000 lakes) has the highest number of lakes.
3)     – (D) Cape Hatteras in N.C.  It can be reached with your RV via ferry.
4)     – (C) The Titanic Museums are located in Branson Missouri and Pigeon Forge Tennessee.
5)     – (A) Airstream Trailers started production in 1932.
6)     – (D) AC generators need to be run at 1800 or 3600 to produce a frequency of 60 cycles.
7)     – (B) The Cabrillo National Monument is located on Point Loma in San Diego.
8)     – (A) Paradise Cove in Malibu California.
9)     – (C) Peggy's Cove in Nova Scotia, Canada
10) – (A) Airstream's flagship was the Land Yacht.