By Bob Difley
A kinder, gentler climate, the driving force behind the snowbird migration, is not the only consideration in choosing where to spend the winter, free from ice, snow, cold winds, rain, sleet, and window-rattling storms. RVers choices for a winter roost though, are as diverse as their choice of rigs.
In last week's post I wrote about the variety of climates among desert areas, now let's look at  other considerations when choosing a winter destination. At the glitzy top of destination possibilities are the full-service resorts with teams of gardeners that maintain the manicured grounds and have pages of amenities like swimming pools, hot tubs, and recreation rooms, planned activities like line-dancing, exercise classes , bus sightseeing tours, and golf tournaments, and abundant classes and workshops in rock-hounding, photography, ceramics, wood-carving, painting, jewelry-making, and more.
These parks often fill up for the entire season and command the highest rates, and they will keep you busy non-stop. You will find them around Yuma, greater Phoenix, and Tucson in Arizona, and the Coachella Valley, California, towns of Palm Springs,  Palm Desert, and Indio.
At the opposite end is the RVing boondocker, who seeks a more natural, back to nature, desert experience (photo above). This RVer is willing to forgo conveniences like hookups, cable TV, and the activity schedule of the resorts for a solitary campsite with few or no neighbors. But this type of campsite has its amenities also–beyond not having neighbors close enough to hear their TV–no security lights dim the stars that seem so close you can reach out and grab a handful, curious kit foxes and kangaroo rats come visiting at dusk, and sleep comes to the tune of the coyote serenade.
A multitude of alternate wintering options lie all up and down the scale between the two ends. Its position on the scale, whether toward the top or at the bottom, can usually be defined by the amenities, location, and of course, price. Somewhere between the high line motorcoach and golf resorts of Palm Springs and the free "coyote camping" sites of the solitary RVer, something with just the right features and attractions awaits you. Don't be too anxious to commit to the first option that tickles your fancy. Try several venues, traveling about the desert and seeing all that it has to offer.
Unlike the East and Southeast parts of the country where most of the land was divvied up in giant parcels to privileged founding colonists in the 1600s and 1700s, much of the western deserts remains in the hands of the US government. Managed by the Bureau of Land Management (BLM), certain designated portions of these public lands in Arizona and California have been set aside as Long Term Visitor Areas (LTVAs) where primitive camping is permissible for the season for the grand total of $100–and you can move about between them. There are no designated campsites–find a spot that appeals to you–and amenities usually consist of a water source, trashcans, and a dump station–and the ambiance and camaraderie of other boondockers as close or as far away as you choose.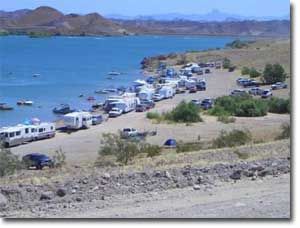 LTVAs are the ideal place to try some primitive camping, where you are in the company–but not too close–of other friendly folk. Try the LTVAs in Arizona at Quartzsite or Senator Wash (photo), adjacent to the Imperial National Wildlife Refuge near Yuma. If you want to learn about boondocking and the methods, ideas, and inventions that these independent RVers utilize, time spent in one of these LTVAs can be a fascinating introduction into the world of boondocking.
For more privacy, you can camp anywhere  in the desert for up to two weeks–then you have to move at least 25 miles away–and is free. Take time to enjoy the desert in these wide open places. Take hikes, visit historic mines, ranches, and ghost towns, watch for the emergence of Spring wildflowers, hang out a bird feeder, climb a mountain, follow critter tracks in the sand, follow a meandering arroyo, stalk a javalina, spot a phainopepla, and howl back to a coyote. Go ahead. Nobody will hear you, but if they do, they're boondockers, they will understand.