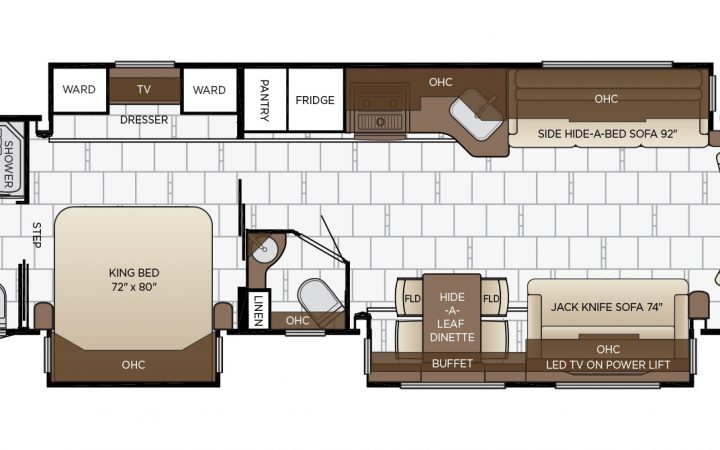 RV buying considerations — choosing the floor plan that fits your lifestyle.
Apart from the initial financial decision, RV buyers are faced with a host of considerations involved in their purchase, whether it's a used unit or brand-new. There are feature choices such as make, chassis, engine type and size, RV class, one or two heads, dinette configuration and much, much more. However, there is only one feature that is top priority.
Real estate people claim the most important feature in buying a home is location, location, location. Well, that certainly does not apply to an RV, as one of its main characteristics is its ability to change locations often. With Recreational vehicles, the most important item is unquestionably floor plan, floor plan, floor plan. After all, you are going to use the floor plan far more than any other item or feature in or on your RV. Living in and enjoying the onboard home-like environment will by far account for the majority of time you use your rig. Yes, the floor plan is your most important decision.
RV Buying — Two Floor Plan Factors
Now, there are two floor plan configurations for each choice that you must study. The first, of course, is the in-camp set up. This is when all slide-outs are extended. This is normally the one you see when viewing the RV in the showroom and also pictured in the brochure.
The second floor plan you must see is the space when all slides are retracted in the travel configuration. For this, it is important to understand how this reduced space can provide several possible needs. Can you access the washroom easily while travelling? Does it provide adequate room to prepare and eat lunch onboard with a level of comfort during a stop? And, finally, can you and your family access everything needed to spend the night, albeit tight, if required in an area that restricts any slide-outs? This can occur when an overnight stay is unavoidable in a rest stop, Walmart parking lot, or like location.  Be sure to ask the sales person to retract all the slides so that you can physically observe the shrunken travel mode floor plan.
When you have satisfied yourself with both of the floor plan configurations, you are all set. The rest of the decisions should be relatively easy.
Peter Mercer – With an RV Shopping Tip