RV basement cooler-freezer option — a cool surprise.
One of the options offered on many new motorhomes is a basement Dometic cooler/freezer. This is mounted on a slide-out mechanism that allows it to be pulled out, making it accessible by opening the top. It can be configured as a cooler or as a freezer at the touch of a button. You can even set the desired internal temperature digitally and read its current status. The appliance operates on 12-volts DC or 120-volts AC. But while all this sounds pretty spiffy, is it worth it?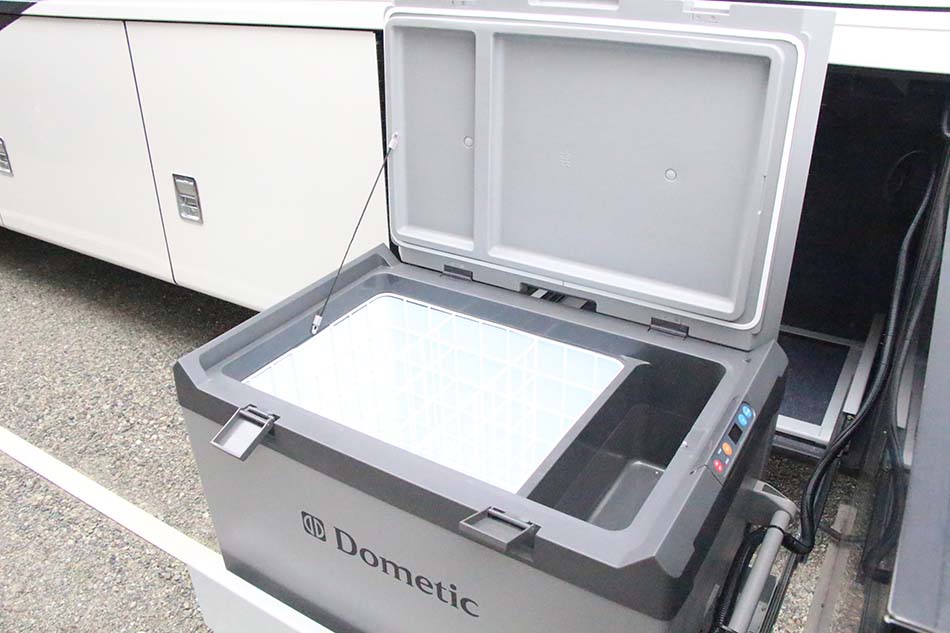 Well, I've owned five motorhomes, all purchased new, or relatively new.
I've always felt that these basement freezers contributed little but leached plenty of electrical power while taking up storage space. Hence, I've never ordered this option in any new coach.
Dometic Decision
When we purchased our latest motorhome — a pre-owned unit — it just happened to come with the basement cooler/freezer option. I wondered, how will we ever live with this basement-dwelling power eater?
Well, we figured, we might as well use it. Wow, was I surprised! This basement-dwelling marvel delivered everything it boasted of doing, and even better. We used it as a cooler when visiting the grandchildren, then as an extra freezer for our meat purchases and for freezing this year's fresh fruits. All of this with no noticeable increase in house bank power consumption.
Was I ever wrong about basement units! In my opinion, this has to rank up there with those "must-have" options. I would now never order a new unit without this great feature. It is probably an option that most people would enjoy. Fortunately, unlike many new coach options, the Dometic refrigerator/freezer can be easily added to RVs at a later date.
Peter Mercer — Just Chilling Out With a Cool Idea
Photos by Peter Mercer.