When we think of RV model choices and available options we focus on the obvious trade-off; spiffier stuff costs more money.  But money may not be the only trade-off.  With many model and option features come other sacrifices that are not necessarily realized immediately.  Here are some examples of where you may get more than you bargained for.
While bath and a half motor home models have become increasingly popular, there are few that grasp the accompanying shortfalls. First, obviously the extra space needed for this additional head has to be captured from somewhere.  Smaller living space and less storage are almost certain.  Additionally, on many models the rear toilet requires a different flushing mechanism which generally uses more water per cycle.  As a result, the trade-off of using more fresh water and the need to empty the holding tank more often are experienced.
Slide outs increase the living space in all classes of RV's, the longer and deeper the better.  Well, that may be true when they are extended, but things change when they are in travel mode.  Those deep slides now become not-so-good, as they often block access to drawers, cupboards and other items.  They can make moving about difficult, especially when needing to access to the bathroom while travelling.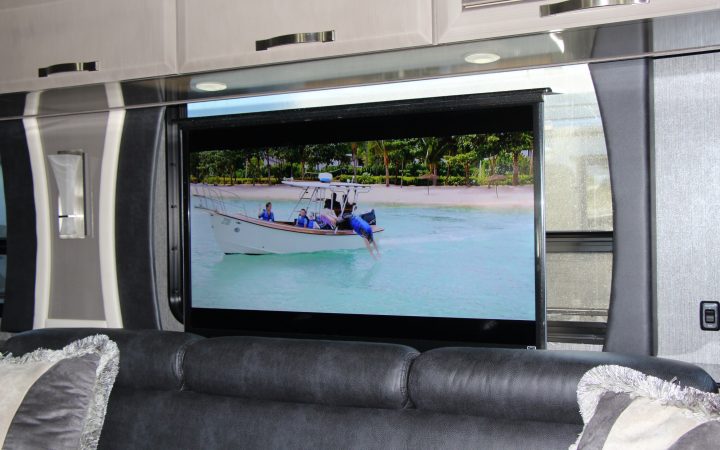 Power rising TV's, called televators, are a spiffy way to hide the television when not in use.  However, this option increases the depth of the set to about 12" or more, even on an ultra thin L.E.D. set.  This extra depth can make the slide/in configuration very tight for walking inside as well as using up valuable living space with or without the slides extended.
Dishwashers are becoming a more popular option on some of the larger RV's today.  While these help reduce the galley clean up time, they take up a large amount of kitchen storage space.  This also holds true with the addition of clothes washer/dryer options.  While combination units take less room they are not nearly as efficient as the separate stacked setup. Again, this uses up more storage space.
Many RV gourmet cooks prefer a gas stove to the standard electric found in many large all-electric coaches.  Opting for one, however, requires giving up one of the forward storage bays to house the propane tank.  On many units now, the electric induction stoves are being offered in an effort to satisfy those needs.
Many brands and models of motor homes are listing the overhead cabinets found over the windows in the living and dining areas as an option.  Certainly the majority of buyers opt for them for the substantial storage they provide.  However, these cupboards reduce the open feeling that the windows provide and slightly reduce the light coming in.  They can also be a head banger occasionally in the dining area.
Well, of course these are but a few options that come with some trade-offs.  Regardless, for what some features deliver, it may be well worth the minor trade-off attached.  It's up to you.