Looking for an Exciting Summer Vacation Spot or an RV Camping Adventure less than 30 miles from Pittsburgh? Pine Cove Beach Club & RV Resort in Charleroi, has the best "BEACH" in Pennsylvania, with a spectacular 1 million gallon water feature. Enjoy tranquil camping surrounded by trees plus 2 fishing lakes. Pine Cove Beach Club & RV Resort has it all!
Pine Cove Beach Club & RV Resort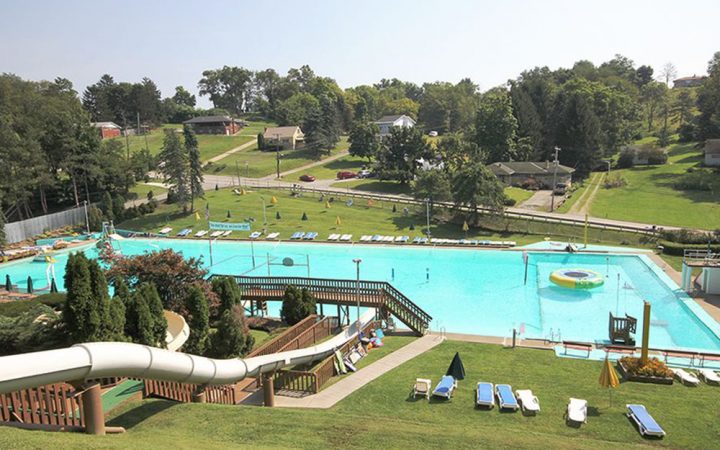 offers a wide variety of services and activities for all ages. Whether you are looking for an exciting summer vacation for the entire family, an RV camping adventure or a great day for a group picnic, Pine Cove is the place for you!
The RV sites are just a few steps from all the amenities Pine Cove Beach Club has to offer! Best of all.. it's all included in the price!
 If you are looking for places to go, or things to do, you can always take in a Pirates game, see the Steelers, or even the Penguins.
Beautiful Views
Drive up McArdle Roadway to Washington any evening to see why USA Weekend called this vantage point "one of the Top 10 most beautiful views in the country." Daytime views are great too, and sightseeing can be paired with a visit to the Emerald View Park, a 280-acre green space.
Pittsburgh on a Budget
LivingPittsburgh.com showcases the best of what Pittsburgh has to offer on almost any budget! It highlights free events, affordable activities, sales, discounts, coupons, BOGOs, food & drink specials and other great local deals.
Enter Here
If you wonder what the New York Times meant by calling Pittsburgh the "only city with an entrance," simply drive from the Parkway West (I-376) into Downtown via the Fort Pitt Tunnel and Bridge (the main route from the airport). Watch for it: You won't want to miss a detail of the spectacular skyline and sparkling rivers as they appear suddenly before you.
Free Wireless Internet
You won't have to pay to stay connected in the 'Burgh. For two hours, connect to the Internet anywhere Downtown for free!
Get Around for Free
Go underground in Pittsburgh's subway, called the "T," which you can ride for free within the Golden Triangle. Downtown stops include Wood Street Station, US Steel Tower, First Avenue and Gateway.
Ohiopyle State Park
If you love the outdoors, Ohiopyle is your kind of place! Ohiopyle State Park offers hiking and biking along the 135 mile Great Allegheny Passage. Relax and enjoy fishing, try Rock Climbing or just relax by the river's edge. Ohiopyle is family friendly offering many activities such as camping and family whitewater rafting trips as well as educational lectures
Pine Cove Beach Club & RV Resort is conveniently located just off I-70 at exit 35, and close to the Pennsylvania Turnpike (I-76).
For more information
Photos: Pine Cover Beach Club & RV Resort