RV resort food has taken a new twist on the Central California coast.
Flying Flags RV Resort & Campground in Buellton has a tasty new addition to complement its onsite restaurant and beer and wine bar: A gourmet sausage truck in an Airstream trailer!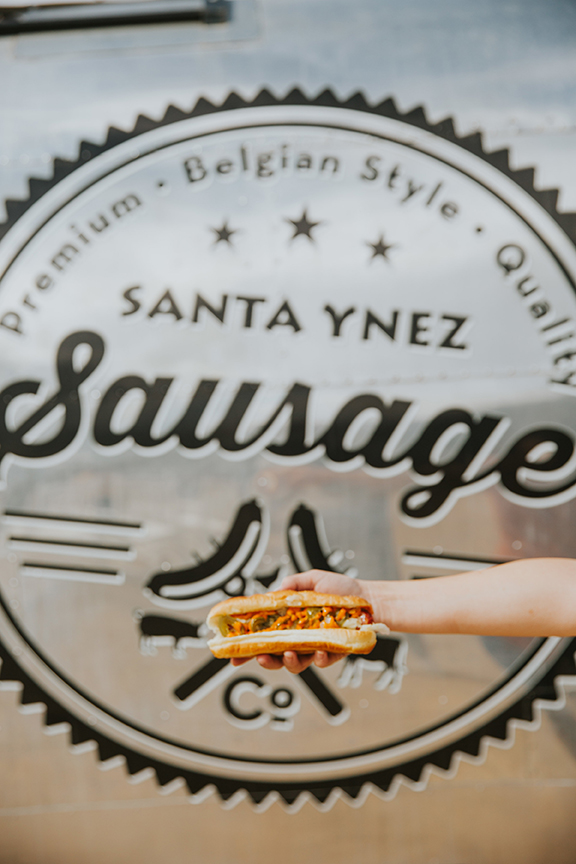 "Our guests love it," said Lydia Thomas, assistant general manager of the resort, which offers five different types of sausages with a variety of different sauces and toppings.
"We offer a hot Louisiana sausage, chicken spinach asiago, an all-beef frank, turkey franks and a vegan dog, better known at Flying Flags as a 'smart dog,' " Thomas said. "Our toppings include caramelized onions, sautéed peppers, kimchi salsa, sauerkraut and chopped onions. Our list of special sauces includes curry ketchup, Dijon mustard, chipotle aioli, Sriracha mayo, and whole grain spicy mustard."
Silver Bullet Sausage
The Airstream sausage truck is the latest amenity at Flying Flyings, which has completed $8 million worth of new construction and other improvements during the past two years to complement its existing RV sites and rental accommodations, which include park model RVs and vintage nine shiny Airstream trailers and "Canned Hams" dating from the 1940s to the 1970s. Each vintage RV has fully restored interiors and shaded outdoor seating areas with high-end barbecues, sinks and granite countertops.
Other improvements include the addition of 32 park model RVs, 19 of which are located inside a private, gated area inside the Flying Flags property with its own exclusive swimming pool, outdoor kitchen and barbecue facilities. The private "resort within a resort" is designed for family reunions, wedding parties and other special events. The remaining park models have been designed as "surf cabins," "wine country cottages," and "brewhauses," Thomas said.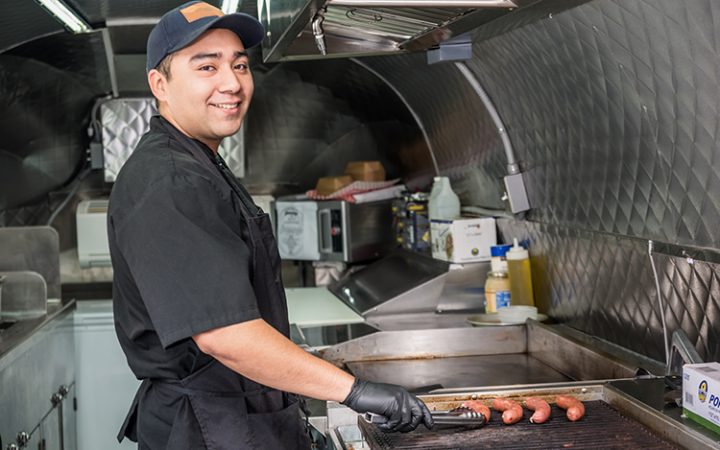 Recent improvements also include construction of a 150- to 200-person capacity pavilion with banquet facilities for family reunions, weddings and other large events and an African themed Safari tent village, with high-end furnishings, including upscale wooden furniture and fine lighting with an oil rubbed bronze finish.
The tents are set up on wooden platforms and come with outdoor cooking areas with high-quality propane powered steel barbecues with adjoining flat top grills, sinks and granite countertops.
All images provided by Flying Flags RV Resort