By Bob Difley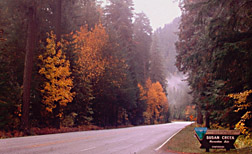 If you haven't made it a priority to check out the Scenic Byways in the areas you travel or are headed to, you are missing some of the most exciting parts of what makes up America, and you have the best way to see them–your RV.
The National Scenic Byways Program is part of the U.S. Department of Transportation, Federal Highway Administration, in collaboration with other public and private agencies, and since 1992 the National Scenic Byways Program has funded 2,926 projects for state and nationally designated byway routes in all 50 states.
Many of America's most scenic drives wind across and through remote public lands managed by the National Forest Service (NF) and the Bureau of Land Management (BLM). Though not receiving the same publicity as our National Parks and Monuments, the National Scenic Byways (NSB) and the especially notable All-American Roads are mostly low-traveled, two-lane roads that showcase the historic, scenic, and cultural treasures that define America.
But since they are often remote, it can sometimes be difficult finding private campgrounds with typical amenities and hook-ups. Along the way you may have to cover the whole route in one shot–from an RV resort at one end to one at the other. Unless, of course, you have honed your boondocking skills and are comfortable dry-camping either in primitive (no hook-up) government campgrounds or boondocking in the open forest or desert.
Your boondocking skills enable you to take your time, stopping often, even for a couple of days at a nice forested campsite, and exploring the area more fully. And boondocking, like the byways themselves, are free. Some, with hiking and biking trails, waterfalls, scenic overlooks, and hot springs you would have to skip if you weren't able to boondock along their routes. Or you would spend a lot more time and fuel driving in and out of the forest from a developed campground at its extremities.
Scenic drives, like Idaho's Payette River NSB, follow wild and scenic rivers where you can spend from a few hours to a few days rafting the exciting adrenaline-inducing rapids with a river rafting outfitter, or stay a couple days in a forest service campground along the Salmon River within walking distance to hot springs that flow through bathing pools and into the river.
At the National Scenic Byways Program's Web site you can request a free map and guide to the more than 150 scenic byways to help you plan your summer adventures through some of America's most exciting landscapes.