St. Croix National Scenic Riverway traverses 252 miles of river and shoreline along a large chunk of the Minnesota-Wisconsin border. The area actually includes two rivers: the St. Croix and the Namekagon, both of which are ideal for wildlife watching and various aquatic recreation activities.
Human settlement of the St. Croix Riverway began about 10,000 years ago. More recently, the Dakota, Ojibwe and other native tribes traveled the rivers to trade with European fur trappers. An 1837 treaty allowed the settlement of European immigrants; logging operations set up shop soon after and became the primary industry in the area until 1912.

Fees & Hours: There are no entrance or user fees for the St. Croix NSR. Nearby state parks require a day-use pass or annual state-park sticker. The park headquarters in St. Croix, WI is open 9 a.m. to 4 p.m. Monday through Friday (except for federal holidays). Landings and campsites are open year-round.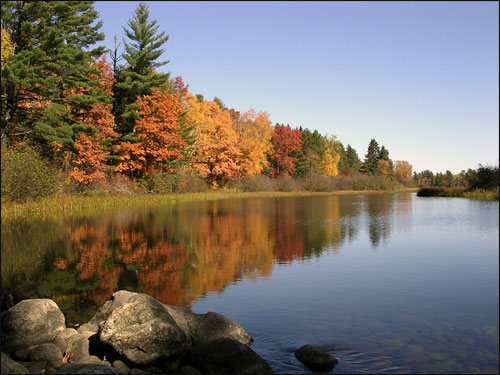 Things to Do: Canoeing is a popular activity that offers a fantastic way to view the area's natural beauty. Several outfitters rent canoes and kayaks, or you can bring your own. You can also cruise the water in a motorboat or sailboat (except for the Namekagon River, which is shallow with lots of rocks and ill-suited for boating). View boating and marina information. Or step back in time on a paddleboat river cruise: both public scenic tours and chartered lunch/dinner excursions are available.
The rivers also provide plenty of opportunities for swimming or tubing. Remember that the river changes constantly: sandbars and drop offs may move from day to day, so jumping into the water from above is forbidden. It's best to check the river levels before you get in the water.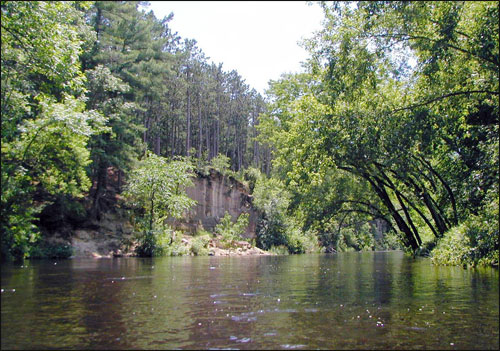 Review park safety information to help make sure your visit is safe and pleasant for your entire group.
Fishing: The St. Croix River is a warm water habitat full of bass, walleyes, saugers, northern pike, muskellunge, catfish, sturgeon, suckers, pan fish and carp. The area just upstream from St. Croix Falls has one of the best smallmouth bass populations in the nation. The Namekagon River is a cold water habitat nationally-known for its brown trout, brook trout, smallmouth bass, walleyes and northern pike.
**Note: It's illegal to remove any live mussel or clam (or any empty shells) from the river area. Several federally-protected endangered species are being rehabilitated. Download the 2008 Angler's Guide PDF.
Don't be a pest carrier! A deadly fish virus/invasive species is infecting some Wisconsin waterways, but has NOT yet reached the St. Croix or Namekagon rivers. Learn what you can do to help.
There's plenty to do off the water too. You can hike and picnic at the St. Croix NSR, while bicycling and horseback riding trails are located nearby.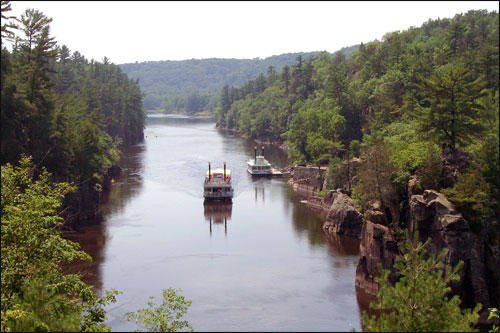 To learn about the area's cultural heritage, visit the Log Museum in Birchwood, the Gammelgarden Swedish Museum in Scandia, MN, or the Historic Octagon House in Hudson, to name a few. See a full list of area attractions.
Weather: Summer is typically hot and humid with occasional thunderstorms, while winter is cold and often snowy. For best results, check the weather before your trip and pack appropriate clothing. Don't forget an extra change of clothes in case you get wet!
Camping Info: Campsites within the St. Croix NSR are generally primitive (pack-in and pack-out) and limited to tent camping (see camping info website).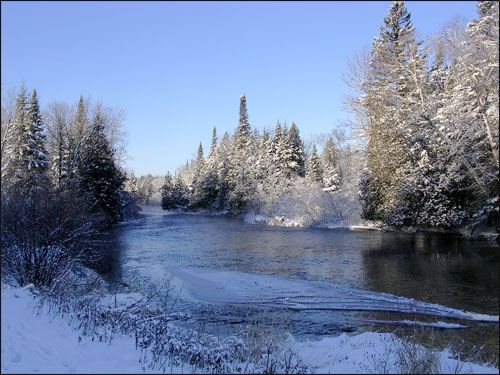 RVers should stay at Interstate State Park. The Dalles of the St. Croix River split the park in half (the other half is in Minnesota). According to the 2009 Trailer Life Directory: there are good paved interior roads, 85 gravel sites, no slideouts allowed, mostly shaded sites, back in sites are 8'x 25'. Only the North Camp Sites offer standard 50 amp electrical service, and max trailer length is 40-45 ft. Since online details are hard to find, I strongly recommend calling the park directly for more specific information: (715) 483-3747
Willow River State Park in Hudson, WI also has RV sites. There are paved interior roads, 72 gravel, mostly shaded back in sites (15'x 45'). 25 sites have 20/30 amp service and there are restrooms with showers and flush toilets. The park also features a dump station and handicap access. For more detailed information, please call the park directly at (715) 386-5931.
(Are you from the area? Have you vacationed here in the past? Leave a comment with insider tips to help future visitors have a great travel experience! I'm sure they'll thank you later. I know I appreciate good travel stories, especially when they share funny lessons learned along the way. What an adventure!)