In celebration of National Park Week, we're featuring one of our favorite locations, Petrified Forest National Park. Designated as a national park in 1962, Petrified Forest National Park is located in Apache and Navajo counties in northeastern Arizona and is approximately 346 square miles in size, making it the 38th largest national park in America.
National Park Week is happening April 22 to April 30. To celebrate, entrance fees were waived on April 22, 2023, kicking off the celebration and encouraging everyone to enjoy their national parks in person. If you're within driving distance of Petrified Forest National Park, make a visit this week. Otherwise, be sure to visit your nearest national park this week.
Petrified Forest National Park: A window to the past
We recently toured Petrified Forest National Park, one of the world's largest and most vibrantly colored assemblies of petrified wood, historic structures, and archeological sites.
The experience exceeded our expectations.
RV Park Reviews

Check out these Highly Reviewed Good Sam Parks in eastern Arizona.

• OK RV Park, Holbrook, AZ

• GreatSky CampRanch, ShowLow, AZ
The park is actually composed of two sections: the north section is a colorful badlands called the Painted Desert, and the southern section contains most of the petrified wood.
The park consists of a 28-mile road that offers numerous overlooks and winds through the mesas and wilderness. Visitors can also choose to hike a variety of trails ranging from easy to difficult.
The land below is awash in burnt sienna, deep maroon, dusty purple and sprinkled here and there with vibrant green plants.
Petrified Forest, a surprising realm of fascinating landscape and science, was set aside as a national monument in 1906 to preserve and protect the petrified wood for its scientific value. It is recognized today for having so much more, including a broad representation of the Late Triassic paleo-ecosystem, significant human history, clear night skies, fragile grasslands ecosystem, and unspoiled scenic vistas.
An ancient landscape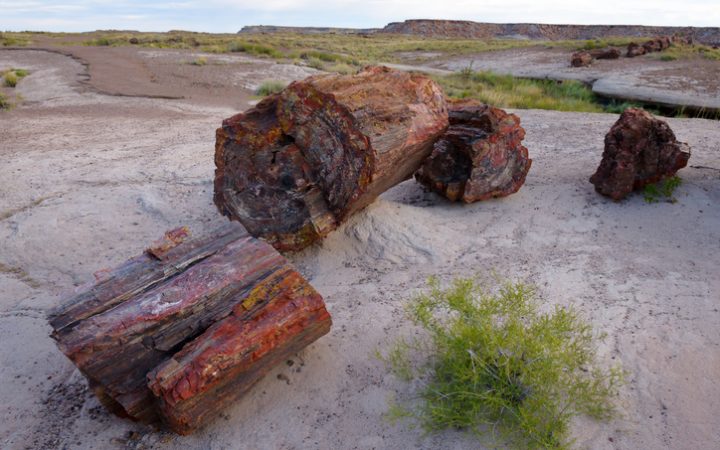 Petrified wood found in the park and the surrounding region consists of almost solid quartz. Each piece is like a giant crystal, often sparkling in the sunlight as if covered by glitter. The rainbow of colors is produced by impurities in the quartz, such as iron, carbon, and manganese.
Though only seven species of tree have been identified through petrified wood, over 200 species of plants have currently been identified from other Triassic fossils, such as leaves, pollen, and spores.
More than 200 million years ago, flourishing trees and vegetation covered much of this area of northeastern Arizona. But volcanic lava destroyed the forest, the logs washed into an ancient river system and were embedded into sediment comprised of volcanic ash and water. Oxygen was cut off and decay slowed to a process that would now take centuries.
Minerals, including silica dissolved from volcanic ash, absorbed into the porous wood over hundreds and thousands of years, and crystallized replacing the organic material as it broke down over time. Sometimes crushing or decay left cracks in the logs. Here large jewel-like crystals of clear quartz, purple amethyst, yellow citrine, and smoky quartz formed.
Erosion set the logs free millions of years later, revealing the petrified wood made mostly of quartz—that visitors to the park come to see.
How to explore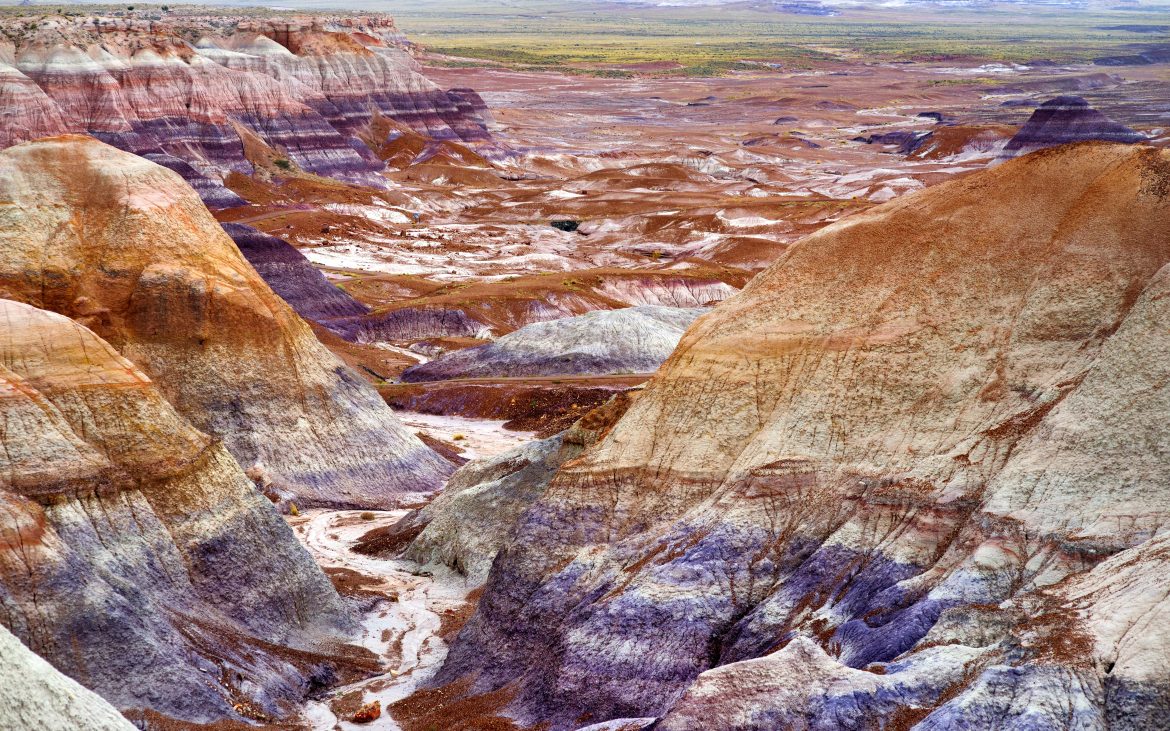 The best way to enjoy and experience Petrified Forest National Park is on foot. Designated trails range in length, from less than a half-mile to almost three miles.
After entering the park from the south we hiked the Giant Logs trail located behind Rainbow Forest Museum. Giant Logs features some of the largest and most colorful logs in the park. "Old Faithful", at the top of the trail, is almost ten feet wide at the base.
Further along the 28-mile route through the park, we hiked the 0.75-mile Crystal Forest trail stopping often for yet another photo op. Here, we entered a mysterious world of ancient trees turned to stone. The brightly colored remnants of an earlier geologic age invited us to visualize a changing world.
Petrified Forest National Park stretches north and south between I-40 and U.S. Highway 180. There are two entrances into the park. Your direction of travel dictates which entrance is best to use.
Westbound I-40 travelers should take Exit 311, drive the 28 miles through the park and connect with Highway 180 at the south end. Travel 19 miles on Highway 180 North to return to I-40 via Holbrook.
Eastbound I-40 travelers should take Exit 285 into Holbrook then travel 19 miles on U.S. Highway 180 South to the park's south entrance. Drive the 28 miles north through the park to return to I-40.
Where to camp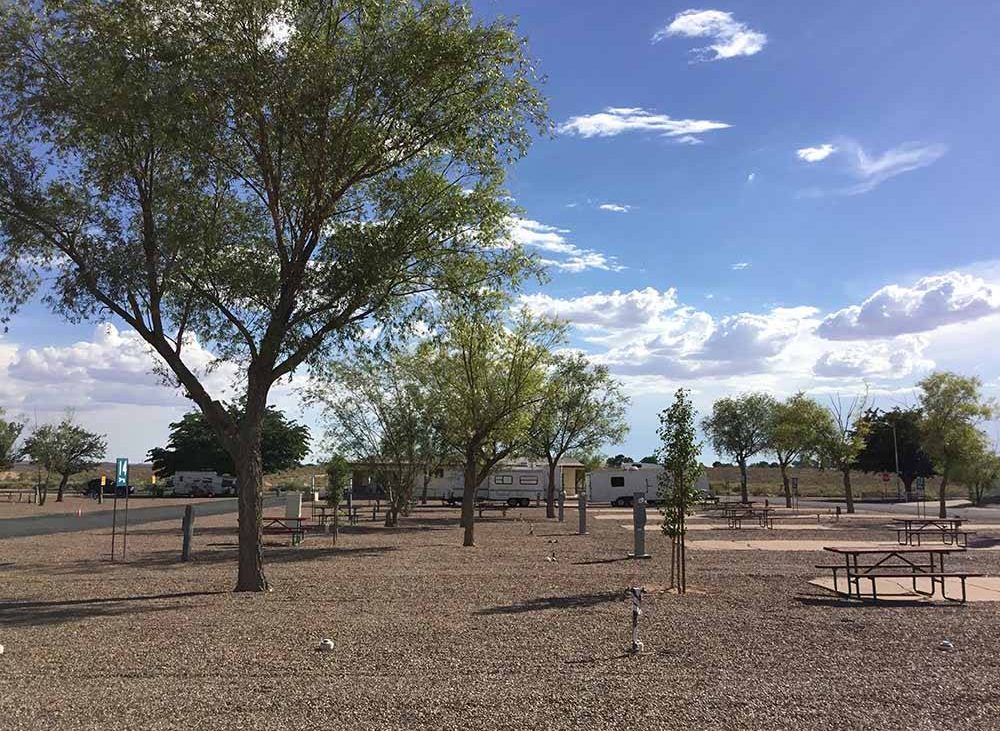 Camping and/or overnight parking are not allowed in the park, but Holbrook, AZ is located not far from the entrance. Be sure to reserve a spot at OK RV Park which features 89 spaces available to RVers and campers. Good Sam Members save 10% when staying at OK RV Park, which is approximately a twenty-minute drive from the park.
Did you know?
The ecosystem at Petrified Forest National Park is not desert. It's one of the largest areas of intact grassland in the Southwest.
Petrified Forest National Park Details
Established: December 9, 1962
Size: 135,000 acres
Entrance Fees: $10/vehicle; valid for 7 days
When to go: The park is open year-round, but hours vary. Summer is the worst season because of the crowds and heat. Winters are chilly, with the possibility of brief snowstorms, although the park's 10 inches of annual moisture come mostly during summer thunderstorms. Spring and fall offer the mildest temperatures.
Mailing Address: 1 Park Road, P.O. Box 2217, Petrified Forest, AZ 86028
Phone: 928-524-6228
Website: www.nps.gov/pefo