Surround yourself in an authentic Florida RV experience.
At Live Oak Landing, you will be surrounding yourself in absolute luxury and great fun for all ages.  This Pet-friendly resort has upscale amenities such as; concierge service, free expanded Wi-Fi and cable, air-conditioned pavilion for groups and reunions, playground, boat launch and dock, a screened-in saline swimming pool with observation deck and many more. All the RV sites are Big-Rig friendly and include full Hookups, 30/50 amps, free Wi-Fi, cable, a picnic table, fire ring, and BBQ grill. This year, you can enjoy the brand new full hook up RV sites with 40ft concrete pads. There are two types of RV sites to choose from, each with their own allure. Choose from either the beautiful waterfront sites located on the Bay or choose to spend the night surrounded by the amazing 100-year old Live Oak Trees that encompass the site.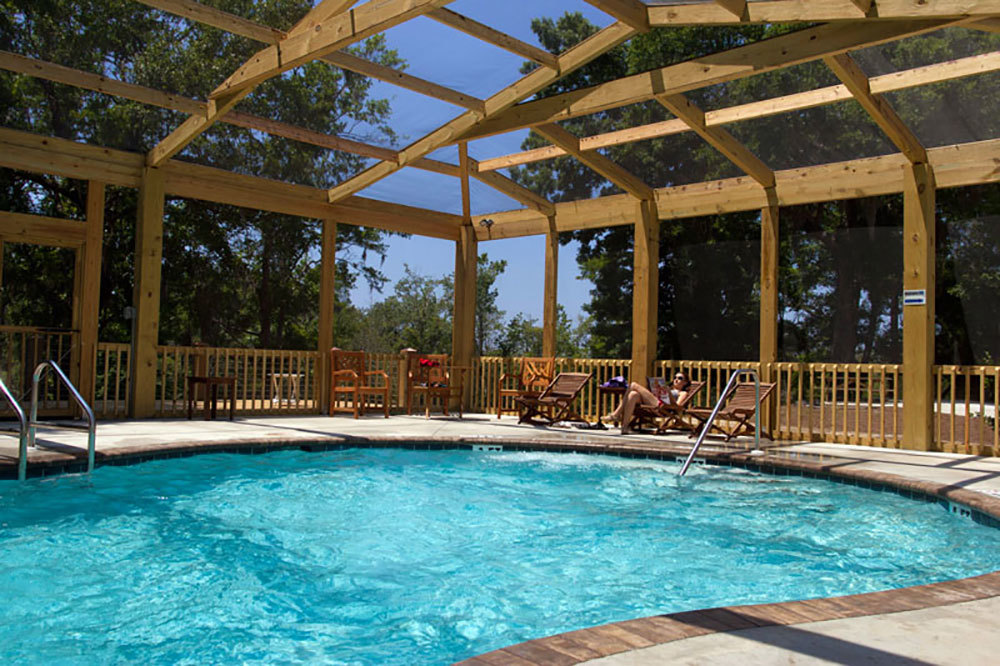 From the property, you are minutes away from multiple amazing activities, from the local Destin shopping area, fresh local seafood, the Windswept Dunes Golf, miles of beach, and more. New Experience Packages allow guests to create lasting memories and help them enjoy the full outdoor experience. Join us today to experience all the Florida Gulf Coast has to offer.
Waterfront Resort 
Live Oak Landing, located on the beautiful Choctawhatchee Bay, leaves you surrounded by the tributaries of the greater Choctawhatchee River system. Historically known as one of the best fishing destinations in the country, the resort offers ample fishing opportunities for experts and beginners alike. Or, skip the fishing and enjoy the kayak, canoe, and boat rentals that will allow you to explore the breathtaking waterscape. If the river isn't for you, you can find yourself enjoying the white sands of the Emerald Coast beaches, located just minutes from the resort. If you're just looking for a relaxing day in the sun, the screened-in saline swimming pool with observation deck may be your spot. No matter the adventure you're look for, the resort guarantees water will be involved! It's all part of an authentic Florida RV excursion.
Nestled in Nature — an Authentic Florida RV Adventure
Each RV site is nestled amount the Live Oak trees to maintain privacy and allow you to enjoy the full outdoor experience. The location in Freeport offers a wide variety of accommodations, activities, and amenities that will comfortably allow you to connect with nature and make you're stay truly unforgettable. Ideal for outdoor enthusiast, families, and individuals who want to relax and take in the unmatched surroundings of Live Oak Landing. The resort also offers bicycle rentals and with hiking/biking trails on site allowing you to go out and enjoy the fresh air and surrounding areas. Also nearby, various state parks and water coasts allow everyone to find something in nature that they will truly enjoy.