By Bob Difley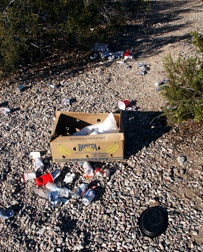 My inclination is that all boondockers know and practice the Leave No Trace principle. Unfortunately, I find that idea does not always match reality. I'm sure we all have found trash when we pull into a new boondocking site, and probably blame it on "those damn kids" that come out here in our territory and mess the place up.
But on the off chance that there are a few boondockers who haven't subscribed to the Leave No Trace principal, this short piece will bring them (you?) around, and hopefully instill in them/you more earth friendly habits.
The concept behind the seven Leave No Trace camping and hiking principles were conceived to limit the impact of camping and hiking in the backcountry. Though aimed at backpacking campers, they apply equally to RVing boondockers.
They have been formalized and are managed by the Leave No Trace Center for Outdoor Ethics which promotes the education and adoption of these principles throughout the country. The center works in cooperation with The National Park Service, National Forest Service, Bureau of Land Management and the US Fish and Wildlife Service.
Here is the condensed version of the seven Leave No Trace Principles.
* Plan Ahead and Prepare: Have the right gear and information to minimize your impact on the environment.
* Travel and Camp on Durable Surfaces: Hike and camp on surfaces that minimize impact.
* Dispose of Waste Properly: If you pack it in; pack it out. This includes human waste in some cases.
* Leave What You Find: Do not disturb historic sights and don't take rocks or plants home.
* Minimize Campfire Impacts: Use stoves for cooking and know local fire regulations.
* Respect Wildlife: Don't feed the animals and observe them from a distance.
* Be Considerate of Other Visitors: Yield to other hikers when appropriate and respect your camping neighbors.
If everyone were to follow these guidelines, the boondocking experience becomes better for everyone.
Check out my eBook, BOONDOCKING: Finding the Perfect Campsite on America's Public Lands, for hints and tips to enhance your boondocking life.