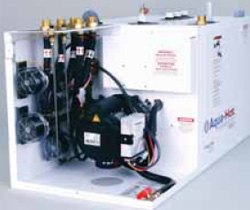 Now gasoline powered RV's and trailers will be able enjoy the comfort and efficiency of hydronic heat. RV furnaces and hot water heaters may soon be things of the past on many rigs now that an affordable propane fired hydronic heating system is available.  Aqua-Hot recently introduced its new 375-LP that can provide interior heating and a continuous supply of hot water.  While plugged into shore power it is heated with a 1500 watt 120 VAC element for general light service which helps reduce propane consumption.  During times requiring additional heat, or while no AC is available, it is equipped with a propane burner.
The unit and system is substantially lighter and requires less space than a water heater and furnace unit. It also delivered increased creature comforts with better heat distribution qualities.  Propane consumption is stated as 0.35 gallons per hour.
The Aqua-Hot 375-LP will be offered by many RV makers and possibly as an option on some.  Aftermarket installs should also be available starting at around $6,000 plus labor.
Here's a link to there website: Aqua-Hot 375-LP
Keeping You Informed     –     Lug_Nut     –      Peter Mercer