From world travelers to RVing reps: a couple reaps the rewards of working on the road for Good Sam.
Don and Peggy Holloway have seen it all. As jewelry wholesalers in a previous career, they rode a long boat on Thailand's River Kwai, walked the Great Wall of China and traveled thousands of miles through South America.
These days, the pair travels by RV as sales reps carrying out inspections and developing market plans for parks listed in for the Good Sam Guide Series and online. Don't be fooled: on the road stateside, they've seen sights that rival Andes mountain skylines and bustling Hong Kong markets — and they've gotten paid for it.
We recently chatted with the Arkansas natives to talk about the rewards and challenges of pursuing the lifestyle they love for a living.
So where are each of you are from?
Peggy: We are both from Waldron, Arkansas and we still live there when we're not on the road. We were high school sweethearts: Don played football and was the star halfback, while I was a cheerleader. This August, we'll celebrate our 50th wedding anniversary.
What professions/occupations did you have prior to becoming a rep?
We have owned several businesses over the years, including two restaurants, a RadioShack franchise, a construction company and a feed store. For 28 years, we owned and operated a jewelry wholesale business, which gave us the privilege of traveling the world, from riding a long boat up the River Kwai in Thailand to taking the tram to the top of Victoria Peak in Hong Kong to walking on the Great Wall of China, as well as visiting several South and Central American Countries. We are somewhat nomadic at heart, so being Good Sam reps fit our lifestyle well.
What got you into the RVing lifestyle?
Over 45 years ago we bought our first RV, a used camper trailer. Since then we have owned several RVs and we are now on our third motorhome. RVing has always been our preferred method of vacationing, and we love taking our family and going to the Northwest United States in our motorhome. We have even driven our motorhome to Alaska; it's a trip we would definitely recommend to any hardy RVer.
How did you become reps?
We became friends several years ago with reps David and Donna Harmon, and they told us about what they did with Good Sam, and it sounded so intriguing to us that we decided to interview for a job as Good Sam reps. Fortunately, we were offered a territory and we have loved every minute of the journey. We currently cover Arkansas, Kentucky and Mississippi.
What are your favorite parts of the rep life?
We love traveling in our RV, seeing this beautiful country and meeting fellow RVers who enjoy the same lifestyle that we do. We also enjoy meeting park owners, some of whom have become great friends. When we're asked what we do for Good Sam, we reply, "We go camping and get paid for it." If you're willing to work hard and dedicate yourself to achieving goals in your territory, this job can be financially very rewarding.
What is the most professionally rewarding part of being a rep team?
We love visiting the parks and campgrounds. RV park owners and managers are some of the nicest people you will ever meet, and we are also well received because of the professionalism and the reputation Good Sam has earned over the years. We have great support from the home office, and we like being part of a great group of other rep teams that have become like family.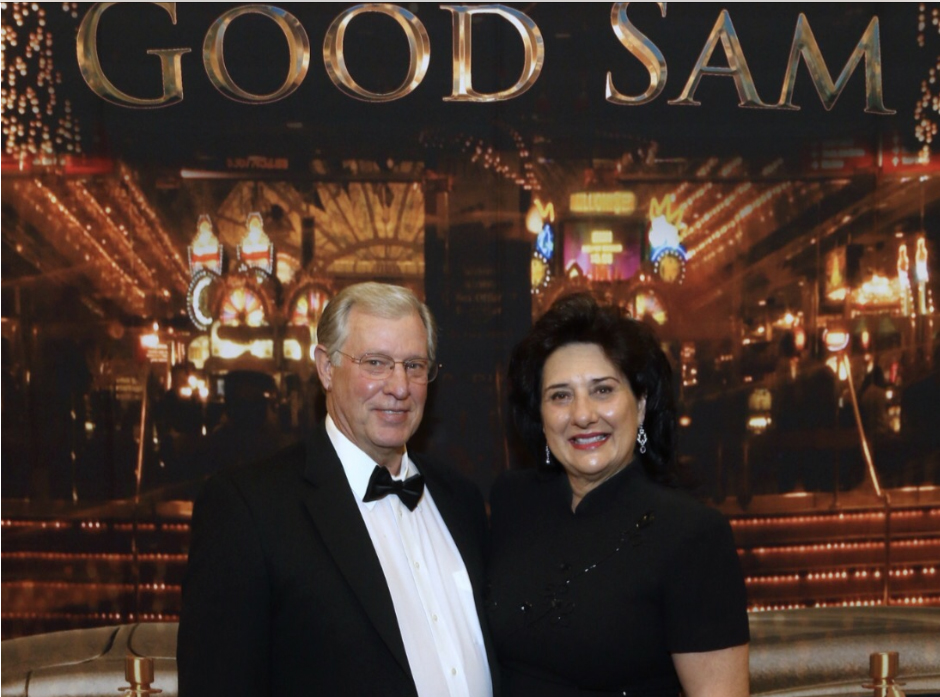 What skill set/quality is most important for rep teams getting paid to RV?
As in any business, relationships are the most important aspects to the job, and building relationships are what we have done all of our business life. Also, to be successful in any sales-based business, we have found that you must be enthusiastic about your product, as well as fair and honest in your dealings. Having been in sales most of our life, we've learned that to achieve your goals, you must help your customers achieve their goals. That means, sometimes you are the salesperson and other times you are the consultant. As our sales director says, "If you don't make a customer, at least make a friend."
What are some of the amazing things you have seen on the road?
Where do we start? In Custer Sate Park, South Dakota, a herd of wild donkeys stuck their heads in our tow car, eating crackers out of our hands. Coming back from Alaska, we counted 44 bears ambling along the side of the road. Other experience included being surrounded by a herd of buffalo crossing the road in Yellowstone National Park; witnessing a couple of moose on the loose on the square in Jackson, Wyoming; being caught up in the middle of the most amazing fireworks display in Florence, Oregon; and seeing the big five animals — bear, wolf, moose, caribou and Dall sheep — while touring Alaska's Denali National Park. These are only a few of the great memories we have made while roaming the country in our RV.
Do you have what it takes? See below for more info.
---