Claude Monet once said, "the richness I achieve comes from nature, the source of my inspiration."
Starting February 9th, the Coachella Valley will yet again become the canvas for contemporary artists around the world. The second edition of the biennial pop-up art exhibit has touched down in the Southern California desert. Desert X will feature 19 installations and performances throughout the desert from artists around the world.
The California desert has often been a source of creative inspiration with its strong mystique and different personalities.
For those seeking to cast aside the constraints of civilization, the mythology of the desert is the place to get lost and find yourself at the same time.
Click To Tweet
When I was living in Palm Springs, I covered a slew of events, openings and concerts. But this was different. We were given geographical coordinates for 16 site-specific works by 16 artists in areas around Palm Desert, Indio, Palm Springs, and Rancho Mirage. Sprawled around 45 miles of the Coachella Valley, from the San Bernardino Mountains to the Salton Sea, founder Susan Davis wanted the artists to engage with the striking environment.
Curated by Artistic Director Neville Wakefield, it's timed to coincide with Coachella Music Festival, which draws tens of thousands of revelers to the desert every April.
"I'm interested in site-specificity and how this place gives rise to the work," saidthe British-born, New York-based curator to the Los Angeles Times.
Two years ago, I plotted my coordinates into Google Maps and went on the coolest treasure hunt ever. The debut of Desert X in 2017 combined some of my favorite things; art, exploration and nature. "X" literally marked the spot in this limited-run exhibition.
I had no idea what an appropriation artist was until I searched for my first exhibit in Desert Hot Springs. Known as "the Andy Warhol of Instagram," Richard Prince rephotographs, copies, scans and manipulates the work of others.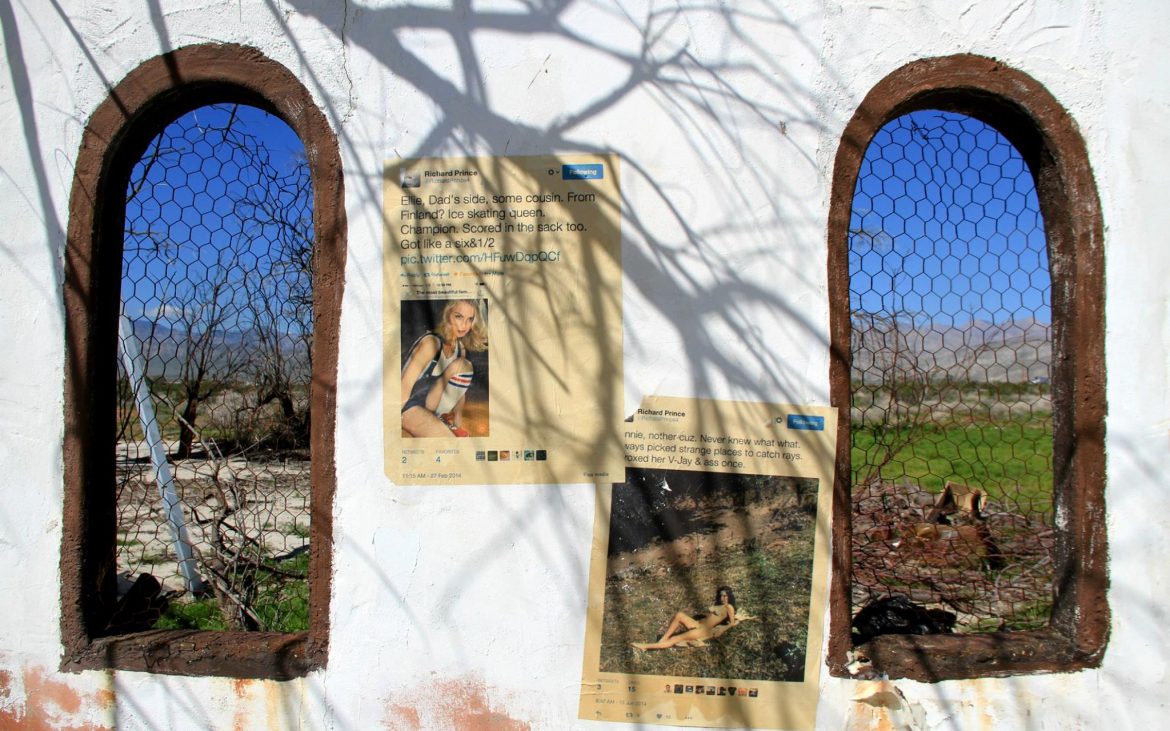 Richard Prince describes Third Place as, "The House where my family used to live and are now having a reunion." I headed to 33°57'47.2"N 116°32' 33.2"W first, because the winds were rising. The digital marketer and photography lover in me found this instillation fascinating.
The decaying, abandoned house with crumpled-up papers blowing across the front yard like tumbleweed, reveled the darker sub-currents of sexual and familial tension. The printed-out tweets were there to be taken. In a way, the nefarious visitors unknowingly contributed to the installation. Prince's "First Place" in Los Angeles was bulldozed and his work "Second Place," in New York was struck by lightning.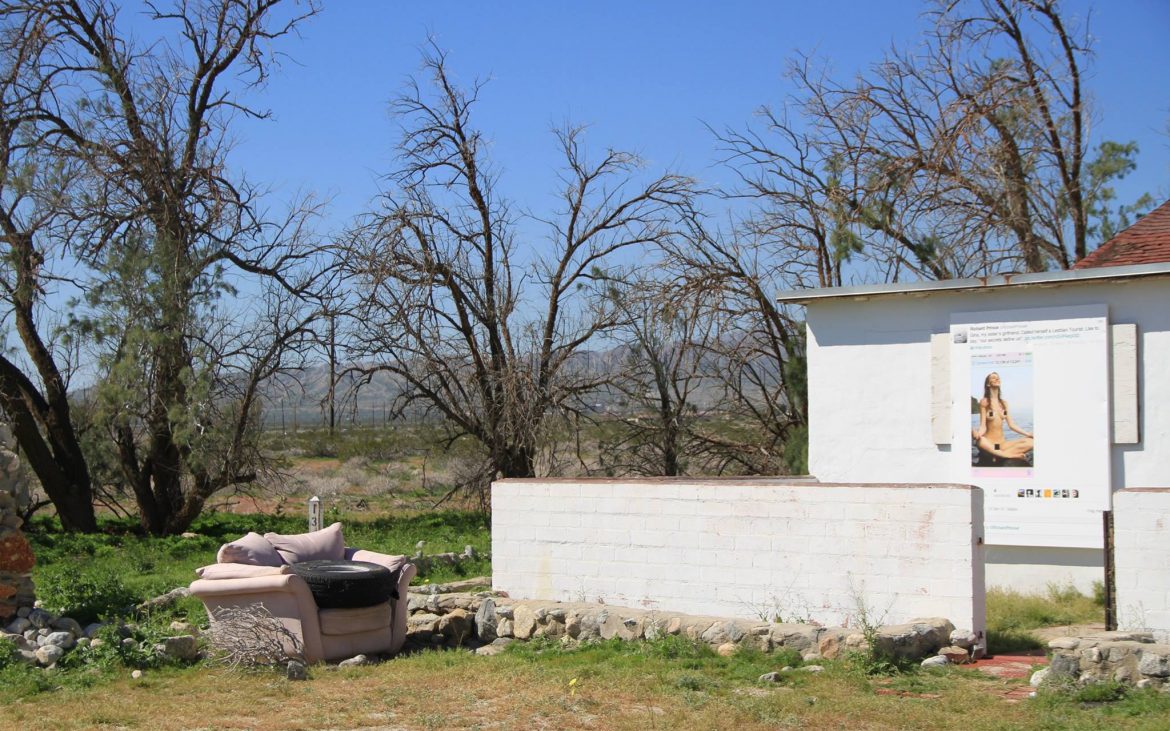 Heading west, I arrived at Whitewater Preserve, where a pigeon tower illustrated the concept of migration across space and time.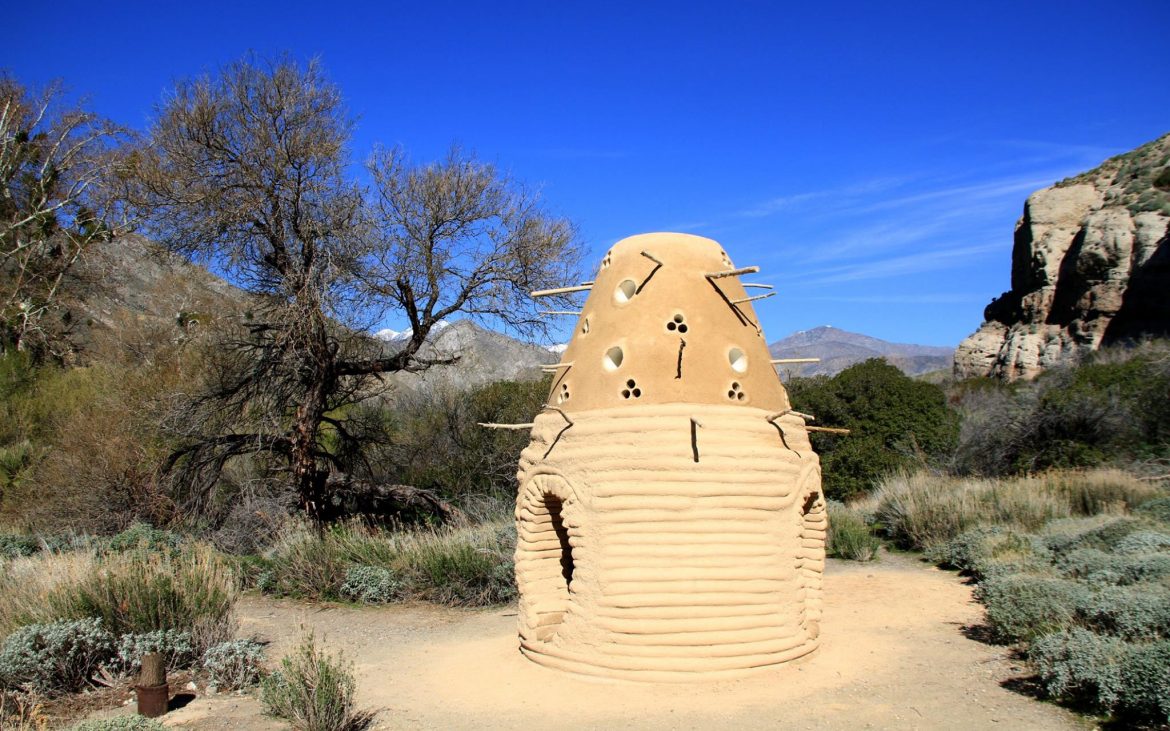 The tenuous structure was modeled after traditional pigeon towers found throughout the desert villages of Egypt. Sherin Guirguis' "One I Call," addressed concerns of cultural agency, environmental protection, and displacement at stake in the Coachella Valley and other similar desert communities around the world. The towers are typically used to breed the birds for food or sport.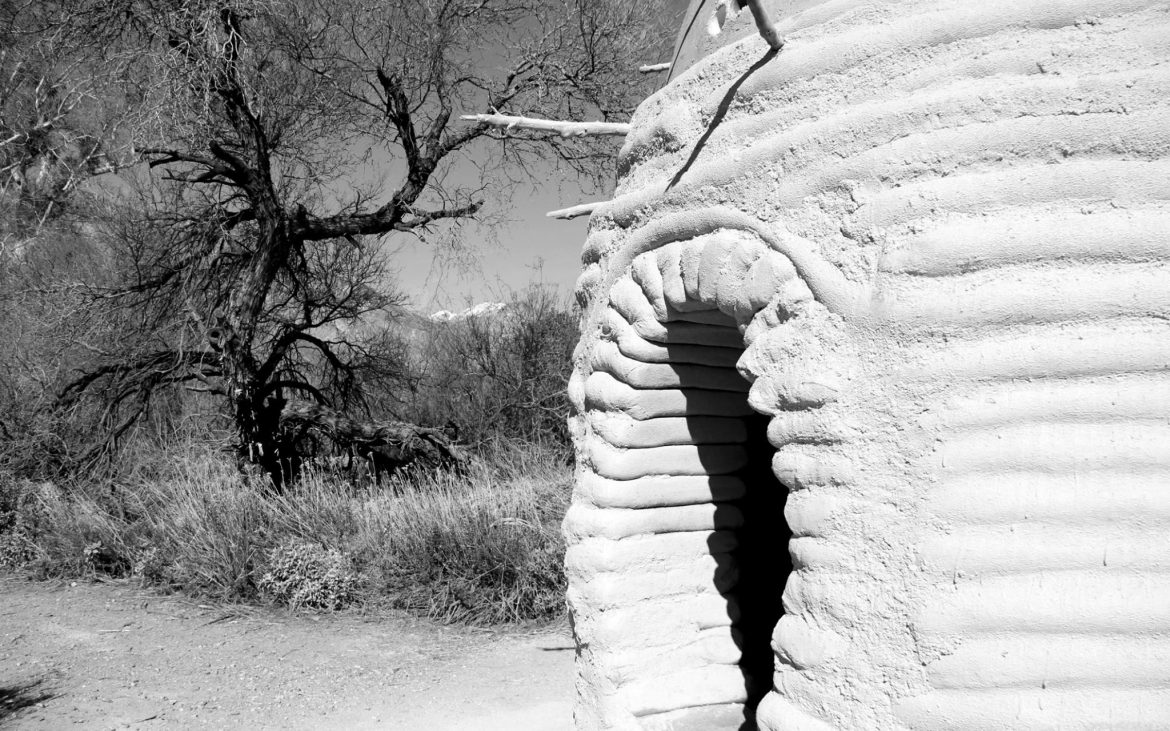 The practice of homing pigeons spans multiple traditions, illustrating a narrative of migration across space and time. Photo by Erin Peters.I then headed to 33°47'38.3″N 116°23'44.0″W (otherwise known as Rancho Mirage) in the late afternoon.
The public art exhibits brought about emotions and feelings I didn't expect. Anticipation as hundreds of people gathered at dusk waiting for 290 patches of neon light to be illuminated from the ground. It was to be seen at night.
New York-based artist Travares Strachan grew up in the Bahamas and studied at the Yuri Gagarin cosmonaut training center near Moscow. His immersive land and light installation consisted of more than 400 craters creating the phrase, "I am!" The artist explained that the message is an ancient mantra from Hindu Vedic text. This space-like feeling could only happen in the expansive space of the desert.
I was impressed.
I was wowed.
I was giddy.
I was speechless.
That is, until I arrived at Will Boone's "Monument."
LOCATION: 33°49'01.18″N 116°25'19.24″W
Imagine going into an underground bunker in the middle of the desert off of Ramon Road, where the sign reads:
"By entering this artwork, you assume any and all risk of injury and or death that may occur."
And wouldn't you know it? I was alone.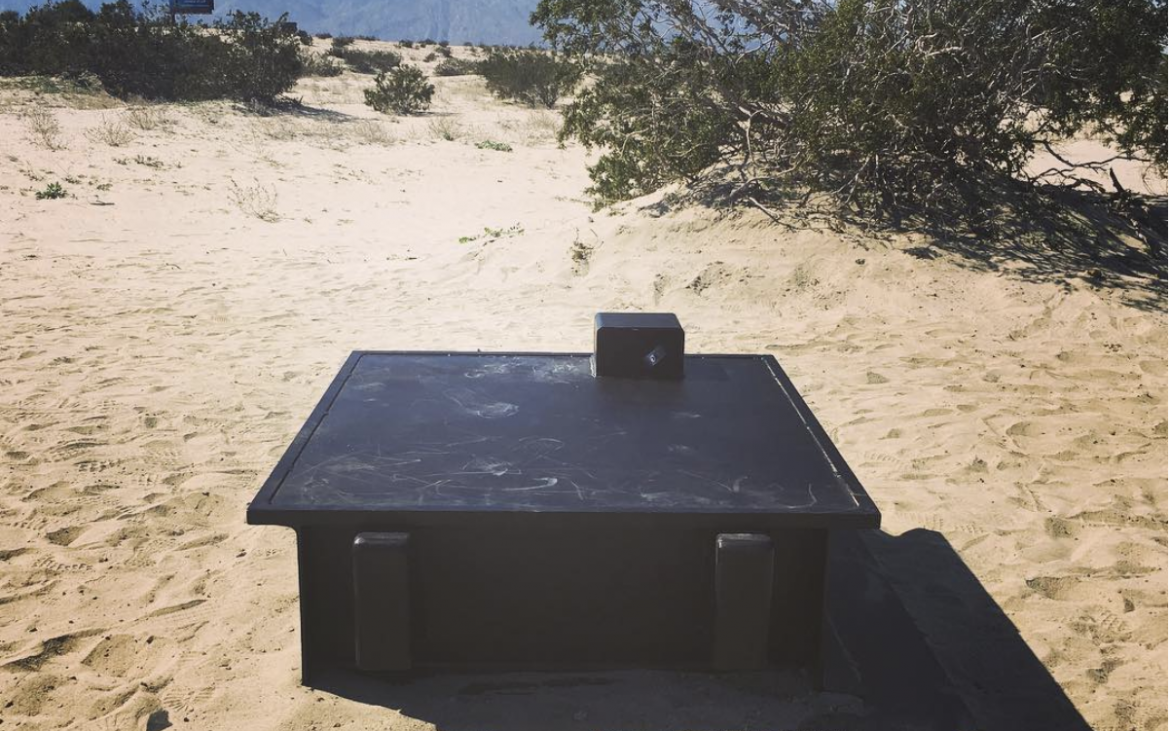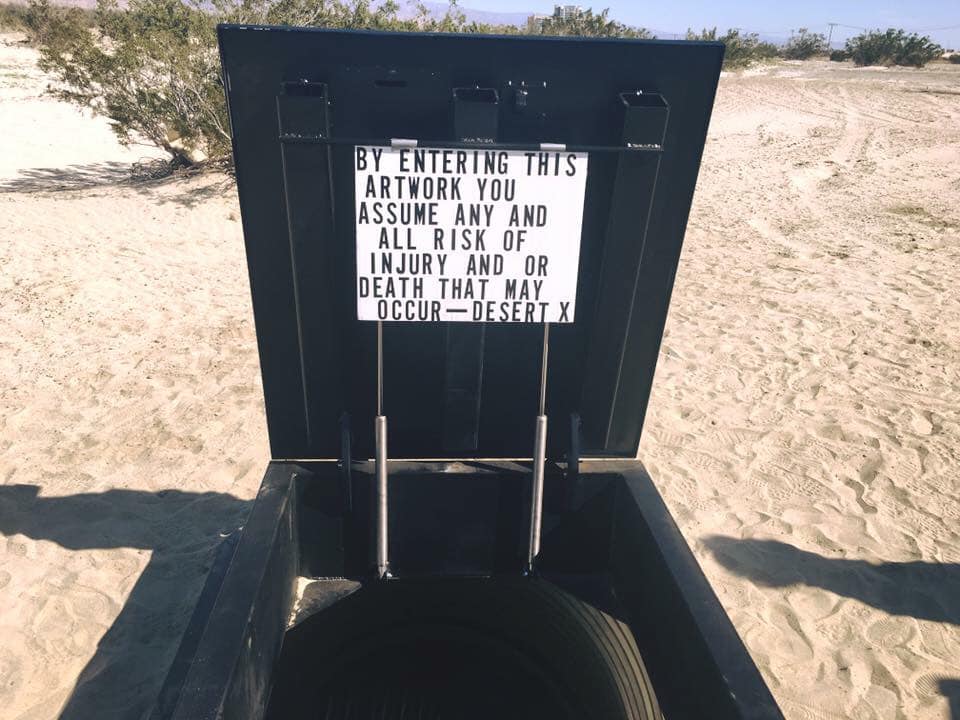 Will Boone's installation for Desert X was a survival shelter identical to one used by JFK as president. Like the myths surrounding Elvis, Jesus or UFO's, Boone sees the figure of JFK as lightening in the ground, bunkered in the very same Altlas Survival Shelter that the then president had in case of nuclear attack. There sat a bronze statue of JFK painted in the style of a hobby kit.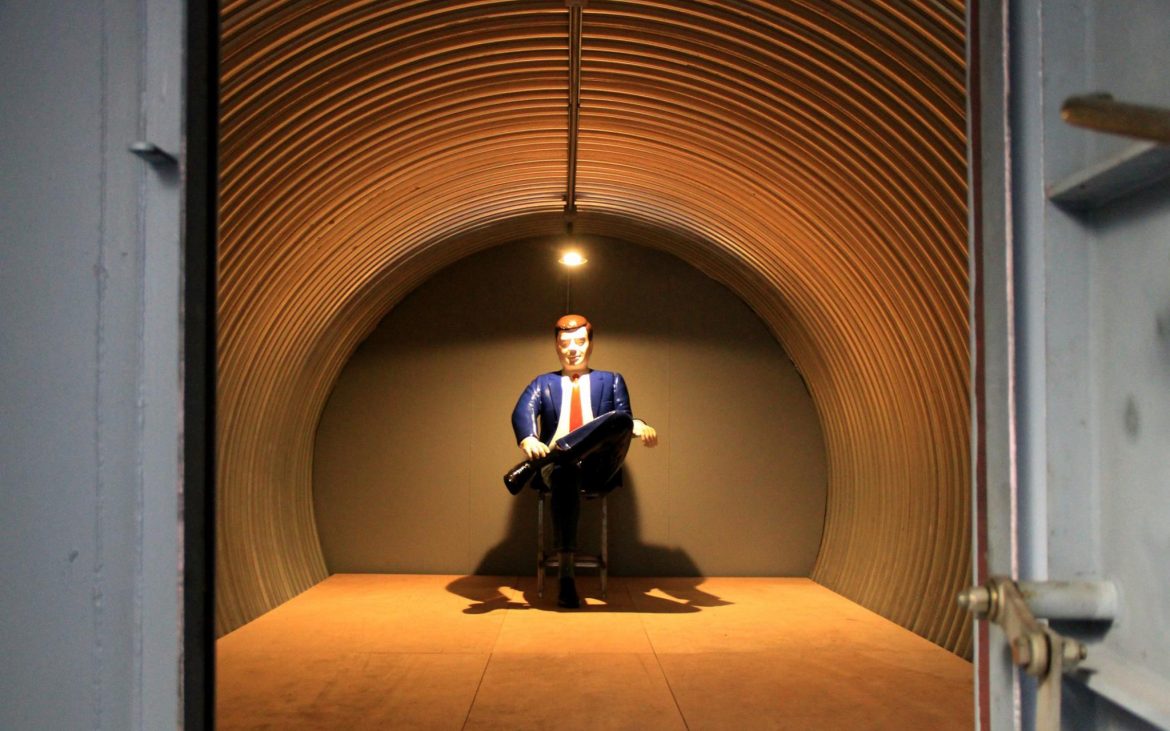 As you drove up the boulder-strewn hills of Palm Springs, I came upon probably the most appropriately named exhibit. Doug Aitken built an 1,800-square-foot mirror-covered 1960s-style ranch home perched on the edge of Chino Canyon. At the time, Palm Springs Life Magazine was embarking on the Miele Chino Canyon Project, where you could tour two new architectural masterpieces by modern architect Al Beadle and Palm Springs architect Lance O'Donnell. Desert Palisades, a new subdivision in the rugged San Jacinto mountain range, was just underway and the striking house stood out like a life-size kaleidoscope.
Ironically, the artist based it off of the anonymous and repetitious suburban houses that surrounded American landscape. Fusing Frank Lloyd Wright's fluid treatment of spaces with ranch style one-story simplicity, the mass-produced ranch home became a familiar site in American culture. The artwork was devoid of possessions, inhabitants and a narrative.
This mind-bending exhibit blurred the lines between dwelling and environment.  "Mirage" made it difficult to distinguish reflection from reality by furnishing an entire home in mirrors. Earth colors of biscuit and mushroom collided with vibrant greens and the endless expansive sky. If you were there long enough, you could see the sky transform.
Phillip K. Smith III's "Circle of Land and Sky" in Palm Desert, was off of Frank Sinatra Drive & Portola Avenue. To get to Smith's artwork, I followed a narrow wooden footpath seemingly heading into emptiness. Hundreds of reflective poles, each set at a 10-degree angle, reflecting land, sand, sky and mountains. The 165-foot circle rimmed by 10-foot tall mirrored posts were angled so that standing inside the circle, you only see sky. Outside? One only sees land.
Desert X 2019 opened on February 9 and runs until April 21st. This year, just some of the artists are:
Ivan Argote: A Point of View is an interactive sculpture installed at an elevation above the Salton Sea. Location: 33.53947, -115.92978
Steve Badgett and Chris Taylor: The artist and architect team explore the Great Salt Lake with a solar powered Terminal Lake Exploration Platform (TLEP). Location: 33.503733, -115.914664
Nancy Baker Cahill: The artist's pieces use augmented reality, producing a singular experience for each viewer. Margin of Error presents the toxic outcome of human progress leading to an environmental disaster. Location: 33.519434, -115.937109
Cecilia Bengolea: Mosquito Net is a performance piece of social street dance that is meant to invoke the spirit of animals and nature. This piece also includes a free-standing sculptural work that synthesizes the animistic aspects of dance with her interest in the Salton Sea. Location: 33.5176, -115.93849
Pia Camil: Set in two locations across the U.S. – Mexico border (Baja, Mexico and the Coachella Valley), Lover's rainbow is conceived as an identical set of rainbows made from painted rebar. Location: 33.767371, -116.448537
John Gerrard: Situated at the very gateway to the Coachella Valley and the city of Palm Springs Western flag acts a stark reminder not just of the willful exploitation and depletion of resources that millions of years ago covered this former sea floor with an abundance of life, but of the energy taken to return the deserted land to its current state of artificial habitation. Location: 33.859118, -116.559933
Julian Hoeber: Going Nowhere Pavilion #01 is a Möbius strip made from concrete breeze blocks in a variety of fleshy pinks and browns. Executed Variant DHS #1 (Q1, CJ, DC), the painting sited in a pool connected to the property, is a loose variant on a series of works Hoeber titled the Execution Changes. Open from sunset to sunrise.
Postcommodity: It Exists in Many Forms emerged from in-depth conversations between the artists and owners of midcentury homes in Palm Springs.
Cara Romero: The new photo-graphic series, Jackrabbit, Cottontail & Spirits of the Desert, responds to the ancestral lands of the Cahuilla, Chemehuevi, Serrano, and Mojave people. Location: 33.853965, -116.506052
Gary Simmons: Recapturing Memories of the Black Ark is a sculptural installation that serves as both a literal and metaphorical platform for music and performance. It includes a series of speakers hand-built from vintage parts and wood scavenged from the Treme neighborhood of post-Katrina New Orleans. Location: 33.734986, -116.217000
Superflex: Dive-In merges the recognition that global warming will drastically reshape the habitat of our planet with another more recent extinction: the out- door movie theater. Here the interests of desert dwellers and sea life come together in the coral-like walls and weekly screenings of a structure born of a deep past and shallow future. Location: 33.706510, -116.399303
It's the perfect time to camp in the Coachella Valley and explore the mysteries of the California desert.
Photos by: Erin Peters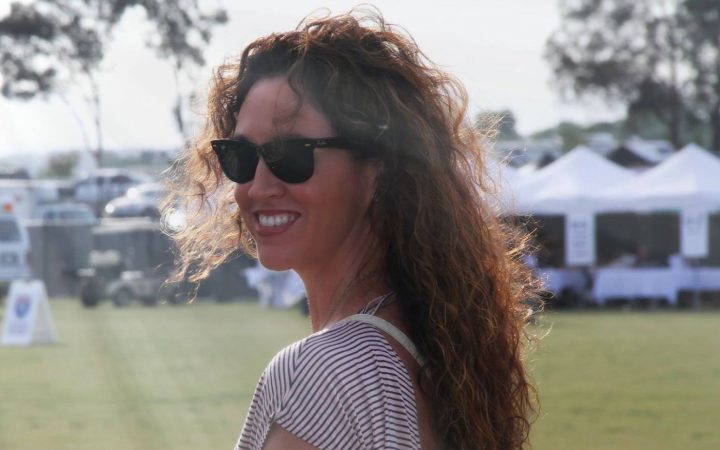 About the Author:
Erin Peters is the offspring of a nuclear physicist & one of the founding fathers of phone-to-phone VoIP and a Mensa mother. She has over 20 years of marketing experience, having worked for Internet giants, biotech leaders and Fortune 500 companies. She also created digital media departments at two online advertising agencies. Erin is also a renowned beer writer and judge, that has been enticing beer drinkers for over a decade through her blog, The Beer Goddess.