Catalina Spa and RV Resort is a summer respite and a winter oasis. Catalina sits within proximity of breathtaking desert destinations like the Greater Palm Springs area and Joshua Tree National Park. A BOGO special for up to three nights makes for an affordable summer vacation. The offer is valid through September 30, 2019.
Catalina Spa and RV Resort is situated just east of Desert Hot Springs. The resort overlooks magnificent Mt. San Jacinto, where visitors can ride the Palm Springs Aerial Tram to view the breathtaking valley below or hike numerous mountaintop trails.
ODORLESS Mineral Hot Springs
This area is known for its hot springs and their healing qualities. Catalina Spa and RV Resort features five ODORLESS mineral hot springs pools and spas. Two are located within our brand-new community center, with access to our modern fitness center, community room/library, and country store while being cooled by a state-of-the-art misting system. Float under the stars here or in our upper pool and spa, where gorgeous sunsets take your breath away. Our pools and spas have recently been fully remodeled.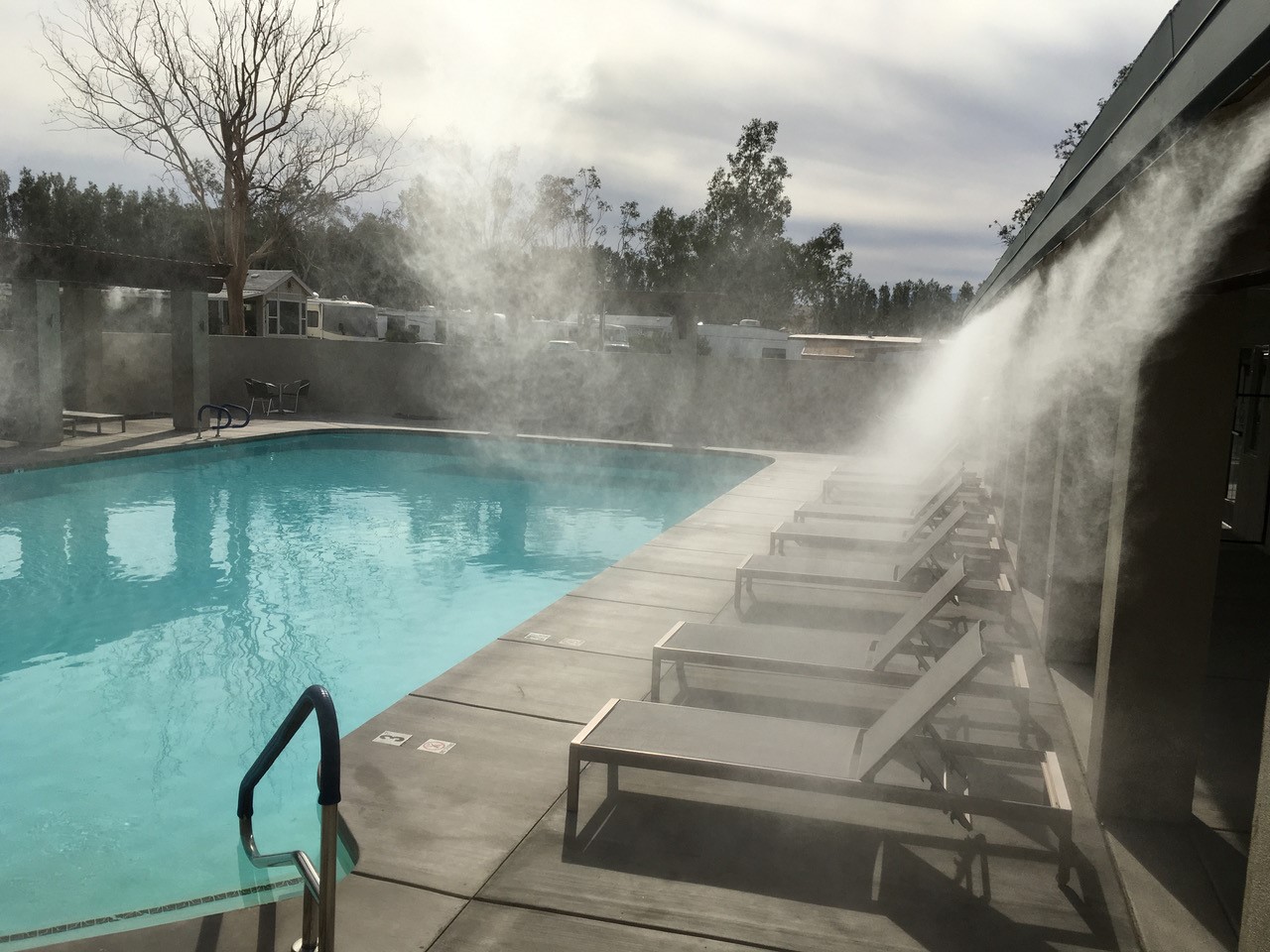 Catalina's sites, separated by flowering oleander bushes, accommodate all sizes of RVs. We offer fully outfitted cottages with kitchens and living rooms for those who prefer a home-type atmosphere. Catalina always includes free water and electricity, a real savings for the cost-conscious traveler.
During the summer, Catalina offers various special events. In the winter, Catalina comes alive. Activities include lessons and tournaments on six beautiful pickleball courts and water volleyball to a full schedule of live entertainment. From wine tastings and line dancing to bocce ball and unlimited free miniature golf on an 18-hole course, there are plenty of activities to fill the day. Dining services are available in the Upper Clubhouse four days a week, plus ice cream socials and holiday meals.
Hike or Bike as You Visit Joshua Tree National Park
Try a walking or hiking trail, including the Kim Nicol Trail just outside the resort entrance. A vast amount of hiking trails weave in and out of the hills and mountains that surround the valley. Take a quick drive over to Whitewater Basin or a day trip to Joshua Tree National Park.
At night, visit upscale casino complexes or shop at everything from small boutiques to outlet malls. Golf courses are abundant, as are restaurants for every taste. Families can check out the Living Desert Zoo and Gardens or the Children's Discovery Museum, while history buffs can visit the Palm Springs Air Museum.
Coastal Experiences and Day Trips to Wine Country
Catalina is two hours from the magnificent Pacific Coast, a day trip to Temecula wine country or to San Diego or LA for all the fun a big city has to offer.
Under new ownership and management, Catalina continually enhances its property to provide an optimum guest experience.
Call 760-329-4431. To learn more, visit www.catalinasparvresort.com.