These fall camping recipes will usher in autumn with hearty flavor.
Fall camping calls for hearty, warm meals. Burgers and potato salad may have worked over the summer, but they don't quite cut it in the fall. The brisk autumn air has campers craving stick-to-your-ribs comfort food.
Sun RV Resorts has put together a collection of some of our favorite fall camping recipes that are sure to keep your belly warm and happy on your next camping trip.
Campfire Breakfast Burger
Start your day out right with this Campfire Breakfast Burger recipe from Jelly Toast.
Ingredients
Black Pepper Biscuit Mix
2 cups flour
3 teaspoons baking powder
1 tablespoon sugar
1 teaspoon salt
6 tablespoons dry milk powder
2 teaspoons black pepper
4 tablespoons canola oil
½ cup shredded cheddar cheese
1 cup water
Note: This black pepper biscuit mix can be made ahead of time. Store in an airtight container to bring with you to camp.
Additional Ingredients
12 sausage patties
12 eggs
Directions
Whisk flour, baking powder, sugar, salt, dry milk powder, black pepper and canola oil together in a medium bowl until well incorporated.
Add ½ cup of water, then slowly add the remaining ½ cup of water 1 tablespoon at a time until the biscuit mix is thick batter, then stir in cheddar cheese.
Set cast iron pan over medium heat and add oil to coat, then scoop ¼ cups of the batter onto pan, working in small batches.
Allow to cook until first side is golden brown, then flip once. Cook until biscuits are fluffy and cooked through.
Add sausage to a cold cast iron skillet and then set it over medium high heat. Cook until sausages are golden brown and cooked through, flipping once. Remove and set aside.
Cook eggs in cast iron skillet until desired doneness (I like my yolks a bit runny).
To assemble, split biscuits in half and top with sausage and egg. Add ketchup or hot sauce if desired and place other half of biscuit on top.
Camping Mac 'N Cheese
This mac 'n' cheese recipe from Lauren's Latest is comfort camping food at its finest when it comes to fall camping recipes. Add our crispy campfire bacon for a tasty mix-in.
Ingredients
1 ½ cups elbow macaroni
8 ounces prepared alfredo sauce
½ cup grated sharp cheddar cheese, ½ cup grated Parmesan cheese
¼ cup mozzarella cheese
¼-½ cup half and half or milk
Salt and pepper, to taste
Directions
Cook pasta according to package directions. Drain and rinse with cold water.
Stir alfredo sauce and cheese into cooked pasta. Add milk if sauce is too thick. Stir in salt and pepper to taste.
Spray aluminum mini pie tins with nonstick cooking spray and divide the pasta between them (make it family-style with a large pie tin). Spray one side of aluminum foil with nonstick cooking spray and cover each pie tin, sprayed side down, facing the food. Seal well.
Prepare a fire and let it burn down to the coals. Place a cooking rack 2-3 inches above coals. Place each pie tin over the hot coals and cook 8-10 minutes or until hot.
Campfire Hobo Stew — a Fall Camping Recipe Star
What steadfast fall camper doesn't have their own version of campfire hobo stew? This recipe from Camping for Foodies will rival some of the best out there.
Ingredients
2 pounds beef chuck, trimmed, cubed
2 tablespoons Worcestershire sauce
Salt and pepper, to taste
½ cup onions, diced
1 cup baby carrots
¼ cup frozen peas, defrosted
½ cup fresh mushrooms, sliced
16 whole cloves of garlic, peeled
1 cup cherry tomatoes
1 cup baby potatoes, quartered
4 sprigs fresh rosemary
1 bunch of fresh parsley, chopped for garnish (optional)
Directions
Marinate cubed beef chuck in Worcestershire sauce for a few hours before cooking.
Cut 4 pieces of heavy-duty foil, approximately 24 inches long (if you are using regular foil, you need two sheets per packet instead of one).
Set out ingredient bar and let each camper build their own Campfire Hobo Stew packet starting with the meat and seasoning it with salt and pepper before adding the rest of the ingredients.
Add ingredients you like and skip the ones you don't, but be careful not to overstuff the packets.
Fold the packet, then cook for about 10 minutes over medium heat (campfire coals or grill).
Turn packets and cook for another 10 minutes.
Total cooking time will be approximately 20-30 minutes and will depend on the ingredients inside the foil packs as well as the temperature of the campfire. Carefully open packets to check for doneness.
Remove the foil packets from the campfire to serve. Be careful not to burn yourself on the hot steam when you open the packet.
Discard rosemary sprigs before serving.
Top with fresh parsley for garnish (optional).
Slow Cooker Chicken Taco Chili
Ingredients
16-ounce can black beans, drained
16-ounce can kidney beans, drained
2 garlic cloves, minced
1 medium onion, chopped
1 jalapeno pepper, minced
1 green bell pepper, chopped
10 ounces frozen corn kernels
8-ounce can tomato sauce
28-ounce can diced tomatoes, drained
1 tablespoon cumin
1 tablespoon chili powder
1 tablespoon dried oregano
1 teaspoon kosher salt
½ teaspoon black pepper
2 boneless, skinless chicken breasts, uncooked
Directions
Combine all ingredients except chicken in slow cooker. Stir until combined.
Place uncooked chicken on top.
Cover and cook on low for 6 hours or on high for 4 hours, stirring occasionally.
Thirty minutes before serving, pull chicken breasts apart with two forks. Stir and continue cooking.
Top with any toppings you desire!
Tip: If you don't have a slow cooker, you can also use an oven safe, 5 1/2 quart or larger pot. Simmer at 350 degrees, stirring occasionally, for 3 hours.
Campfire Baked Apples
Had enough smore's? Try this mouth-watering baked apples recipe from Family Spice for dessert.
Ingredients
4 large apples, such as Gala or Granny Smith
1 tablespoon lemon juice
¼ cup dried cranberries
2 tablespoons raisins
2 tablespoons chopped walnuts
¼ teaspoon ground cinnamon
1/8 teaspoon ground nutmeg
1 tablespoon unsalted butter
Directions
Remove the core from each apple, then brush the insides with lemon juice to prevent browning.
Place each apple on their own a 10-inch square sheet of aluminum foil.
In a small bowl, mix together dried fruits, nuts and spices.
Press dried fruit mixture into the center of each cored apple.
Cut butter into four pieces and place each small square on top of each apple, over the center filled with the dried fruit mixture.
Wrap each apple tightly with the aluminum foil.
Place aluminum foil-wrapped apples in or next to hot coals, not onto open flame, and cook for 20-45 minutes, depending on how firm you like your baked apples.
Keep checking your apples. If coals are too hot, remove from coals and place on a grate over the coals. Apples are done when they feel tender when squeezed. Serve warm.
Note: To bake in the Dutch oven outdoors, double the recipe to make 8 baked apples for a 10-inch Dutch oven. Bake for 20-45 minutes with 8 hot coals underneath and 14 hot coals on top of the Dutch oven.
You can also use any variety of dried fruits and nuts that you like. If using larger dried fruits, like apricots, cut into smaller pieces before stuffing into the apples.
Give these 5 Surefire Fall Camping Recipes a try on your next fall camping trip and share them with your friends on social media. Enjoy RV cooking!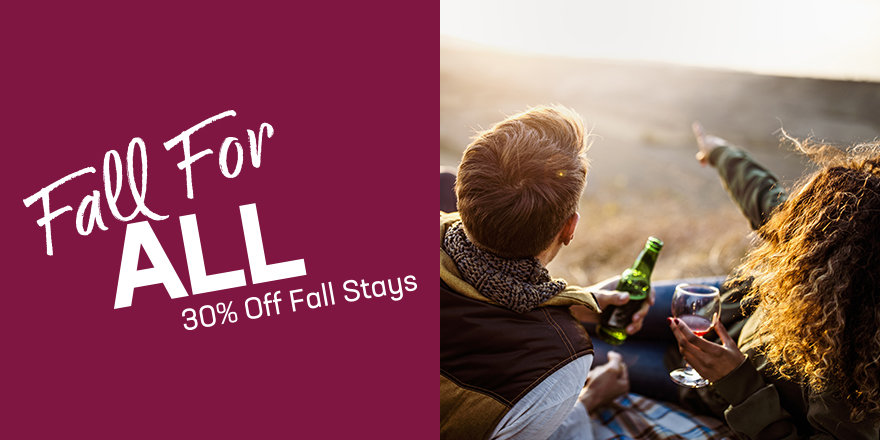 Planning a fall camping trip? Check out our Fall for All Camping Special and get 30 percent OFF RV and tent sites or vacation rentals at participating locations!