Much of the country may be covered in snow or experiencing torrential downpours, but Florida is snickering all the way to the beach and campground.
Camping and beer. They tend to go hand in hand. Beer in hand? You know what I mean. And did you know there are nearly 600 RV campgrounds in Florida to enjoy these delicious brews?
On Feb. 15th, 1897, the Sunshine State saw the opening of its first locally owned and operated brewery in Ybor City. February 15th is now recognized as 'Florida Craft Beer Day,' a day where beer drinkers everywhere (but especially in Florida) can celebrate the economic, cultural, and societal impact that brewing has made on the Sunshine State.
The Florida Brewing Company was the first brewery in the state & became the largest exporter of beer to Cuba in the U.S. Mayor of Tampa Florida, Bob Buckhorn, officially declared February 15th as Florida Craft Beer Day.
"Tampa is becoming known as the place where some of the best craft brewers in America live."
It's all about the economic value that it brings to the state. According to the National Beer Wholesalers Association, the beer industry contributes $21 b annually to the Florida economy. This 2017 study reported that these brewers, importers, distributors and retailers supports 160,706 jobs in the state.
Here are several breweries to visit, not just today, but any day of the year.
Props Craft Brewery, Ft. Walton Beach. How many breweries are Veteran owned and operated? I'm venturing there aren't many. The aviation-inspired brewery offers a variety of styles on tap, including an oatmeal stout, rye ale, marzen and IPA.
Cigar City Brewing, Tampa. This cult favorite brewery came in third place in the "Top 10 Breweries 2016" category in the 2016 United States Open Beer Championship.  They are now the fastest-growing top craft brewery in the country. According to market research firm IRI Worldwide, Cigar City's Jai Alai IPA is the number one selling craft can 6-pack in U.S. grocery stores. And their Hunahpu's Imperial Stout is rated a coveted 4.73 out of 5 (world-class) on BeerAdvocate.com. This 11% ABV stout is aged on Peruvian cacao nibs, ancho and pasilla chiles, cinnamon and Madagascar vanilla beans aged in brandy and rum barrels, before being blended together. And speaking of special beer days, each year on the second Saturday in March, thousands of people attend Hunahpu's Day, a festival at which Cigar City exclusively releases this sought-after beer.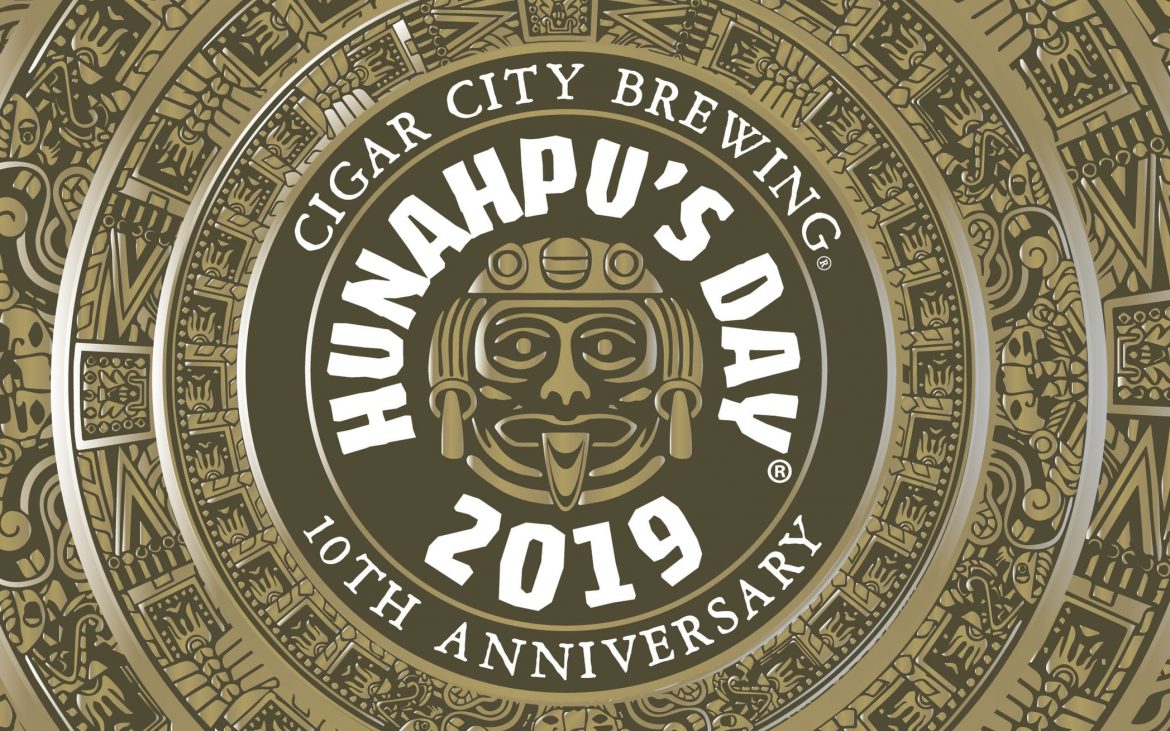 Cigar City Brewing is a part of CANarchy, a craft brewing collective that represents the largest canned craft beer supplier in the country. They recently brewed a collaboration beer with Metazoa Brewing Company, who donated 5% of profits to animal and wildlife organizations. The Belgian-style dark ale with black currant and cypress wood benefits Florida's Big Cat Rescue.
Angry Chair Brewing, Tampa. We all sit in chairs. Whether it's at work or in the car, on the way to work. Angry Chair Brewing is about the realization that you have one and celebration that you can get away from it. You can find their big, boozy beer at their taproom where you'll find 16 taps of solid liquid and most likely metal or Africa by Toto playing in the background. They're best known for their stouts, like their delicious Barrel Aged Imperial German Chocolate Cupcake Stout, another whopping 11% ABV American Imperial Stout. There's just something about Angry Chair's dessert stouts that surpasses everyone else's attempts. This beer may be the king of pastry stouts. Lines have formed the night before its release, where fans have camped out on the sidewalks.
J. Wakefield Brewing, Miami. What could go better together than IPAs, sours and Star Wars? Known for their creative sour beers made with Floridian fruits, J. Wakefield Brewing was voted second out of the top 10 New Brewers in the World by RateBeer.com. The brewery is located in the funky, art-gallery Wynwood District, where floor-to-ceiling comic-inspired murals cover the walls – heavy on the Star Wars. Try their El Jefe, a Coconut infused Hefeweizen. John Wakefied's winding path to pro brewing included culinary education, an internship at Cigar City Brewing and a ton of practice. Dragonfruit Passion Fruit (DFPF) Berliner Weisse and Miami Madness, brewed with mango, guava and passion fruit – currently hold the top two spots on Ratebeer's list of the best Berliner Weisses in the world. Cheers to that!
Cycle Brewing, St. Petersburg. Brewers tend to love the outdoors, and this bike-themed brewery and taproom is no exception. The brewer once took a ten-week bike tour through Kenya. Their beers were previously brewed at Peg's Cantina in Gulfport but have cycled over to Saint Petersburg. And they've shifted gears (gotta' love a good pun) to focus on barrel-aged ales. And they're hosting Barrel Aged Day on March 8th. They are also a proud sponsor of the most fashionable event on two wheels, the Tweed Ride and Gala, Florida's premier vintage event.
Crooked Can Brewing Company, Winter Garden. Honestly, I just love their name. I haven't tried their beer yet. But with a 4.9 star Facebook rating from over 1,000 beer drinkers, they must be good. This local Orlando brewery was built inside Plant Street Market. And within just 20 minutes of International Drive, Disney, Downtown Orlando and the Orlando Convention Center, you can plan a delicious and fun-filled vacation. And cans! Cans are perfect for camping.
3 Daughters Brewing, St. Petersburg. Mike and Ty were working on a recipe for a craft beer battered fish and decided to make it with their own crafted brew. That let to investing in a brewhouse, to moving out of the restaurant industry to paying homage to Mike's great-grandfather, who also owned a craft brewery in Lexington, Kentucky over 100 years ago. Their Beach Blonde, Bimini Twist IPA and Floating Dock Light IPA are all available in cans and crowlers.
Join the conversation by using the hashtag #FLCBD and checking out their Facebook page.
Photos by 3 Daughters Brewing, Crooken Can and J. Wakefield Brewing