Carrabelle Beach RV Resort in Florida — Fun and Comfort on the Coast
When you think of upscale camping near the beach, only one resort comes to mind — Carrabelle Beach RV Resort, an RVC Outdoor Destination on Florida's Gulf Coast. Carrabelle Beach RV Resort is far from your typical RV resort, RV park or campground. In fact, it's the ultimate in outdoor recreation and relaxation. Take your ideal natural environment and mix it with your favorite hotel experience, and you have Carrabelle Beach RV Resort — an RVC Outdoor Destination.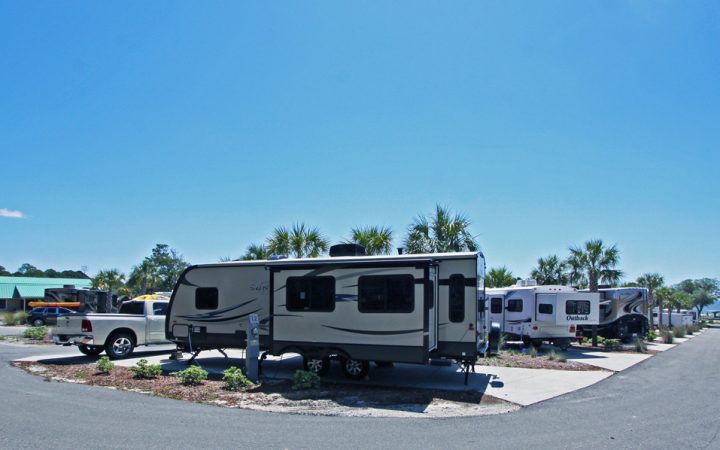 Carrabelle Beach RV Resort offers a wide range of amenities and activities for the whole family to enjoy. There are 84 total RV sites that are big-rig friendly, with full-hookups, 30/50 amps, free Wi-fi and cable TV, picnic table and more.
New modern cabins with loft, furnished with G.E. appliances, pillow top mattresses, flat screen TV, full kitchen, porch, grill and amazing views. Don't forget about our trendy and furnished Haven Cottages with climate controls, fresh linens & Spa-like bathrooms. At Carrabelle Beach RV Resort, guests can enjoy a large state of the art swimming pool, clubhouse, laundry room and concierge services all within steps of the beach. Many activities available at the resort include fun kayak rentals and outdoor activities such as horseshoes and local hiking trails. There is also a spacious meeting center with board games and large TV.
Fun in the Florida Sun
The surrounding area of Carrabelle Beach RV Resort in Florida offers exciting family friendly outdoor activities. Enjoy the beautiful Wakulla Springs glass-bottom boat tour and experience one of the deepest natural springs in the U.S. Wakulla Springs is also home to wild manatees that can be seen while enjoying Wakulla Springs boat tours. Create memories with loved ones while enjoying a walk on the quiet Carrabelle Beach or explore old growth Florida within one of the many local hiking trails in the local state forest. Experience the expanded 360 degree views from the Crooked River lighthouse only 400ft from the resort. The Crooked River lighthouse is perfect for great views of the ocean and the natural state park. Enjoy seafood? Dine in one of the surrounding seafood locations in the Carrabelle Beach area to enjoy fresh seafood anytime of the year.
With the popularity of the resort, they have recently added more RV sites to accommodate more groups and family events. With beautiful views of the ocean coupled with the amenities of a hotel, Carrabelle Beach is comfortable camping at it's best. Come experience comfortable camping at Carrabelle beach RV Resort this season.
Carrabelle Beach RV Resort in Florida — Part of a High-Quality Family
Carrabelle Beach RV Resort is part of the RVC Outdoor Destinations family of properties. RVC Outdoor Destinations develops, owns and operates high-quality outdoor vacation properties located within some of the country's most beautiful natural settings and offering upscale services and amenities. Memphis, Tenn.-based RVC is redefining the traditional camping experience with its original Outdoor Destination concept and upgraded RV Resort properties that provide guests with a customizable outdoor vacation through a variety of affordable lodging options, including RV sites, yurts, cabins and cottages, all with enhanced guest amenities and recreational activities. For more information, please visit www.rvcoutdoors.com.