This is a test for those heading south for the winter. I will ask some questions and I want you to raise your hands if it applies to your RV Lifestyle.
When I'm traveling I have a destination and drive long days until I get there.
I never get distracted or stop to explore places I pass through on the way to my destination.
When on the road I stop overnight at the campground or Walmart that is closest to the freeway so I can get going fast in the morning.
After I settle into my winter RV resort/campground I stay put until I leave to head back north.
If you raised your hand to all four, may I suggest that this year you try something entirely different, to paraphrase Monte Python. Never fear, though, I won't try to talk you into dilly dallying around as advancing winter storms swirl menacingly in your rear view mirror.  But once you get past the pine tree and mountain pass section of your trip and drop down into the creosote, Joshua tree, and long-straight-road part, ease off the gas pedal and consider a pause to take in a different part of the desert for a few days before you move on.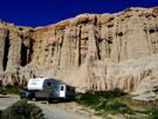 For example, from Central California, heading east from Bakersfield on CA58, when you cross over 3,793-foot Tehachapi Pass (expect snow flurries and fog) and drop down into the town of Mojave 1,000+ feet lower you have entered the Mojave Desert. Turn left (north) on CA14 for 40 miles to the Red Rock Canyon State Park campground for camping under towering sandstone cliffs, on the crossroads of a thousands of years old Native American trade route, by buttes and cliffs with colorful white, red, pink, and brown layers (some of Jurassic Park was shot here), next to fun-to-explore vertical slot canyons where Coopers hawks and other raptors nest, and close to the unique 2,087-foot tunnel Burro Schmidt dug by hand through the solid rock Copper Mountain (and where legend says his gold stash is still buried), and your first evening under-the-Milky-Way star show concert by the melodious serenading coyotes.
There are lots more places like this in the Mojave and Sonora Deserts. You can learn about them and about life in the desert, along with some unique boondocking and camping locations, and find lots of links to additional information, and tips for boondocking in the desert in my new eBook, Snowbirds Guide to Boondocking in the Southwestern Deserts.