Big Cypress
Florida is really long. It takes about 8 hours and 549 miles to get from the Florida-Georgia line to Key West. If you need a great midway stopping point we have the best kept secret to share!
RV enthusiasts and weary travelers can rest their eyes and park their rig at the Big Cypress RV Resort & Campground on the Big Cypress Seminole Indian Reservation situated about 40 miles south of Lake Okeechobee in Clewiston. It is an easy trek from the major highways. The perfect location to enjoy the real Florida nestled on a real Indian reservation. Big Cypress is one of the six Indian reservations of the Seminole Tribe of Florida.
Big Cypress RV Resort & Campground
The resort has lush views of cypress trees, stars like you have never seen and is immaculately kept. Most of the infrastructure was recently renovated or built new in 2016. This friendly park welcomes you home as you choose from 110 spacious full-service sites. Pull through and paved sites options are available. Accommodations include free wi-fi, heated pool, laundry facility, dog park and more. Newly renovated standard, deluxe and VIP cabins are a great option for the whole family.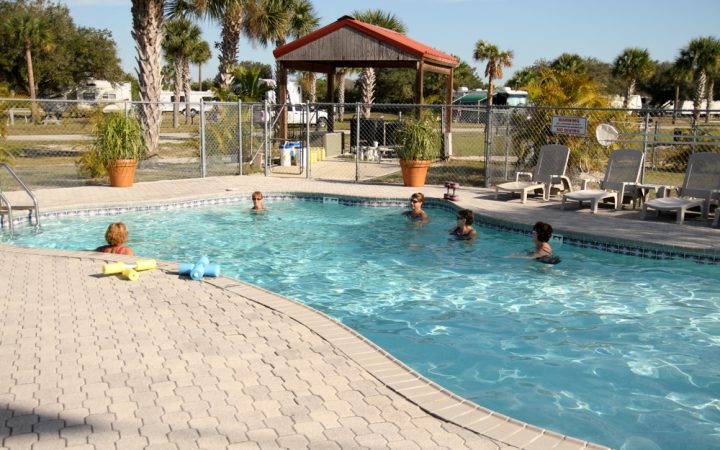 Relax by the pool, enjoy our gym or we can keep you busy at our attractions within a four-mile radius. Here on the "Rez" visit the Ah-Tah-Thi-Ki Museum, Billie Swamp Safari, Swamp Water Café, Junior Cypress Rodeo Arena, convenience stores, cafés and an authentic Seminole roadside craft shop.
Seminole History & Culture
At the Ah-Tah-Thi-Ki Museum learn about the history and culture, why the Seminole's are here and how they survived extermination in the swamps. Each tour starts with a brief film followed by a tour in the gallery. Explore the mile-long boardwalk through a swamp, once camp to the Seminole Chairman "Chief" himself that will lead you past ceremonial grounds, medicinal plants then to the living Seminole Village. Tribal members make crafts as the campfire burns in the center under a chickee.
Big Cypress Adventure!
Have an adventure at Billie Swamp Safari! Admission to animal exhibits and petting zoo is free, paid activities include airboat, swamp buggy rides, snake and wildlife shows. Aboard the airboat learn a little bit about the Seminoles while traveling through a cypress hammock, and sawgrass.
The 45 minute Swamp Buggy ride is an open vehicle that bounces through swamplands, pop ash ponds and prairies. This 2,200 acre tour has views of the free-range exotic and native species and migratory birds. It is common to see a variety of deer, buffalo, bison, ostrich, zebra, nelgia and other interesting creatures.
Grab a bite to eat at the Swamp Water Café located inside Billie Swamp Safari. Enjoy daily specials, American fare or a few Seminole delicacies like the Indian Taco or fried gator tail!
The Big Cypress RV Resort & Campground closes at 5 p.m., but no fear, just call ahead and they will have everything ready for you upon your arrival.