Lake Metigoshe State Park includes 1,551 acres of Turtle Mountains wilderness 14 miles northeast of Bottineau, North Dakota along the border of Manitoba, Canada. The clear lake, fields and woodlands make for a beautiful vacation setting year-round, making this one of North Dakota's most popular state parks.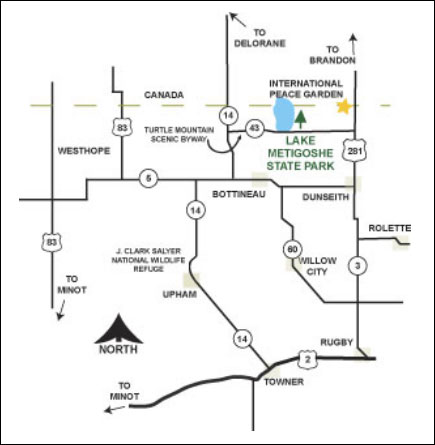 General Info: The park was constructed along Metigoshe Lake in the 1930s as part of FDR's Works Progress Administration projects. The lake is named after the Chippewa phrase "Metigoshe Washegum," which means 'clear water lake surrounded by oaks'; the surrounding area has a rich history of settlement by native tribes, namely the Blackfoot, Hidatsa, Assiniboine and Chippewa.
Hours and Fees: Daily entrance to the park is $5 per vehicle. Camping costs $15 per night for a site with electricity or $10 per night for a site without electricity. The park is open year-round from sunrise to sunset (for day-use areas).
Activities: No matter your interest or the season, Lake Metigoshe has an outdoor activity just right for you! Special park events take place throughout the year, so check the park activities calendar before your visit.
In summer you can fish for walleye, perch and northern pike on Lake Metigoshe or any of the several smaller lakes within the park. A boat ramp is available to get out on the water. Or try a canoe trip around the lake to get a better view of the varied wildlife. If you didn't bring a canoe, don't fret: you can rent them at the park. Lake Metigoshe also features a swimming area near the picnic shelters to cool off during those hot summer days.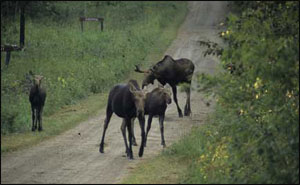 The nature and birding enthusiasts among us will delight at the multitude of species to be found in the park! Several nature trails wind through the trees and fields, giving you a chance to spot mammals large or small (like moose, white-tail deer, mink, muskrat, etc.). The 3-mile Old Oak Trail takes about 2 hours to hike, and was built by the Youth Conservation Corps in 1974. Download the PDF trail map, or pick up a trail brochure at the park office upon your arrival.
Better bring the binoculars for this park—more than 174 species of birds make their home in the park's several habitat areas. With some luck and a sharp eye, you may even see a few of the 37 state rare bird species during your visit.
Print out the Plant Checklist PDF, which includes 170 types of plants that can be found within the park. The list also features a list of common wildflowers and their blooming times. This could make for a fun scavenger hunt game for the whole family, with a special prize or honor for whoever finds the most plants.
The Turtle Mountain Outdoor Learning Center offers a plethora of environmental educational programs throughout the year for park visitors of all ages. Call them at (701)263-4514 to set up your visit and to ask about program fees.
In winter, the park allows snowmobiling, snowshoeing, sledding and cross-country skiing. The frozen lakes provide opportunities for skating or ice-fishing. You can rent skis and snowshoes at the park. For more information, call the park office at (701) 263-4651.
Pets: If you are camping in the park, your pets are welcome to join you so long as they're not noisy or threatening to other park visitors. They must be kept on a leash when outside your camper. As always, please pick up after your pet.
Camping Info: The park campground features 130 sites, some with 30 amp electrical service. A dump station and showers are available. The park also has several covered picnic areas and a playground for your family's enjoyment. For more detailed information, including site dimensions, call the park office at (701) 263-4651.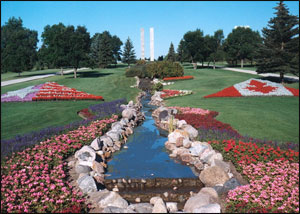 You can also stay in the small village of Dunseith, about 19 miles east. There you'll find the International Peace Garden has an RV camping area with paved interior roads, 20 paved sites and 20 grass sites (max length 30 ft). Water and electrical hookups (20/30 amp) are available. The campsite also has restrooms, showers, a dump station, public phone and firewood. You must pay a $10 entrance fee in addition to your nightly camping fee, which ranges from $14-$22 (USD) depending on type of site.
Weather: Located in the center of North America, this northern part of North Dakota has typically hot and humid summers (high 90s to low 100s F) with thunderstorms and occasional severe weather. Winters are cold and snowy, with temperatures easily below 0°F.
While you're in the area, stop by the town of Rugby, just 50 miles southeast. It's the geographical center of the North American continent!
If you're from the Peace Garden State or have visited Lake Metigoshe State Park in the past, please chime in with your stories and tips! Your insights can help others have a fantastic trip. This is a popular park, so I know some of you out there can share your experiences.