Does any American's name bring forth greater examples of courage and patriotism than John Wayne? On and off the screen, the swaggering movie actor never backed down from a fight, always looked you square in the eye, and never hesitated to tell you where he stood on any issue. John Wayne was, and remains, a true American hero.
John Wayne's story began in the small central Iowa town of Winterset, where he was born Marion Robert Morrison on May 26, 1907, the son of Clyde and Mary Brown Morrison. Wayne's father Clyde Morrison was a pharmacist who worked on the south side of Winterset's town square. John Wayne often described his father as "the kindest, most patient man I ever knew." The future actor's mother, Mary, was of Irish descent, and Wayne remembered her as "a tiny, vivacious red-headed bundle of energy."
When their first son was six years old, Clyde Morrison developed health problems that required him to move the family from Iowa to the warm, dry climate of southern California. For a time they operated a small ranch in the Mojave Desert, where Marion and his younger brother, Robert,  swam in an irrigation ditch and rode a horse to school.
The ranch failed and the family moved to Glendale, California, where young Marion delivered medicines for his father's pharmacy and sold newspapers to earn money. The hardworking boy did well at Glendale High School and was a popular football player. He and his Airedale dog named Duke were seldom apart, and somewhere along the line the dog's name became the boy's nickname, one he would carry throughout his life.
After graduating from high school, Marion applied for admission to the United States Naval Academy at Annapolis but was turned down. He went to the University of Southern California on a football scholarship from 1925 to 1927, before an injury took him off the team and he had to drop out of school.
Cowboy actor Tom Mix got him a summer job as a prop man in a movie studio, where he became close friends with director John Ford. Soon Marion was acting in bit parts, sometimes under his own name and sometimes under the name John Wayne. His first featured film was 1930's Men Without Women. After acting in more than 70 low-budget westerns and adventures, Wayne's career was stuck in a rut until Ford cast him in 1939's Stagecoach, the movie that made him a star. Throughout his career, Wayne was in nearly 250 movies.
Famous as a cowboy hero, John Wayne also played policemen and soldiers in many films. No matter what the role, Wayne's character never varied. He was always the big, tough, hero who talked straight and took on the bad guys.
Wayne was a super patriot who became known for his conservative political stance, and his views were reflected in many of his movie roles. He was closely associated with many conservative political causes and counted among his friends such men as Richard Nixon, Barry Goldwater, Spiro T. Agnew, and Ronald Reagan.
Though Wayne played a soldier in many of his film roles, he never served in the military. He was declared unfit for military service during World War II due to high school football injuries. He may not have ever worn a uniform in real life, but nobody ever doubted his love for his country or his patriotism.
During his career, John Wayne was honored many times for his achievements. He received the Best Actor nomination for 1949's Sands of Iwo Jima and won an Oscar for his role as the hard-drinking lawman Rooster Cogburn in 1969's True Grit. A Congressional Gold Medal was struck in his honor in 1979. Posthumously Wayne was honored with a United States postage stamp in 2004.
A heavy smoker for much of his life, John Wayne had many health problems. In 1964 he had lost a lung to cancer; underwent a heart valve replacement in 1978; and in 1979 his stomach was removed. John Wayne died on June 11, 1979, at the age of 72, from cancer. He is buried at Pacific View Memorial Park in Newport Beach,
The small four-room home where Marion Morrison was born has been restored to reflect its appearance in 1907, the year of the Duke's birth. The home displays an impressive collection of John Wayne memorabilia, including the eye patch he wore in the movie True Grit, a hat worn in Rio Lobo, and a prop suitcase used in the film Stagecoach. Also on display are guns the actor owned or used in his film roles, John Wayne toys and dolls, movie posters, and collectibles bearing the actor's name or image. The home is furnished in period style as it was when the Morrison family lived here.
Hundreds of rare photographs of the Duke are on display as well as letters from Lucille Ball, Gene Autry, Maureen O'Hara, Jimmy Stewart, Kirk Douglas, Bob Hope, Ronald Reagan and George Burns.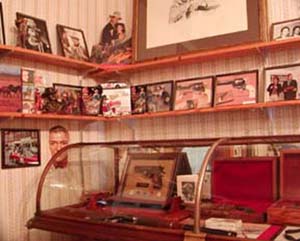 Many celebrities and dignitaries have toured the museum, including President Ronald Reagan, who visited on November 3, 1984, commenting that "the Birthplace of John Wayne is an inspiring tribute to a good friend and a great American."
The museum and adjacent gift shop are open seven days a week, from 10 a.m. to 4:30 p.m., except Thanksgiving Day, Christmas Day, New Year's Day and Easter. Guided tours of the house are available daily, with the last guided tour of the day beginning at 4:30 p.m. Admission fees for a guided tour of the museum are $3 for adults, $2.50 for seniors age 55 and older, and $1 for children age 12 and under.
The Birthplace of John Wayne is located at 216 South Second Street in Winterset. The home is in a residential area, with no designated parking lot. Visitors can park on the street in the quiet neighborhood. For more information, call (515) 462-1044, or log onto the internet and go to www.johnwaynebirthplace.org
Nick Russell