Enjoy your next Yosemite RV trip at a fantastic resort.
At Yosemite RV Resort, surround yourself in beauty and luxury. Located in beautiful Coarsegold, California, this resort offers a refreshing combination of recreation and relaxation. Yosemite RV Resort encompasses more than 35 acres of Oak trees, and Manzanita trees with multiple onsite activities for adults and kids! Located within minutes from the south entrance to Yosemite National Park, and after a short drive you can be hiking to Vernal Falls or enjoying the lush natural wonders in Yosemite Valley!

The Accommodations
Yosemite RV Resort offers a wide range of accommodations and amenities for you to enjoy. You will find RV sites that are big-rig friendly, with full-hookups, 50/30 amps, free Wi-Fi and cable TV.  There are also modern cabins with lofts, furnished appliances, pillow top mattresses, flat screen TV, full kitchen, porch, grill and amazing views.  And don't forget about the unique, trendy and furnished Yurts with climate controls, fresh linens, skylights and a picnic table.
The Amenities
At Yosemite RV Resort, guests can enjoy various amenities perfect for kids and adults alike. Many activities available at the resort include a new children's playground, private and community fire pits, and outdoor activities such as horseshoe. In addition, enjoy a large state-of-the-art swimming pool perfect for a refreshing dip on those sunny days!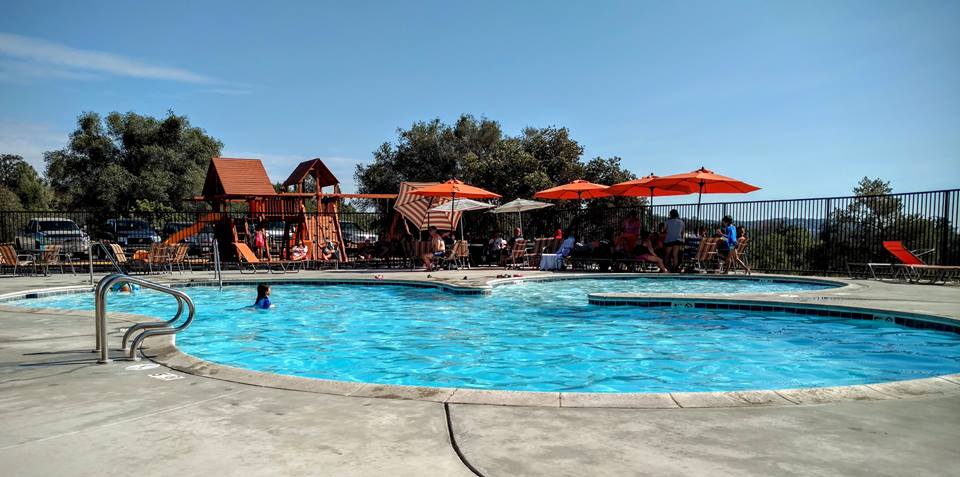 The new Welcome Lodge offers an area for guests to lounge after a day spent exploring in the mountains and nearby National Parks. Inside you will find plenty of space and seating to enjoy a meal with your travel companions or play a friendly game of foosball. During the warmer months, take a splash in the pool outside, and when the temperatures drop, stay inside and watch a movie next to the fire place on our large TV. There is also a small convenience store in the check in area to make sure you have everything you need during your stay.
The Area
Yosemite RV Resort is situated in the beautiful Sierra Nevada foothills and gives access not only to Yosemite National Park, but also Sequoia National Park and Kings Canyon National Park! Adults will be excited to visit the Madera Wine Trail, and nature enthusiasts of any age will be astonished by the sights to be seen at nearby National Parks, the Yosemite Mountain Sugar Pine Narrow Gauge Railroad, and tranquil Bass Lake. Enjoy creating memories with loved ones and friends while enjoying all the beauty of nature!
Book your stay today and escape to Yosemite RV Resort!