By Bob Difley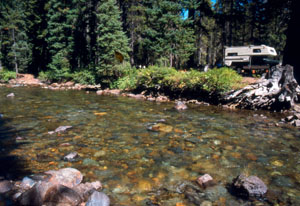 The activity we RVers refer to as boondocking is made pleasurable by a combination of learned skills, adjusted or changed habits, a desire to stay out in the wilderness as long as comfortably possible, and a curiosity about out-of-the-way places, nature, wildlife, and what is around the next bend.
But not all boondockers match this profile. Some of the differences can be attributed to the semantics of the words "boondocking" and "dry-camping." They are the same in that both refer to camping without any hook-ups–water, electricity, or sewage. With even one of these appendages, we would have partial hook-ups. But the difference is in where we do it.
Dry-camping can be at an RV rally, Wal-mart parking lot, highway rest stop, or a primitive campground where there are no hook-ups. True boondocking is camping away from civilization, out in the boonies, where no camping amenities exist. The word "boondock" comes from the Tagalog "bundok" meaning "mountain." Answers.com gives the definition "rural country; the backwoods" while MSN Encarta also includes "place remote from civilization." A reader suggests that the word boondocking has become synonymous with dry-camping and there should be a new term "wilderness camping" for camping in the boonies.
Whatever you want to call camping without hookups, where you do it and why is the driving force for practicing boondocking skills. For instance if your style is "blacktop boondocking" in Walmart and Cracker Barrel parking lots, you will have little need to perfect skills and change old habits in order to stretch your stay for an extra two or three days. Every modern RV has enough house battery power and waste storage tanks to camp without hook-ups for a night or two.
Fortunately, you break the bond to tethers by starting with trying a night or two blacktop boondocking and graduate through myriad steps to the extreme boondocker with a 4WD truck camper with a roof full of solar panels miles back an old jeep trail or logging road where you can go for days without seeing another human being, what I sometimes call "coyote camping."
Somewhere in the middle you will find the perfect fit for your style of boondocking. And that will be determined by your likes and dislikes–whether you like to be on the go and only spend one or two nights at a time in any location, or you like to venture beyond the interstates staying in one location long enough to to explore the area. And each step you move beyond blacktop boondocking requires new or improved skills and tips to make it enjoyable. And that's where we're going to next week–what you need to know about one-night blacktop boondocking and progressing through rallies, primitive campgrounds, dispersed camping areas, to coyote camping.
Check out my website for more RVing tips and destinations and for my ebooks, BOONDOCKING: Finding the Perfect Campsite on America's Public Lands, Snowbird Guide to Boondocking in the Southwestern Deserts, and 111 Ways to Get the Biggest Bang out of your RV Lifestyle Dollar.