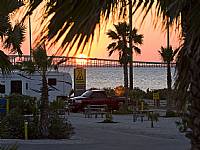 The Lug_Nut RV Trivia Challenge 5 is again focusing on destination attractions. Many you have probably heard of, but do you know where they are located?  Well, we are about to find out.  Get a pencil and paper so that you can record your answers as you go through it.  You will then be able to check your answers against those displayed at the very bottom.  Be sure to share your score and any other comments you may have in the comments section following the answers.
So, let's get at it!
1) If you were driving or pulling your trailer over the longest causeway bridge in North America, what body of water would you be crossing?
A) Lake Ponchartrain
B) San Francisco Bay
C) Florida Bay in the Florida Keys
D) Tampa Bay
E) The North Humberland Strait
2) Your non-turbo charged RV or tow vehicle is running strong.  This is due to the elevation pressure at your location.  You are driving at an elevation of minus 282 feet.  Where are you?
A) New Orleans
B) The Grand Canyon, Flagstaff
C) Death Valley
D) The Niagara Gorge
3) With the rainy season beating on your RV roof, you pass the time playing Monopoly with friends.  Though Parker Brothers bought the rights well after its invention, where then were the street names derived from?
A) New York City
B) Atlantic City
C) Las Vegas
D) Boston
E) Atlanta
4) A popular RV destination is the famous Alamo, the site of the famous battle in 1836.  In what city would you have to go to see this?
A) San Antonio, Texas
B) Cludad Juarez, Mexico
C) El Paso, Texas
D) Las Cruces, New Mexico
E) Brownsville, Texas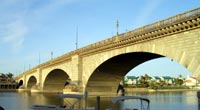 5) You are driving or towing your RV across the London Bridge in North America.  It was dismantled in England and brought to the continent in 1968 and re-assembled by 1971.  Where are you?
A) Las Vegas, Nevada
B) Reno, Nevada
C) New York City, New York
D) Los Angeles, California
E) Lake Havasu, Arizona

6) Looking at the photo to the left, what city are you in?
A) Boston
B) New York
C) Salt Lake City
D) St. Louis
E) New Orleans
7) If you wanted to tour the oldest continually settled city in the continental U.S., where would you be headed to?
A) St. Augustine
B) Boston
C) Charleston
D) Savannah
E) Key West
8) Zion National Park is a great summer destination for RV's of all sizes.  What state would you be travelling to if that was your destination?
A) Nevada
B) Oregon
C) Utah
D) Washington
E) Colorado
9) What highway, partially made famous by an early TV series, crosses the U.S. and has a nostalgic theme?
A) U.S. 1
B) U.S. 1A1
C) Route 68
D) Route 66
E) U.S. Transcontinental Highway
10) If you were driving or towing your RV on the highest elevation of an interstate highway, where would you be?
A) The Eisenhower Memorial Tunnel on I70 Clear Creek, Colorado
B) Donner Pass on I80, California
C) Vail Pass on I70 west of Denver Colorado
D) Cove Fort I15 near Breckenridge, Colorado
That's it! So, how did you score?  You can check your answers against those found below.  Don't forget to post your results in the comments section at the very bottom.
Answers:  Below
1) – (A) The bridge over Lake Pontchartrain is not only the longest in North America but also the longest bridge over water in the world.
2) – (C) Death Valley in California is the lowest elevation in North America.
3) – (B) After Parker Brothers bought the rights to the Monopoly game the street names were fashioned after Atlantic City, New Jersey.
4) – (A) The famous Alamo is located in San Antonio, Texas.
5) – (E) The original London Bridge was reconstructed in Lake Havasu, Arizona.
6) – D) St. Louis with the Gateway Arch prominently showing in the picture.
7) – (A) St. Augustine, Florida was first settled in 1565 by the Spanish.
8) – (C) Zion National Park is in Utah about 85 miles from Bryce Canyon Park, another very popular destination.
9) – (D) Route 66
10) – The Eisenhower Memorial Tunnel on I70 is the highest point on any U.S. interstate highway at 11,158 (West bound) and 11,012(East bound) above sea level
With More Quizzing Questions   –     Lug_Nut    –    Peter Mercer