It's not difficult to understand why Maine is one of the most popular tourist destinations on the Eastern Seaboard. This is a state where the seasons themselves turn the land into a stage for one picturesque show of nature after another. The spring and summer are the best times to enjoy a variety of outdoor activities such as camping and fishing. Autumn turns the falling leaves into a carpet of red, brown and yellow; the likes of which is seen nowhere else. In winter, the city lights sparkle like diamonds against a curtain of snowy white. Don't forget to eat your fill of world-class seafood (especially lobster and chowder) at local restaurants during your trip. This One Tank RV Trip from Woodall's will take you along the southern coast from the New Hampshire border up to the capital of Augusta to sample some of the state's splendor.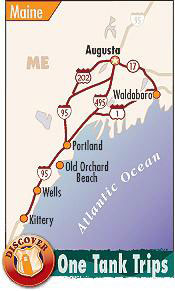 Kittery
Beginning in the southern part of the state, the town of Kittery offers several points of interest. The Kittery Historical and Naval Museum features exhibits from the town's rich maritime past, and the stores at Kittery Outlets draw shoppers from all over with its massive array of deeply discounted name brands.
Wells
Heading north on I-95, a 20 mile drive takes you into the small, historic town of Wells, whose roots date back to the early 1600s. There are many restored buildings available for tours, as well as plenty of grounds open to the public for hiking. Festivals and re-enactments are a popular pastime in Wells, as is bird watching at the Rachel Carson National Wildlife Refuge.
Old Orchard Beach
Twenty-three miles farther north on I-95, Old Orchard Beach offers excellent opportunities for outdoor fun. Seven miles of sandy beaches stretch along her shores, along with a historic boardwalk district that takes you past classic arcades, cotton candy vendors, and ice cream parlors. Stroll along Orchard's Pier at sundown for a view you'll never forget. You can try your hand at deep sea fishing, which is a favorite local pastime here, then at the end of the day settle down for a bowl of their famous clam chowder.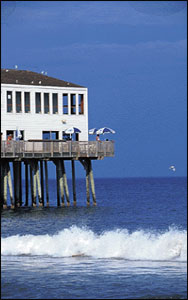 Portland
Portland rests 19 miles farther north on I-95, situated between forest-covered mountains and the Atlantic. The majestic views from the hillside stretch for miles and miles in all directions. You can charter a boat cruise or take the ferry across Casco Bay, or enjoy any of the Bay's opportunities for shopping, dining and nightlife. The nearby mountains are teeming with chances for outdoor recreation. There are several historical sites worth visiting, such as the home of poet Henry Wadsworth Longfellow, and the Victoria Mansion (headquarters of the Maine Victoria Society) built in the late 19th century.
Augusta
One of the great things about Maine is that nothing is too far away from everything else. The capital city of Augusta is a quick 10-mile trip up the northbound 95, and then you'll merge with the eastbound Highway 202 for 2 miles. A popular tourist experience is the lighthouse tour, which occurs several times a day. Old Fort Western, a 250-year old garrison, is a fascinating place to visit and is the nation's oldest surviving wooden fort. The Pine Tree State Arboretum shouldn't be missed by even the casual admirer of gardens, as it stretches across 200 acres and possesses that same number of trees. Augusta offers camping and backpacking in the more temperate seasons, and snowmobiling and skiing in wintertime.
Waldoboro
A 13-mile journey southeast on Highway 17 takes you to the junction for Highway 32. Merge with the southbound 32 and 10 miles later you'll find yourself in the town of Waldoboro. In addition to fine seafood and many of Maine's staple entertainments, Waldoboro is home to the unique Antique Toy and Art Museum. This facility houses comic and cartoon toys and artwork dating back to the 1930s, and showcases original saddles and costumes worn by Roy Rogers and Clayton Moore, who portrayed the Lone Ranger for many years. There are many items devoted to virtually every comic strip character ever created, from Betty Boop to the Green Hornet.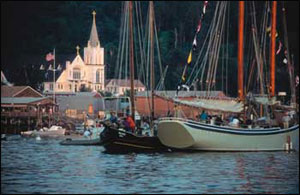 Boothbay Harbor
Continuing west on Highway 1, follow the road for 25 miles until you come to the exit for the southbound ME-27. Take it for 11 miles until you come to the quaint village of Boothbay Harbor, where people have been coming to rejuvenate their spirits for a very long time. The old traditions of shipbuilding and ice cutting can be explored by visiting the Historical Society. The air is alive with the smells of sea salt and mussels, and carries the cries of the gulls as they soar overhead. At night, eat your fill of Maine lobster sautéed in butter, as you watch the sky fill with reds and oranges at sunset.
Freeport
Returning to Highway 1, journey west for a little over 20 miles until you come to Freeport, a popular destination for day-trippers. It's home to one of the largest outlet centers in the region, with more than 100 stores. Nature walks through Wolfe's Neck Farm present a chance to get some fresh air and exercise, or you can take advantage of a sailboat tour across the bay.
When it's time to head back, continue west on Highway 1 until you come to I-295. Twenty-five miles later, you'll find the exit for the southbound I-95, which will get you back to your origin point of Kittery. Assuming, of course, that Boothbay Harbor doesn't beguile you as it has so many who've come along that way before.
Where to Stay: Park the RV at Wells Beach Resort, a private pet-friendly campground featuring 215 large gravel RV sites with full hookups. On the Northern end of your trip, you can enjoy lakeside camping and guided bass fishing at the Augusta West Lakeside Resort Kampground in Winthrop, just 8 miles west of Augusta. If you find yourself traveling farther north, try the Pumpkin Patch RV Resort in Hermon, just outside of Bangor. It's a pet-friendly campground with large gravel RV sites in a quiet country setting.