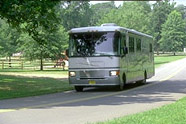 The Lug_Nut RV Trivia Challenge 4 is focused on destination attractions.  Many you have probably heard of, but do you know where they are located?  Well, we are about to find out.  Get a pencil and paper so that you can record your answers as you go through it.  You will then be able to check your answers against those displayed at the very bottom.  Be sure to share your score and any other comments you may have in the comments section following the answers.
So, give it a go!  Happy Travelling.
1) If you wanted to RV to an area, in North America, where you might be able to see crocodiles in the wild, where would you go?
A) South California
B) South Florida
C) There are no crocodiles in North America
2) If you were at Dollywood, what town would you be in?
A) Los Angeles, California
B) Las Vegas, Nevada
C) Branson, Missouri
D) Pigeon Forge, Tennessee
3) If you were at the "Four Corners", which states would you have to be in?
A) Arizona, Colorado, New Mexico or Utah
B) Texas, Oklahoma, New Mexico or Colorado
C) Louisiana, Mississippi or Alabama
D) California, Nevada or Arizona
4) Travelling and camping in the Cabot Trail requires you to get to what Province in Canada?
A) Ontario
B) Quebec
C) British Columbia
D) Nova Scotia
E) New Brunswick
5)   No vehicle over 21 feet long is allowed on this scenic mountain road called Going-To-The-Sun Road.  This is a toad road for many of us.  Where is this famous road?
A) Whistler, British Columbia
B) Glacier National Park, Montana
C) Yellowstone National Park, Wyoming
D) Grand Teton National Park, Wyoming
6)     This is supposedly the best place in the U.S. to see "The Green Flash" during sunset.  If you were there, you would be at Mallory Square.  What city would you be in?
A) Malibu Beach, California
B) St. Pete's Beach, Florida
C) Key West, Florida
D) San Francisco, California
7)     If you were visiting the House of Green Gables, that Lucy Maud Montgomery had written about, where would you be?
A) Cavendish, P.E.I Canada
B) Branson, Missouri
C) Martha's Vineyard, Massachusetts
D) Kingston, Ontario Canada

8)     The photo (Shown on the left) has attracted campers and RV'ers to the area for decades.  There are many fine campgrounds at, and throughout this area.  What is the name of this attraction and its location?
A) Mount Rushmore, the Grand Canyon, Flagstaff, Arizona
B) Mount Rushmore, Yellowstone Park, Wyoming
C) Mount Rushmore, New Mexico
D) Mount Rushmore, South Dakota
9) One of the largest exhibition, festival and rodeos in Canada, termed the "Stampede" is held once a year in what City?
A) Saskatoon, Saskatchewan
B) Calgary, Alberta Canada
C) Edmonton, Alberta
D) Victoria, British Columbia
•10) For our RV travelers that just love to shop.  Where would you have to travel to visit the largest indoor shopping mall in North America?
A) Mall of America, Bloomington Minnesota
B) South Coast Plaza, Mesa California
C) The West Edmonton Mall, Edmonton Alberta, Canada
D) The Galleria, Houston Texas
Answers – Below
1- (B) Though doubtful you would ever see one due to their shy nature, the American crocodile can be found in southern Florida.
2- (D) Pigeon Forge, Tennessee
3- (A) The four corners are made up of Arizona, Colorado, New Mexico and Utah
4-(D) The famous Cabot Trail is located in the northeastern end of Nova Scotia
5-(B) Going-To -The-Sun Road is a top rated 32 mile scenic drive located in Glacier Park, in Montana
6-(C) Mallory Square, the reported to be the best place to see the "Green Flash" in the U.S and is located in the harbor waterfront area of Key West, Florida
7-(A) Cavendish, Prince Edward Island in Canada is the correct answer. 
8-(D) Mount Rushmore is located in South Dakota.  The area offers many fine campgrounds, hotels and related services.
9-(B) Each year, usually in early July, Calgary hosts the Calgary Stampede. 
10-(C) The West Edmonton Mall is by far the largest mall in North America, out pacing the America Mall's 522 stores by nearly 300.  With over 800 stores it also boasts of 3.8 million square feet, over a million more than any other.  It is a great destination and offers far more than just shopping. 
So, how did you do?  Let's see your score.   Enter your score and comments in the comments section below
With The Quizzing Questions  –   Lug_Nut   –   Peter Mercer
.