The migration of the RV snowbirds is well underway.  The population of many southern destinations are growing quickly.  A great deal of snowbirds that reside in the western states and provinces head to  popular Arizona destinations such as Quartzsite, Yuma, Lake Havasu, Phoenix, and other regions that have multiple RV parks and resorts.  Quartzsite, a town with a year round population of near 4,000 swells as the snowbirds arrive.  They come in droves, over 2 million snowbirds winter in the Quartzsite area every year.  At these camps, as well as great local activities such as golf, off-road adventures, tourist sites and the like, they have internal group activities like jewelry making, leather workings, acrylic painting, and more.
But, not everybody wants to camp in such popular places or perhaps would like to try something different.  They may, on occasion, prefer to be off the beaten path in an area that has locals and more short stay RVers.  A park that continually changes face as rigs depart and new arrivals show up.  An area where there are not great crowds lining up for services like restaurants, golf courses, tourist sites, etc.  In many ways one can perhaps meet more new people than that of a winter stay community where you are around the same people throughout the entire season.
So, where are some places that may work?  How about one of these!
Tombstone, Arizona
Step back in time to 1882 in Tombstone, Arizona, a unique and historical town.  This is where the famous gunfight at the OK Corral happened which is now acted out everyday in the exact location.  With mock bar fights and gunslingers wandering the streets, it is evident that this is no movie set, it's as real as it used to look in the 1800's.  You can catch a meal and drink in Big Nose Kate's Saloon.  Stroll the worn wooden sidewalks and view the authentic shops that offer unique offerings at very reasonable prices.  A short walk to the edge of town leads you to the original Boot Hill Cemetery where you can spent quite some time touring and viewing the actual burial site of many historic and not so lucky gunfighters.
While the town of Tombstone offers the old west charm it is a great place to make your base camp.  From here you can visit the nearby town of Lowell.  Here you will feel you have once again stepped back in time to the era of the 1950's.  The gas station, service shops, automobiles, etc. all date back to years earlier.  In the same area you will find Bisbee, a historic town that was abandon following the closing of the mining in the area many years ago.  The town was later discovered by artists that, over time, bought up all houses.  Today it stands as a beautiful community with great photo opportunities and interesting shops.  Further south towards Mexico is the town of Sierra Vista offering wonderful restaurants, shops, and much more.
A short drive north from Tombstone in the Benson area is a donkey rescue ranch, Forever Home Donkey Ranch.  You need to call ahead to visit this fascinating venue.  Nearby also are two movie sites, Gammons Gulch and Mescal Studios.
Cooler weather can be expected in Tombstone as its elevation is 4,550 feet.  The coolest daytime high temperatures during the coldest months is normally about 50 F.
Laughlin, Nevada
Laughlin, Nevada lies on the banks of the Colorado River about 90 miles to the south of Las Vegas.  It has several of the large casino hotels and related services.  It is directly across the river from Bullhead City, Arizona.  Visitors to this area generally are short stay folks that come for the gambling, live shows, and night life.  But there is far more that this region offers for those that stay awhile.  So let's look at what this scenic area offers.
Off-Roading – Desert and mountain pass off-roading with ATVs or four wheelers is abundant from the outskirts of town.  Christmas Tree Pass ascends and descends a high mountain ridge pass and offers spectacular photo opportunities.  Also Silver Creek Road, which is east of the town of Oatman provides 10 miles of a high ground trail run to the north and back to Bullhead City.  Sitgreaves Pass Route 66 also is near Oatman and is a must-drive as well.
Old Ghost Town of Oatman – Located on route 10 (Oatman Hwy) south east of Bullhead City in the Black Mountain is the century old village of Oatman, a mining camp that struck a $10 million find in 1915.  This gold boom was over in the mid 30's leaving a ghost town. Today, with a population of 128, Oatman, with its wooden sidewalks hosts more wild burros than people.  The burros are part of a large number that were abandoned years ago.  There are many of them roaming the town which are very entertaining to watch and fun to feed.  Don't miss a drink or lunch in the historic Oatman Hotel.  There are surprises inside.
Good Golfing – There are rich green golf courses that contrast with the desert terrain.  They are in both Nevada and Arizona and all are within a short drive.
Boat Rentals – There are boats and jet ski rentals to explore the river.  Surprisingly there are actually beautiful beaches to be discovered along the shorelines.
Day Trips – There are many activities that can be found to the south in the Lake Havasu area and to the north at Lake Mead.
And of course we can't forget the great dining, live shows, casino fun, and the night life.
Pismo Beach
Pismo Beach, California is a seaside town in San Luis Obispo county.  It has about 8,500 residents and is part of five cluster cities.  Here you can enjoy all that a vibrant beach community can deliver.  For the angler, a 1,200 foot pier offers the perfect perch to hook a game catch.  If you are after the really big ones, boat rentals or fishing charters are readily available throughout the region.
For the active family surfing is extremely popular here attracting people from all over the state.  If non-surfers wish to learn, or for those seeking to improve their skill, surf lessons are widely available.  It should be noted that due to the water temperatures near year round, a wetsuit is pretty well a necessity for such water activities.  Jet ski rentals can also deliver that wet-and-wild ocean experience.
But for the landlubbers there are plenty of activities and entertaining venues to enjoy.  The Pismo Beach
Dunes are a popular site.  ATV rentals here can get your adrenalin going as you glide over the desert like terrain.  For an additional experience, if you have never done this before, there are beaches in the area that you can drive your car on.  A great way to find the perfect spot for an ocean side picnic.
There are many scenic places to hike or bike throughout the region, all within easy reach.  A wide choice of challenging lush golf courses await the avid golfer.  Quaint shops and unique dining can be found in the downtown area.
The Pismo Beach area is well located as a hub from which you can enjoy day trips to many popular attractions and activities.  Hearst Castle, a must visit venue, is only about 10 miles drive from Pismo Beach.  Wine touring can also be found in the region and offers both a tasty and educational experience.  Many other interesting and entertaining events and happenings can be found within a close proximity of this seaside gem.
Monterey, California
The year 2020 is going to be an exciting time to be in Monterey.  It will be a year of ongoing celebrations as it will be the town's 250th year birthday.  There are so many interesting things to do and see in this region also known as the Artichoke Capitol of the World.  The historic Cannery Row is a great place to start.  It is the original fish canning area that today features world-class restaurants, fancy boutiques and galleries.  The Monterey Bay Aquarium is located here also and offers a wealth of sea creatures life and habitat.
To the south of Monterey is Carmel-by-the-Sea, a very quaint town that reeks of charm and character.
Here there are many interesting shops as well as over 100 art galleries in one square mile.  The Basilica of Mission San Carlos Borromeo Del Rio Carmelo dating back to 1770 is the crown jewel of this historic town.  Mission Ranch, near by, is also a great example of the early Spanish culture.  It, as was the downtown Hog's Breath Inn Restaurant and Bar, is owned by the one time mayor of Carmel and the famous film start Clint Eastwood.  Who knows,  You may be lucky enough to see the star walking about town as he does still live here.
There are many world-class golf courses here, Pebble Beach Golf Course being one.  Need we say more!
There are scooter rentals available throughout the region. These offer a great way to tour the coastal communities and picturesque coastline.  Hiking and bicycling are a popular activity.   Using Monterey as your base, you are located well for a host of day trips to additional attractions and events.  However, during the 2020 celebrations, the hottest tickets may be right where you are.
Apache Junction, Arizona
Apache Junction is a city about 35 minutes drive east of Phoenix in the remote Superstition Mountains area. It is situated in an ideal location for a base camp.  To the east lies the rugged historic mountains with the ghost towns, abandon mines, and picture perfect sites to explore.  This area is rich with historic sites and offers many fascinating things to see and do.  Goldfield Ghost Town located on North Mammoth Mine Road is a popular visitor site that takes you back to the early days of the gold rush.  Here you will find the last remaining narrow gauge railroad in Arizona which is still operational today.  For those looking for some hands-on fun, a zipline can take you far above the town for a scenic view of the area. To the west the greater City of Phoenix sprawls for miles offering every type of service imaginable from unique exclusive boutiques to glittering luxurious shopping malls.
If you are into golf you will not be disappointed as there are over 70 pristine golf courses all within a 20 mile radius of the city with additional ones in the immediate Apache Junction area.  A short drive to Scottsdale will bring you to the site of the famous Barrett Jackson Auto Action.  The Scottsdale event for 2020 will be from January 11th to the 19th.
A visit to the Lost Dutchman State Park is a wonderful way to experience the rugged beauty of Arizona. Here you can enjoy a most scenic hike through the region known for the fabled lost gold mine.  You can also take a tour on the Dolly Steamboat that navigates Canyon Lake.  There are many group day tours offering a variety of interesting and entertaining venues.
The Apache Junction area can deliver a great lifestyle for RV snowbirds seeking a new destination for next year's winter season.
Lincoln City, Oregon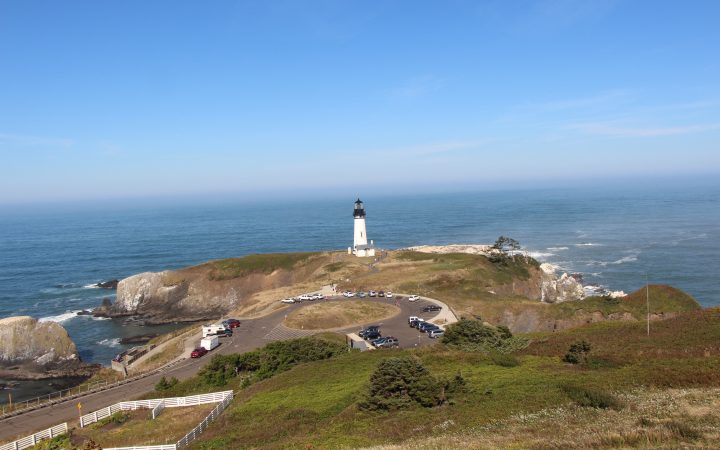 Oregon, in the winter season, does not have the kind of weather one would expect a northern dwelling snowbird would enjoy.  However, there are people that don't like the hot sunny climate that most snowbirds seek in the southern states each winter.  Instead they are happy to avoid snow and put up with the winter season's gray skies and frequent rain.
Those that winter here enjoy a peaceful lifestyle away from the crowded restaurants, casinos, and tourist haunts of the southern states.  The stress of highway and road traffic is non-existent as it is always light.  Reduced costs for most services can be expected at this time of the year.  Premium ocean view RV lots are often rented at bargain basement prices.
But, don't think this area rolls up its sidewalks through the quieter months; quite the contrary.  There are
stylish shops with unique products and artistic fare, brew pubs, great eateries, and world class fine dining.  Don't miss a breakfast at the Pig 'N Pancake, a favorite way to start the day.  If you like brew pubs, the Pelican Brewing Company is a must see.  There are two locations.  The most unique is located a short drive
to Pacific City, Oregon where it sits right out on the beach.  If you have a four wheel drive vehicle, you can take a drive on the beach after lunch.
The cooler climate is perfect weather for hiking or bicycling on the many trails throughout the region. Buy a kite from one of the many local shops.  Take it down to the beach and fly it as high as you can. There are several kite flying events and festivals throughout the year, one being in early October.
There are many day trips that can be made from Lincoln.  A one hour breath taking scenic drive north on the coastal highway will bring you to Tillamook Dairy Products.  Enter the visitor center and enjoy the tour.  Here you will watch them producing one of the finest cheeses in the country.  They also have many delicious products including ice cream.
A day trip south to Newport will take you through a scenic drive down the rugged coast.  Once in Newport, the Oregon Coast Aquarium is worth the stop.  You can walk through a glass tube while sharks, sea rays, and other sea creatures surround you.  Nye Beach in Newport is worth the visit.  It has a wonderful shop filled street that leads to a beautiful beach.
This area offers many attractions and things to do from the raw beauty of nature to the exciting glitter of fine storefronts and casino fun.
Victoria, Vancouver Island, British Columbia, Canada
Vancouver Island in Canada is not a place that springs to mind when thinking about snowbirds' winter retreats, but let's not discount it too quickly.  Some Canadians from east of the Rockies and a few U.S. snowbirds already call this home for the cold season.  For the Canadians it alleviates the need for out-of-country medical insurance and the steep U.S. dollar exchange rate.  For the U.S. visitors the lower Canadian dollar exchange rate stretches their dollar.  But perhaps more importantly, Vancouver Island and the city of Victoria offer a different experience for these visitors.  Unlike snowbird venues in the southern regions, the island feels like being in a different world.  An environment radiating a change in culture.  It has a feeling much like that found in England.  And it is not just the double decker buses, the above average right hand drive automobiles, English pub fare, or the HP Sauce in every restaurant.  Nor is it the gray rainy skies that often blanket the rocky shoreline.  It can be a very enchanting place that can make you feel as though you are in some far away land.
Now as far as the weather, don't believe the myths that winter brings nothing but rain to Victoria. Precipitation in the winter season is less than half of what Vancouver B.C. gets.  The winter temperatures rank the highest averages in Canada, near 50 degrees F. with normal daytime highs between the 40's to as high as the 60's.
The City of Victoria is the capital of British Columbia, however, it is not a big city having only about 90-some thousand people living within.  But this charming town has much to offer.  There are historic pubs, Afternoon Tea at the renowned Empress Hotel, live theater, Imax, harbor side events, miles of bicycle paths, historic landmarks, world class attractions, farmer's markets, flea markets, a wide spectrum of international and local restaurants, fine shops with unique products, and much, much more.
In addition to what the Victoria region offers, there are many great day trips to a host of interesting destinations.  Cathedral Grove near Port Alberni is a site not to miss.  Here you get to walk among the gigantic Douglas Fir trees.  One of the oldest trees stretches up over 250 feet and was over 250 years old when Christopher Columbus explored the world.
The world famous Butchart Gardens with its changing seasons displays is a short drive from the city. Their special holiday time shows are truly remarkable and unique every year.  Near here, located in the Cowichan Valley, you will find the Kinsol bridge.  It is the largest wooden Trestle bridge in the British Commonwealth.  Bike riding and hiking in this area provides many scenic views.  There are many manicured golf courses spread throughout the island, many of which are open year round.
Tofino, located on the Pacific coast of the island features beautiful beaches and stunning scenery.  There are luxury homes and spa resorts perched along the rocky coast.  Accommodations during much of the fall/winter season is in demand as people visit to see the huge waves, driven by storms at sea, crash on the shores.  This road trip requires an overnight stay due to the time required to reach this destination.
If you have not already figured out, there are seemingly endless possibilities of things to see and do on Vancouver Island in addition to what is available in Victoria and Sidney.  All of this can be reached via a pleasant 90 minutes ferry crossing from the BC mainland, Port Angeles, Wa., or Anacortes, Wa.
Peter Mercer – With a Change of Winter Venue