Check out these highlights of RV-related news, events and video from this past week.
1. Bidder Puts in Offer on Fleetwood: The Press-Enterprise of Riverside, CA, reports that Riverside-based motor home manufacturer Fleetwood has received an offer to buy its Decatur, IN, plants and all of its motor home brands. American Industrial Partners LP, a New York-based private equity firm, has offered $53 million, an amount that could be approved as the minimum bid in a proposed auction.
2. Family Rediscovers America in Their Motor Home: Tom and Mary Claire Wahl, along with their three kids, have been traveling the US in their 41-ft. motor coach full-time for the past 8 months. After living abroad the past 8 years, the couple is teaching the children about their home country–and learning some things themselves along the way. Catch the USA Today article to read more of the Wahl Family journey.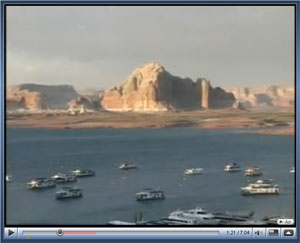 3. Letters from RVers Make Lawmakers Reconsider: Chuck Woodbury reports on RVtravel.com that the Maine state legislature changed its tune on a proposed overnight parking ban after receiving a deluge of letters from concerned RVers. The ban would have prevented RV travelers from stopping over in public parking lots, punishable by a $100 fine. Yet another example of positive action stemming from the expressed opinions of concerned citizens (remember this the next time you think your opinion doesn't matter)! Read on for details in the "cover story" section.
4. Summer Sun & Fun at Lake Powell: If you're looking for sunshine, gorgeous natural scenery and plenty of outdoor adventure, don't miss Lake Powell on the Utah/Arizona border! This RV Today video highlights some great RV-friendly features of this large reservoir (made by the towering Glen Canyon Dam). My family traveled from SoCal through Flagstaff on the route mentioned in the video, and getting there was definitely half the fun! This is one of my personal "can't miss" national park vacation spots.
5. The Boondocker's Air-Conditioning System: Blogger and full-timer Bob Difley reviews some easy tips to stay cool this summer in your RV while still enjoying nature. These will be especially handy when you experience sudden heat waves that directly interfere with your planned itinerary.