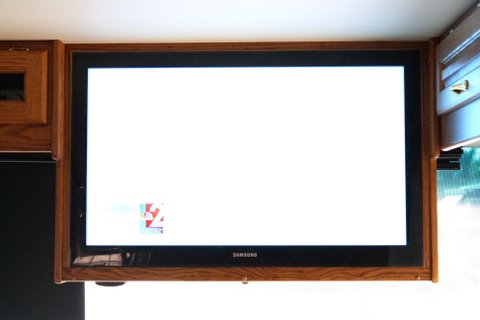 Last week, we covered some of the choices available for televisions in new or existing RV's. (Link Here) This week, we will look at upgrading the equipment in your existing rig.  Recently this has been a popular project for many, so let's try to understand why.
What are some of the advantages of replacing that 27″ CRT set with a new LCD flat panel?  
Well, first, you may be able to increase the viewing size, possibly quite substantially.  This is due to their shallow depth which can allow you to extend the size and area of original location in many cases.  To calculate how large a screen you may be able to install, simply measure the maximum width that you can spare without interfering with cupboards or other items.  This will determine approximate screen size you can go with.  This is because most TV's are the same maximum housing width as the distance diagonally on the screen.
The second thing you will notice is a tremendous weight difference.  The CRT type TV's are extremely heavy compared to the new flat panel units. This will stop those squeaks that you may hear in the TV area while driving on a rough road, particularly if it is an over-the-dash set.
Additionally, all new televisions are off-air digital, enabled and require no separate converter box.  This means you can enjoy high definition pictures when operating through your "batwing" type, off-air antenna.
There are also audio advancements in some of the newer sets sold that may increase your listening enjoyment.
Most of the TV's sold today are HD (High Definition).  This, when an HD signal is available, delivers an awesome picture far exceeding the resolution of your old set.  It's one of those things that you don't think you need, but once you've had it, you probably won't want to go back.  This is certainly something you should make sure you get.  As long as you are replacing the set, why not make sure it is HD capable.  There will be more and more of the high definition broadcasts available in the future, including free off-air.
This change also can give that updated look to the interior of your RV.  This can add both future owner enjoyment and better resale value.
Lastly, and just as important, it makes your RV seem new to you and you can fall in love with it all over again. This is certainly cheaper than buying a new rig. 
Now, this will probably require some minor cabinet changes.  If you or a friend are somewhat skilled in this type of finish work, it can be a great do-it-yourself project.  If you are not so handy, I would recommend that you find a suitable person or company that are equipped to do such modifications.   After all, the panel type TV will undoubtedly look great, so the surrounding area must look as good.
These photos are of a friends '04 Holiday Rambler.  Don and Judy, the owners, replaced both the bedroom and the salon televisions.  They up-sized them substantially with a whopping 40″ in front and a 29″ in the bedroom.  They did the cabinet work themselves, and, it looks factory installed. 
The cost of doing this is probably less than you think.  Large, highly feature rich, sets are priced far lower than previous year's.  Depending on the size you need, flat panels start as low as $500 and generally don't exceed $1200/$1500.  The cabinet modifications may take very little work, again dependant on the existing unit installation and the new unit replacement size.
Alternatively, you might wish to add an additional unit to your rig, like an outside basement mounted set.  Stores such as Best Buy carry a variety of mounting brackets and hardware.  So, for a few hundred dollars and a little work, you can enjoy watching the game in the fresh outdoors. 
With The No-Boob tube Approach   –    Lug_Nut   –    Peter Mercer