In the Midwest, spring comes alive with festivals and events that put a spotlight on the area's culinary specialties and cultural influences.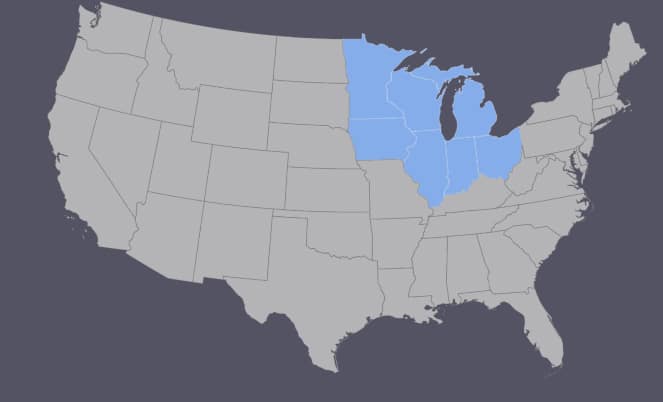 Take a trip into the heartland to experience a Mac & Cheese smorgasbord, an iconic race, and a gathering of Airstream trailers. You won't find these kinds of wholesome celebrations anywhere else.
The following are just a few of the big events unfolding in the Midwest during spring.
Illinois
Moonlight Market, May 3 (first and third Wednesday through September), Springfield: Moonlight Market is held on Jackson Street between 6th and 7th streets in front of Obed & Isaac's and 7th Street Cidery. Check out some of the finest artisans in Central Illinois. 
Good Sam Campgrounds in the Springfield area:
---
Big 10 Softball Championships, May 10, Peoria. Eichelberger Field hosts exciting softball action from top competitors in one of America's premier collegiate athletic conferences. 
Good Sam Campgrounds in the Peoria area:
---
Navy Pier Fireworks, May 27, Chicago. Chicago ranks as the third-largest American city, and it exudes the energy you'd expect from a major metropolis. Get a sense of that Windy City pizzaz at the Navy Pier Fireworks, launched every Saturday through Labor Day Weekend at the famous Navy Pier on Lake Michigan near the mouth of the Chicago River. 
Good Sam Campgrounds in the Chicago area:
---
Indiana
Indiana Dunes Birding Festival, May 11–14, Porter. Birdwatchers gather at the Indiana Dunes National Park Visitor Center before setting out to catch glimpses of colorful migrator species.
Good Sam Campgrounds in the Porter area:
---
Greenwood Pickleball Open, May 19-21, Greenwood (near Indianapolis). Compete with top players or simply watch one of the fastest-growing sports in the U.S. Join the competition and show off your skills.
Indianapolis 500, May 16–28, Indianapolis. The 107th running of this iconic motorsports event brings top racers to the Brickyard (Indianapolis Motor Speedway) for high-speed action. A series of events culminates on the 28th for the "Greatest Spectacle of Racing."
Good Sam Campgrounds in the Indianapolis area:
---
Iowa
Mac and Cheese Fest, May 4, Dubuque. Foodies can indulge in one of America's favorite comfort foods along with craft beers galore in the Grand River Center. Sample more than 20 varieties of cheese-drenched pasta.
Good Sam Campgrounds in the Dubuque area:
---
Kites on the Green, May 6, Johnston (near Des Moines). Marvel at giant kites and thrill at kite battles in the Johnston Commons. Assemble your own kite and set it aloft.
15th Annual Blue Ribbon Bacon Festival, May 12–13, Des Moines. Bacon and beer make the perfect pair at this mouth-watering event held at JR's Southpork Ranch. Come for the wide varieties of bacon, stay for the music.
Good Sam Campgrounds in the Des Moines area:
---
Michigan
Open the Grand, May 5, Mackinac Island. Partake in the first afternoon tea of the season at the iconic Grand Hotel, with the world's largest front porch, which dishes out sweeping views of Lake Huron. Tour a small town known for its sweets and horse-drawn carriages.
Good Sam Campgrounds in the Mackinac Island area:
---
Tulip Time, May 6–15, Holland. This town pays homage to its Dutch namesake with dazzling displays of tulips. Tour the Tulip Immersion Garden and enjoy a feast for the senses.
Good Sam Campgrounds in the Holland area:
---
Great Lakes Boating Festival, May 20 & 21, Grosse Pointe. Grosse Pointe Shores and the Grosse Pointe Yacht Club host one of the nation's most prominent displays of marine leisure craft. Tour boats on land in water, some up to 80 feet in length.
Good Sam Campgrounds in the Grosse Pointe area:
---
Minnesota
Mid West Music Festival, May 12–13, Winona. Regional bands and musicians gather in a variety of venues to showcase some of the hottest sounds of the heartland. 
Good Sam Campgrounds in the Wompma area:
---
Art-a-Whirl, May 19–21, Northwest Minneapolis. More than 800 artists in over 60 locations showcase their works. See private studios and galleries, and enjoy delicious food and beverages in a hip neighborhood.
Good Sam Campgrounds in the Minneapolis area:
---
Red River Paddling Excursion, May 31, Moorhead. Join a paddling trip and learn how the Red River shaped the history and terrain of Northwest Minnesota. All skill levels are welcome.
Good Sam Campgrounds in the Moorehead area:
---
Ohio
Wake up Downtown Logan May, 4–7, Logan. Attention all Airstream enthusiasts: bring your silver bullet to this town 50 miles southeast of Columbus for live music, restaurants, and meetings with Airstream factory experts. Camp right on the street in downtown Logan (but hurry—spaces fill up fast). This Airstream-only event takes place in the gateway to the Hocking Hills.
Good Sam Campgrounds in the Logan area:
---
A World A'Fair Dayton International Festival, May 5–7, Dayton. At the Green County Fairgrounds, visitors can experience food, music, and dance from cultures across the globe. Browse booths representing more than 30 countries.
Good Sam Campgrounds in the Dayton area:
---
Buckeye Country Superfest, May 27, Columbus. Ohio Stadium fills with the rowdy sound of country music when top acts, including George Strait and Little Big Town, take the stage. 
Good Sam Campgrounds in the Columbus area:
---
Wisconsin
Downtown Baraboo Spring Fair on the Square, May 13, Baraboo. Home to the Circus World Museum, this town rolls out the welcome mat a day before Mother's Day. Enjoy shopping, live music, food, and fun, with more than 80 artists and crafters.  
Good Sam Campgrounds in the Baraboo area:
---
Uncork Me Wisconsin, May 13, Madison. Breese Stevens Field becomes the setting for top vintages from Badger State winemakers. Also on tap: delicious snacks and live music.
World's Largest Brat Fest, May 26–28, Madison. In the heart of downtown Madison, this event brings the community together each Memorial Day weekend for free music, succulent pork, and family-friendly fun. It's a great way to kick off the summer.
Good Sam Campgrounds in the Madison area: