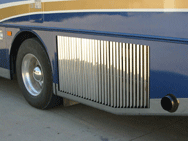 Class "A" coaches are available with many options, but there are some things that can't be changed. Depending on the make and model, you may get a rear mounted radiator or a side mounted unit.  So, what is the difference?
Well, if you think one is better than the other, you might be wrong. Even though all high end coaches have side radiators and most of the entry level diesel pushers have rear, not cost, but specific design issues, may be the real reason.   While there is no question that side mounted radiator systems cost more to build, we have to look at why they would be designed and used on larger engine equipped units.  That is, on all diesel pusher engines in excess of 360 horse power.
These radiators consist of two main cooling sections, the charge air inter-cooler and the engine coolant. The charge air section has large internal tubing that cools the already boosted air pressure between the turbo charger and the intake manifold.  The engine coolant section works similar to that of your automobile, that is, it keeps the coolant at a reasonable operating temperature.  The larger the engine, the larger the radiator size has to be.
Ideally the radiator works, design wise, best if it is mounted in the rear, directly behind the engine.  This design requires less horse power to drive the cooling fan than does a side mounted cooling package.  Additionally, some natural air movement, due to its location, is also a benefit.  As far as blocking access to the engine from the rear, except for fan belt replacement, most DP service is performed from beneath or via the forward access panel.  Radiator filling, oil checking, oil filling and transmission oil dipstick, are located usually at each side of the rad.  This makes daily checks and fluids maintenance easily accessible.
So why then, do many motor coaches have side mounted radiators? Larger diesel engines require larger radiators to handle greater charge air volumes and adequate engine cooling.  The width of the rear of coach body can not accommodate these larger cooling packages, while still providing fluid access points.  The saw off point seems to be diesel engines with about 350 maximum horse power.  This would leave Cummins ISB and ISC engines, along with Caterpillar C-7 and C-9 with the ability to use the rear rad.  All larger engines require the cooling package to be remotely mounted to the side.  This is not saying that all ISC or C-9's are rear radiator equipped, as many can also be found with side mounted units.  It is just approximately that size engines, however, it is up to the chassis builder as to which is used.
Okay, but what about the commonly thought short falls of rear rad set-ups?
Non-Clutched Fan – Granted most rear radiator equipped coaches employ direct belt driven fan assemblies.  These generally do not have a thermostat controlled clutch, as apposed to the side mount.   The overall average input energy requirements may well be lower than that of the side mount.  This is due to the need to power the remote fan assemblies with either a hydraulic power system or a mechanical drive system.  The hydraulic units are powered by an engine driven pump assembly.  This in turn drives a hydraulic motor that rotates the fan blades.  This is controlled through an electronic valve that varies the fan speed, usually two or so set speeds.  The mechanically driven units must drive the cooling fan through two ninety degree configurations.   Most, if not all of these, employ a thermostat controlled clutch.   These are generally far more complex than one would imagine.  They are activated by more than just engine coolant temperature such as, intake manifold temperature, transmission temperature, exhaust gas temperature and like.  Some are driven through an electro-magnet field that increases field strength as temperatures rise and finally lock up an electric clutch at, or near, the high limits.  Some of these side mounted fan drive assemblies can take up to 70 horse power to drive during peek demand/RPM scenarios.
Radiator Fins Plug Up Causing Over Heat – Rear radiator equipped pushers tend to attract more dirt than side.  This is due to the rear fan pushing the air from the engine compartment out, while side moves the air from out to in.  The dirt build up on the rad core is caused be an oil film that can gather on the fins.  Usually the majority of this oil comes from misting from the crank case ventilator tube (Also referred to as the "Slobber Tube")  This tube can be extended using a piece of hose eliminating this issue.  Most such equipped coaches are already designed in this manner.  The rear radiator does, however, still attract a little more dirt than the side.  This is because of the motor being directly up wind which blows any engine sweat through it.  Any build up within the radiator fins usually indicates a lack of regular cleaning.  These must be washed periodically.  This is a simple procedure using a product like Simply Green.  Just spray it into the radiator core, let it sit, and rinse it out.  Do not use a pressure sprayer as it may damage the cooling fins.
So, in analyzing the side radiator verses the rear, it would appear that both are best for their particular application.  That is, if the coach weight and engine size can be handled by a rear mounted unit, it would probably deliver superior performance, and or economy, over an identical weight and powered rig employing a remote side mount.  After all, chassis manufacturers know their business and are not about to produce an inferior product design, just to save money.
Well, in my book anyway, I think the side verses the rear radiator appears to be apples verses oranges.   You can't really compare them as they are different size applications, and each have their own benefits.
With A Cooling View  –   Lug_Nut   –   Peter Mercer