Blooming flowers and warmer weather are sure signs that summer is around the corner in Northern Michigan. However, Petoskey, Bay Harbor and other surrounding cities are not waiting around for summer months, with area events already in full swing starting in May. This beautiful part of Michigan is situated on one of the country's longest freshwater shorelines with cultural events, festivals and art fairs all season long.
The charming setting along Little Traverse Bay allows you to go back in time to an unhurried lifestyle and enjoy the present with breathtaking surroundings. Petoskey provides scenic beauty with many trails, preserves and pathways to enjoy by foot or bike to take in the magnificent coastline. If you want to pick up the pace of your vacation there is plenty to do, from zip lining and jet skiing to indoor waterpark adventures and city tours.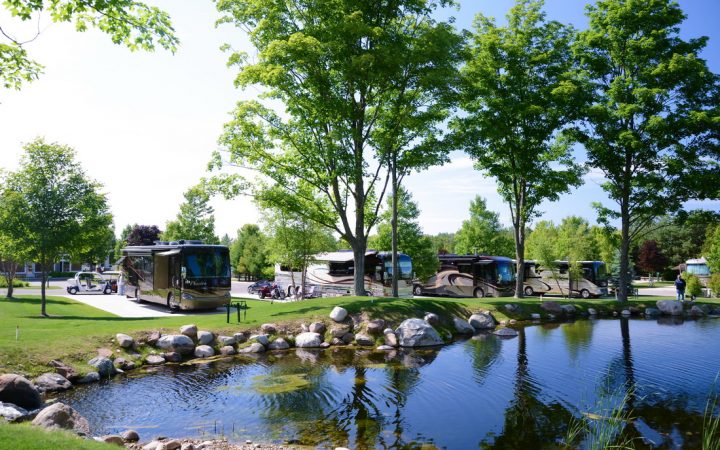 Petoskey RV Resort Rocks
Petoskey RV Resort is also ready to to kickoff the season. Awakening on May 15 from its slumber, this five-star resort is ready to host guests from all over to its immaculate grounds. Perched near the shores of Lake Michigan, Petoskey RV Resort offers a luxurious resort experience in the heart of the Lower Peninsula. Upscale amenities and prime location make it Northern Michigan's perfect RV destination.
Petoskey Privacy and Exclusivity
The 20-acre gated community is limited to just 78 spacious sites, giving the resort an air of intimacy, privacy and exclusivity. Common areas include a grand lodge, outdoor pool and spa, tennis court, putting green, pet-friendly walking trails, cable TV and Wi-Fi. Located across from the Little Traverse Wheelway and Bay Harbor Golf Club, you will have immediate access to an unforgettable bike path as well as one of the most beautiful and challenging golf courses in the nation.
Guests are already making reservations and are excited to kick off the season with the 27th Annual Zoo-De-Mack Bike Bash with bands, parties, and one of the most scenic bike rides in the country starting May 20. Memorial Day activities start the week after with parades, festivals, and other entertainment. Click HERE to explore the area with a complimentary night when you book three nights with Petoskey RV Resort.